Illustrations – Peter H. Reynolds
Did you know that most people don't smile for the first time on a Monday until after 11am?
Judy is having a grouchy, no smile Monday until she notices something different about her classroom. The bulletin board doesn't have a rainbow of paper crayons on it today. They've been replaced by bubble wrap animals.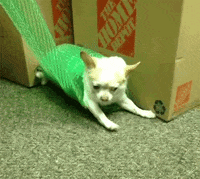 Not that kind.
Mr. Todd informs his class that today they'll be celebrating Bubble Wrap Appreciation Day, and what could turn a glum day into a fun day quicker than bubble wrap?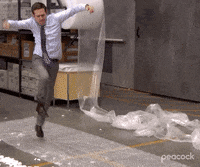 Her Monday frown now turned upside down, Judy comes up with a brilliant idea: why not find something new to celebrate every day!
What follows is a wacky week featuring rat stew, ice cream for breakfast and fun facts.
"Can you believe Bubble Wrap started out as wallpaper?"
I loved Mr. Todd's tie. Accessorising bubble wrap style is right up my alley.
Be on the lookout for a pig called PeeGee WeeGee and Ninja Squirrel.
If you want to celebrate the weird and the wonderful, a good place to find inspiration is Days of the Year.
Once Upon a Blurb
For anyone who has ever had the Sunday night blues, Judy declares that every day can be a holiday if you just find something to celebrate. Happy National Eat Ice Cream for Breakfast Day, anyone?
Crumbs! Why can't every day be Saturday?
Judy Moody is Monday-morning mopey. Another week in her same-old seat at her same-old desk in her same-old school. Even worse, there aren't any days off from school for ages. But when she steps into Class 3T, Judy's Monday frown turns upside down. Pop! Pop! Pop-pop-pop! Mr. Todd is making Monday special by celebrating Bubble Wrap Appreciation Day (no lie)! This gives Judy an idea that just-might-maybe turn her week around: why not make every day of the week a holiday? But after she and her friends come up with a week's worth of wacky celebrations, from feeding ninja squirrels to honoring National Sneak Some Zucchini Onto Your Neighbour's Porch Day, will the weekend be one big letdown?