with Alex Kiester
If you've ever involuntarily blurted out 'And I'm Britt', this is the book for you. If you've pounced on this book before reading the blurb, allow me to enlighten you: this is a novel, not a super long episode of Crime Junkie in book form. Not that I'd ever open a book, see A Novel after the title and question every assumption I've ever made.
All Good People Here (A Novel) primarily takes place in Wakarusa, Indiana, where Ashley and Britt grew up. It's also somewhere I need to visit because of two really important words: Pumpkin Tree!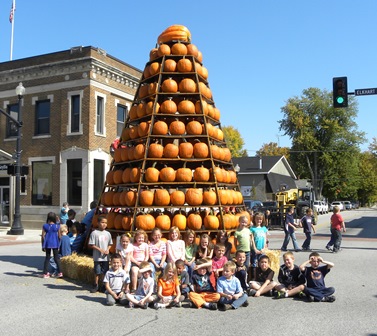 In 1994, six year old January Jacobs died. Everyone in town knew Krissy, January's mother, murdered her but the case has officially remained unsolved.
"You don't want to go back to that sad little town where that terrible thing happened."
Margot hasn't lived in Wakarusa for twenty years but has returned to care for her beloved Uncle Luke. When a young girl is reported missing in a nearby town, Margot believes the person who killed her childhood friend has struck again. Margot is determined to use her crime reporting skills to solve the cases but she seems to be the only one seeing their similarities.
This may be a small town but many of its residents are living with secrets.
"What did you do?"
Hearing the story from Krissy and Margot's perspectives, you learn about the dynamics of the Jacobs' family, how the investigation into January's death unfolded and the impact it has had on everyone close to the case in the subsequent years. A few key details about January and her death made me think of JonBenét Ramsey. Once I made that connection, I had trouble seeing anything else.
I enjoyed tagging along as Margot followed up leads, although I did get a bit bogged down at times with what was happening with Luke. I guessed some of the reveals but, rather than being disappointed by this as I usually would be, it made me feel like I was being a good Crime Junkie.
It's taken me two weeks since finishing this book to attempt writing a review and that's mostly due to the last time we see Margot in this book. Readers will likely either love or hate this scene. I loved it but, because I don't want to get all spoilery, I can't tell you why I loved it and that's what I really want to talk about.
I'm looking forward to reading future books by Ashley. Until then, I'll keep getting my Crime Junkie fix whenever I can and remembering to always "Be weird. Be rude. Stay alive."
Content warnings include mention of death by suicide, domestic abuse, kidnapping, miscarriage, murder and sexual assault.
Thank you so much to NetGalley and HarperCollins UK for the opportunity to read this book.
Once Upon a Blurb
What really happened to January Jacobs?
A MYSTERIOUS COLD CASE…
Twenty-five years ago, January Jacob's parents awoke to find their daughter's bed empty, a horrifying message spray-painted onto their wall. Hours later, January's body was found discarded in a ditch. Her murder was never solved. But the town remembers.
A DANGEROUS OBSESSION…
Journalist Margot Davies is tired of reporting meaningless stories. One night, she stumbles upon a clue in the most infamous crime in her hometown's history: the unsolved murder of six-year-old January.
A TOWN FULL OF SECRETS…
As Margot digs deeper, she begins to suspect that there is something truly sinister lurking in the small community: a secret that endangers the lives of everyone involved…including Margot.