Stacey and Mary Anne are spending two weeks together as mother's helpers, babysitting for the Pike kids. But that's not all. They're all going to be on vacation in Sea City, New Jersey.
"We're back, we're here, we've come once more, to our gingerbread house by the white seashore!"
The Pike kids are:
Mallory – 11, future BSC member
Jordan – 10
Byron – 10, loves to eat, has some fears
Adam – 10
Vanessa – 9, poet who speaks in rhyme all the time
Nicky – 8
Margo – 7
Claire – 5, calls her mother 'Moozie' and her father 'Daggles', adds 'silly-billy-goo-goo' to the end of everyone's names.
Back in Stoneybrook, Kristy babysits David Michael, Karen and Andrew. Dawn has been babysitting in California and Claudia has babysat some kids at the mountain resort in New Hampshire, including Skip.
The house the Pikes rent at Sea City has three levels and is right on the beach. The lifeguard stand is in front of it. That's where Stacey is going to spend the majority of her time.
Mr Pike makes sure he knows what Stacey can and can't eat when he's cooking breakfast the first day in Sea City, which is great. What wasn't so great was that he did it on the sly, lowering his voice so his kids didn't hear him. This just reinforced to me as a kid how unimaginably scary diabetes was. Adult me can't understand why the Pike kids couldn't know about Stacey's diabetes.
Mary Anne, who until a few books ago had to wear her hair in braids and wasn't allowed to wear pants to school, has her first bikini! She also ends up looking like a "tomato with hair".
Mary Anne meets a boy mother's helper, Alex. Stacey meets Toby, Alex's cousin.
Stacey, 13, is in luv with Scott, 18, the lifeguard with the wavy blonde hair. He lets girls do favours for him, like buying him sodas, getting him lunch and picking up things that fall off the lifeguard stand. Wow, what a prize that guy is.
Random bits: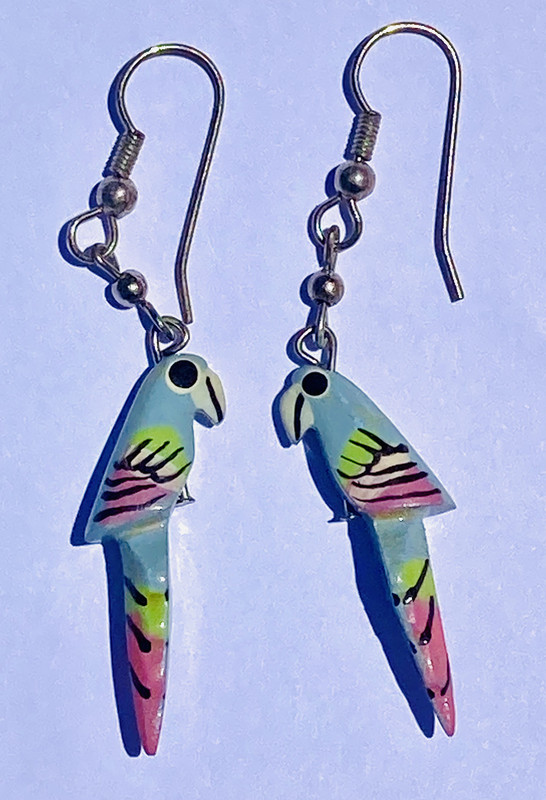 It was Stacey's pink shirt with the big, bright green and yellow birds that I was thinking of when I bought a pair of bird earrings when I was on holidays with my parents as a kid. Yes, I still have them.
The hunky, chauvinistic lifeguard's full name is Scott Foley. That's the name of the actor who played Noel Crane on Felicity.
Millionaire Watson has three cars: an old black Ford, a red sports car and a fancy new car. Kristy's mother has a green station wagon.
Claudia threw a pot. I originally took that literally.
Kristy learned you should never let kids wash a car without supervision.
Mary Anne learned that boys aren't scary.
Stacey learned that boys aren't supposed to use you. Well, I hope she learned it anyway.
Books in a book:
Mallory reads The Secret Garden, one of my all time favourite books.
Mary Anne reads A Tree Grows in Brooklyn.
Further proof that Stacey's parents have more than enough money: We already know that they lived in an apartment overlooking Central Park in New York and that the building had a doorman. Now we learn that their apartment had four bedrooms. That's gotta be worth a fortune!
This was one of my favourite BSC books as a kid. Naturally, one of my many reads took place at the beach. I kept not so subtly glancing up from my book to see if there was a cute lifeguard in the vicinity. This would have been pretty impressive if it happened, especially considering the fact that we were on an unpatrolled beach…
When I wasn't attempting to find non-existent lifeguards, I was daydreaming about summer romances. I decided that I, too, was going to have one. Spoiler: it was not as advertised.
I was absolutely obsessed with Sea City. I wanted to go everywhere Mary Anne and Stacey did: Trampoline Land, Fred's Putt-Putt Course, Ice-Cream Palace, Candy Heaven, touristy shops, Burger Garden, Candy Kitchen (they have fudge), If the Suit Fits (they sell bikinis), Hercules' Hot Dogs and the boardwalk with the arcade.
As a kid, having an 18 year old boyfriend when you're 13 felt like peak dating. Adult me can't get over how creepy that is.
Kid me mostly sided with Stacey in this book, even though Mary Anne was my favourite babysitter. Adult me stands 100% with Mary Anne. How dare Stacey leave her to take care of so many kids alone?! Sure, the Pike kids are unnaturally well behaved most of the time but there's an entire team of them.
Word of the book: kerflooey, which is how Stacey's blood sugar levels can go if she's not careful.
Stoneybrook Central Time: It's the beginning of August when we start this book and the summer holidays between seventh and eighth grade. On the first Tuesday back at school it will have been a year since Kristy had her great idea.
Up next: Dawn goes ghostbusting.
Once Upon a Blurb
Stacey and Mary Anne are baby-sitting for the Pike
family for two weeks at the New Jersey shore.
Things are great in Sea City. There's a gorgeous old house, a boardwalk, plenty of sun and sand… and
the cutest boy Stacey has ever seen!
Mary Anne knows that Scott the lifeguard is way too old for Stacey, but Stacey's in love. She fixes Scott's lunch, fetches his sodas, and spends all her
time with him… instead of with the Pike kids.
Suddenly Mary Anne's doing the work of two baby-sitters, and she doesn't like it one bit. But how can she tell Stacey that Scott just isn't interested – without breaking Stacey's heart?