Spoilers Ahead! (marked in purple)
Jason went to hell and then Berkeley Books commissioned a series of young adult novels set in the Friday the 13th universe. Only Jason wasn't in the books. Weird, right? His mask was there, though, and it had some supernatural powers to possess whoever thought it was smart to try it on. Cue the bloodbath.
So far, we've celebrated Mother's Day, gone fishing, attended a carnival and gone on a road trip. Now, in this final book in the series, we're making a documentary or we're determined to stop Jason once and for all. It depends on which character you are.
So, who are the potential blood donors in this showdown?
The Heroes
Micki Foster. Micki hunts down cursed antiquities for her Uncle Lewis so she's dealt with supernatural stuff for years. She is "attuned to the energies around her". Her spidey sense may save her. Micki's goal is to stop all the Jason drama by "finding the mask and locking it up in the vault back at Curious Goods." Sort of like what the Warrens did with Annabelle.
Steven Freeman. Steven is Micki's cousin. He used to be known as Ryan Dallion. He helped Jason's niece, Jessica, send him to hell. He's survived Jason already so he's either got the skillset to finish the job another time or his luck will run out.
Rashid. He's an expert in antiquities and was looking after Curious Goods for Micki. Now he's in Crystal Lake. He has visions and appears to know magic.
They're the heroes. They're golden, right?
Law Enforcement
Sheriff Lloyd Landis
Roy Turner, Sheriff's deputy
John Cort, Sheriff's deputy
Buck Mathers, Sheriff's deputy
Ed Marlin, Sheriff's deputy
David Justin, Sheriff's deputy. He's the new guy so he's got even less chance of surviving than his colleagues.
Kelly Campbell, Sheriff's deputy
Roy Turner, Sheriff's deputy
Pat Colby, Sheriff's deputy
Highway Patrol Officer Marshack
Highway Patrol Officer Perkins
State Trooper Jackson
State Trooper Scott Christopher
State Trooper Dan Culligan
State Trooper Peter Bennerson
There's so many of them! Just knowing these men and women are law enforcement personnel in a slasher is your biggest clue. Most of these people are going to be toast, especially those who are introduced after 80%. That doesn't stop them from bringing confidence to the game, though.
"You don't know when you'll have some hockey masked super killer running around the woods slaughtering people. A few AK-47s would seem to be standard issue."
Cunningham County Coroner's Office Staff
County Coroner Robert "Doctor Bob" Carey. He's the one doing the autopsies.
Phil Raman. He's Doctor Bob's assistant. If he wasn't so busy getting turned on when he touches Jason's mask he might just make it but because this makes him inherently creepy, he's definitely going to need to die.
Guadalupe (Lupe) Sanchez. Lupe is the receptionist. She knows Phil likes her but laughs at his advances. Clever girl.
If this was a Halloween book, then Michael Myers would almost certainly miraculously come to in the morgue and proceed to add to the body count. But this is Friday the 13th. We'll see…
The Documentary Makers
Carol Martinez. The director of the documentary, Carol is rude to waitresses, her fellow documentary makers and pretty much everyone else. She's also vegetarian.
Shawn Carlyle. He works behind the scenes on sound and lighting.
Jerry. Calls himself Jamal. He's the cameraman and a pothead. He also gives Phil Raman a run for his money in being the most detestable character in the book. He's a white guy with dreadlocks who seems to think there's no problem speaking as though he's from Jamaica. He's not Jamaican. He's Californian and he's so irritating.
They're coming to town just to dig up info on Jason. There's no way they're going to make it back to California.
The Mediums
Okay, so they're here at the behest of Carol, the rude documentary maker. Hopefully they're the real deal and will be smart enough to get out of town when they realise what's really going on at Camp Crystal Lake.
Camp Crystal Lake Campers
Bessie Nague. Bessie has allergies. She's camping with her sister, Lilleth.
Lilleth Nague. She's the webmaster of the Official BLOOD CAMP Fan Club website and Vice President of the Jason Voorhees Appreciation Society.
They thought it was a good idea to go camping at Camp Crystal Lake. We might as well dig their graves now. Lilleth's Jason obsession may be the thing that saves them or she might be too starstruck by seeing him for her survival instinct to kick in.
The Townspeople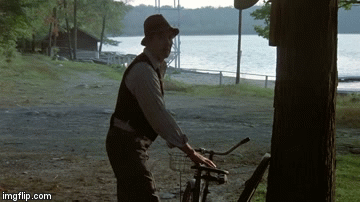 Betty Loomis. She's a waitress who knew Jason and Pamela Voorhees personally. Betty was married to Ralph. Yes, that one!
Mary. She's a waitress who works with Betty.
Will Peters. He's Steven's partner at the Army/Navy store and will be running the store while Steven is running about doing Jason type stuff. Will has served in the military so he may have the necessary skills to survive.
Shane Wilco Jr. Shane is the bartender from Smokey's Pub.
The townspeople have already survived Jason how many times? They know the legend and they obviously know what it takes to survive at this point. Let's hope they keep their heads.
If you're like me and you come to the slasher armed with some bloodlust and a raincoat to protect your clothes from the blood spatter, you'll be waiting a while in this book. There are no new deaths for the first 40%. Never fear, though. Once the stabbing and hacking begin, they don't let up. Most characters you only get to know by name before they meet their maker. The body count is high and I can't even give you an accurate final number.
There are the recently deceased whose names we know: Phil Raman, Lupe, Deputy Marlin, Kelly Campbell, Will Peters, David Justin, John Cort, Shane Wilco Jr., Bessie Nague, Lilleth Nague, Jerry/Jamal, Officer Marshack, Julius, Phil Raman, Lewis, Rashid, Shawn Carlyle, Peter Bennerson, Dan Culligan, Perkins, Roy Turner, Carol Martinez, Pat Colby, Scott Christopher and Lloyd Landis.
Then there are the five people in the crowd outside of the coffee shop, an old man, an unnamed biker, a foolish biker and an unnamed policeman. The Sheriff estimates about fifty deaths in the Main Street, which include two deputies that were named and Shane Wilco Jr.
Phil kills people before and after he becomes attached to the mask. Jason kills a bunch of people. Three people die by cop.
It's safe to say that both Camp Crystal Lake and the town are painted red. Bonus points for visiting the Voorhees' home.
My main frustration in this book was Jerry/Jamal thinking it was okay to speak the way he did. The biggest turnoff was the use of the word "retard". I don't care about the context; this is never okay.
This was a bit of fun but it really needs some proofreading. There's a typo here, a missing word there, your/you're violations and many other red pen opportunities. At one point the carnival murders happened two months ago; on the same day, later in the chapter, they happened three months ago.
One frustration I had with the first four books was the absence of Jason. He actually shows up in this one! Hooray!
We also finally get an explanation for the whole supernatural mask thing.
If you want to read this book for yourself, you can download the PDF here.
Once Upon a Blurb
It has been four years since Jason Voorhees was dragged down to Hell. Since then the evil of Jason has arisen four times in the form of his possessed hockey mask. Four souls have worn that mask and have viciously killed dozens of innocent people who have mistakenly ventured into the woods around Camp Crystal Lake. Now the mask has chosen its latest and final wearer and the seeds of Jason's resurrection have been planted. But, there is opposition. Reunited, Micki Foster and Ryan Dallion must not only face a superhuman killing machine, but also the horrifying truth at the heart of the curse of Camp Crystal Lake.