Spoilers Ahead!
You know the feeling you get when you're approaching a car accident? The traffic has slowed down, emergency services are already on the scene and you don't want to look. You know if you were involved in that accident you wouldn't want a whole pile of strangers gawking at you as they passed, yet you can't help it. You look, even as you're wishing you hadn't.
That was how I felt the entire time I was reading this book. I wanted to look away and move on to something lighter, happier, less vindictive, but I kept reading. Why? Because, despite how uncomfortable I was, I still wanted to know. It was compulsive.
I've never understood why victims choose to become offenders. Surely if you've experienced something painful enough that you could be labelled a victim as a result, you know how bad that feels and wouldn't want to inflict that pain on anyone else, right? Apparently not.
Beth was bullied at school and now she targets "Beautiful People" online. If she'd simply had some imaginative revenge fantasies featuring some of the worst offenders in her life I probably would have cheered her on but that's not her game.
Instead she revels in trolling people she wants to be, people who have never done anything to her and who she knows nothing about outside of their likely Photoshopped online presence. It's a victory for Beth if her victims shut down their social media accounts, and the hatred she receives from her victims' supporters? Bring it on! It's like a drug to her.
Here I'm not a loser. Here, I reign supreme. It doesn't matter what side of the fence you fall down on: lover, hater, you're still focused on me, talking about me, making me the topic of conversation.
While I never liked Beth I did find some of her commentary about being overweight authentic, from not wanting to eat in public to the shame of standing in a retail store that doesn't stock clothes in your size. Had she not also been a troll I probably would have found her character fairly relatable. Well, except for the fact that she bought into some infuriating myths surrounding sexual assault and self harm, and her propensity to blame pretty much anyone other than herself. Okay, so maybe there's not as much relatability happening here as I thought. I did want her to make an appointment with a psychologist rather than study psychology though.
I initially liked Amy, adorable, quirky Amy. She was a bit too sweet to feel realistic but the contrast between her and Beth, who mostly only approximated sweet when she was eating chocolate, felt necessary. (While I'm thinking about sugar, I have to say that I absolutely loved the phrase "chain-eat chocolate" and expect I will probably both do this and use it in a sentence within a week.)
I wanted to hold onto the time I had with sweet Amy and bask in the warmth of the sunlight that appeared to be originating from her pure heart. While I understood her confusion, pain and anger when she learned some truths about Beth, whenever she yo-yoed between anger and forgiveness her personality seemed to change, almost as if there were three distinct Amy's.
There were a couple of reveals that I'd figured out early on and unfortunately the blurb gave too much away. While the ending felt too neat overall, I liked that there were some questions that remained unanswered. It would have been nice to know who Tori really was but not knowing was even better.
If you have a problem with swearing, this is probably not the book for you. Because I'm me, I got curious. Give or take a couple because my maths isn't perfect, I counted "shit" and its variations, not including "shite" 77 times and "fuck" and its variations 231 times!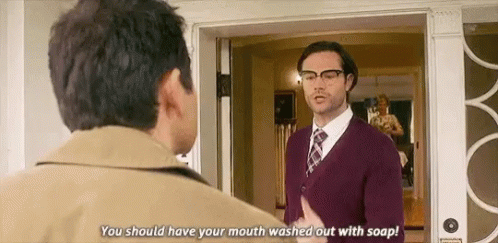 P.S. I wasn't offended by the swearing. It just made me think of this scene from Supernatural. 😊
Content warnings include anxiety, bullying, depression, mention of images of slaughtered animals, self harm, sexual assault and suicidal ideation.
Thank you to NetGalley and Carolrhoda Lab, an imprint of Lerner Publishing Group, for the opportunity to read this book.
Once Upon a Blurb
In real life, eighteen-year-old Beth is overweight, shy, and geeky. She's been bullied all her life, and her only refuge is food. Online, though, she's a vicious troll who targets the beautiful, vain, oversharing It Girls of the internet. When she meets Tori, a fellow troll, she becomes her online girlfriend-slash-partner-in-crime.
But then Tori picks a target who's a little too close to home for Beth. Unsettled, Beth decides to quit their online bullying partnership. The only problem is, Tori is not willing to let her go.