Illustrations – Chris Van Dusen
"Anything can happen, Stella Endicott, anything at all."
Stella Endicott loves second grade and is looking forward to writing a poem with metaphors that will impress her teacher, Miss Liliana.
Things don't go as planned when Horace Broom, second grade know-it-all and the bane of Stella's existence, calls her a liar.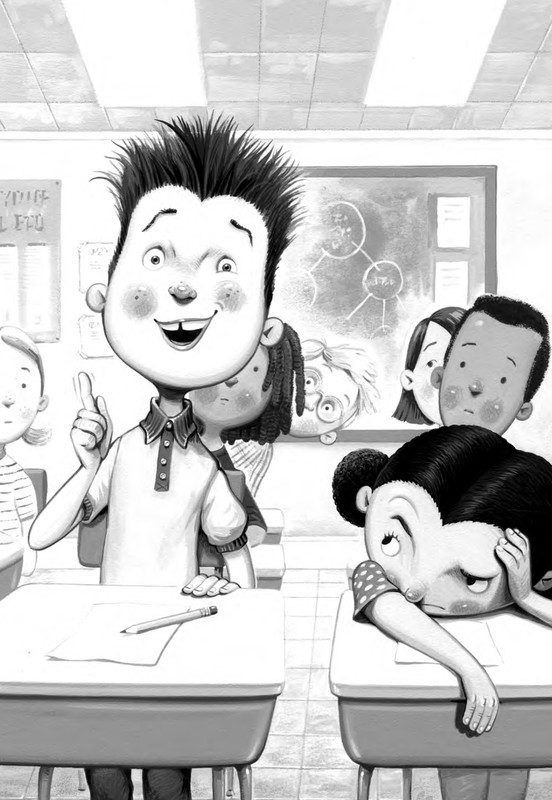 An argument ensues, which results in Stella and Horace being sent to the principal's office. While Stella is determined to meet her fate with curiosity and courage, Horace isn't so sure.
While facing fears and finding metaphors, Stella and Horace find some common ground and an unexpected new friend.
This is a sweet story that includes a few words that the target audience may find difficult. Chris Van Dusen's illustrations are as wonderful as I've come to expect, with expressive characters and humour.
Leroy Ninker's story felt unfinished to me in Leroy Ninker Saddles Up and Stella's story feels unfinished here. Although there is a conclusion, I'm left with unanswered questions. Did Stella ever get to share her poem with the class? What did Miss Liliana think of it?
Thank you so much to NetGalley and Candlewick Press for the opportunity to read this book.
Once Upon a Blurb
Stella Endicott loves her teacher, Miss Liliana, and she is thrilled when the class is assigned to write a poem. Stella crafts a beautiful poem about Mercy Watson, the pig who lives next door – a poem complete with a metaphor and full of curiosity and courage. But Horace Broom, Stella's irritating classmate, insists that Stella's poem is full of lies and that pigs do not live in houses. And when Stella and Horace get into a shouting match in the classroom, Miss Liliana banishes them to the principal's office.
Will the two of them find a way to turn this opposite-of-a-poem day around? In the newest spirited outing in the Deckawoo Drive series by Kate DiCamillo, anything is possible – even a friendship with a boy deemed to be (metaphorically speaking) an overblown balloon.