I loved this book! With quirky illustrations, these comics tapped into urban legends, campfire stories and other irrational (or so we're made to believe) fears we already have, along with some new ones spawned during reading The Creeps.
While reading I vacillated between "Me, too!!" and "Oh, I never thought about that before", the whole time with a potentially creepy grin plastered on my face. I was compelled to read this book from cover to cover as soon as I received it, which unfortunately was in the morning.
My second reading will definitely take place at night in the dark, with only the light of my iPad protecting me from the ghosts surrounding me and the creature under the bed ready to hold my hand during the night if I dare fall asleep with my arm hanging over the side of the bed.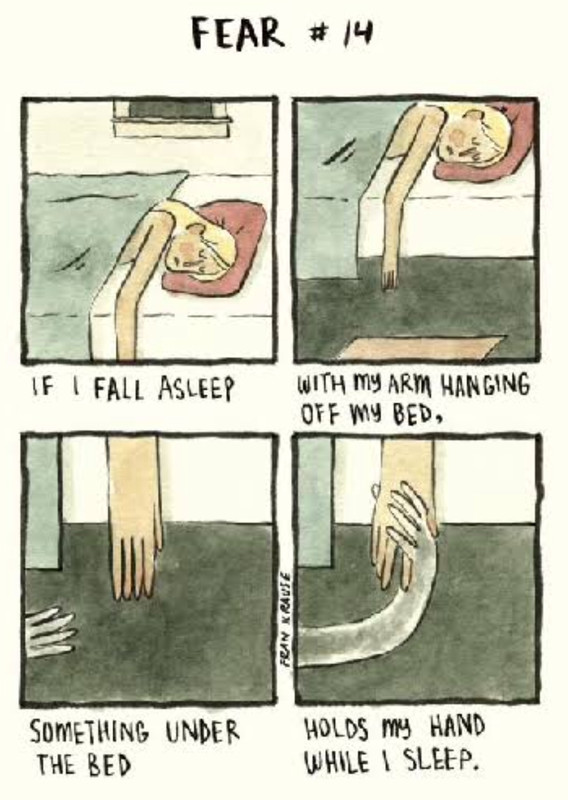 The Creeps is delightfully creepy but it's also funny, imaginative and sometimes all too real (in a fun way). I'll be revisiting this book many times and will be recommending it to my fellow eccentrics and everyone I know with a sense of humour.
Thank you very much to NetGalley and Ten Speed Press for the opportunity to read this book.
Once Upon a Blurb
Illustrator, animator, teacher, and comic artist Fran Krause has touched a collective nerve with his wildly popular web comic series – and subsequent New York Times best-selling book – Deep Dark Fears. Here he brings readers more of the creepy, funny, and idiosyncratic fears they love illustrated in comic form -– such as the fear that your pets will tell other animals all your embarrassing secrets, or that someone uses your house while you're not home -– as well as two longer comic short-stories about ghosts.