Illustrations – Rachel Tribout
Every year Wonder and her constant companion, Hollowbeak the crow, watch as the students arrive at Direleafe Hall. Every year Wonder hopes that one of the girls will be her friend. Every year Wonder is heartbroken when none of them speak to her or even acknowledge her presence.
One day, one year, she would find her perfect person. The one whose soul was the perfect mirror of hers. The one who knew her, who she was, entirely, and saw that she was good. The one who saw that she was golden inside.

Not grey.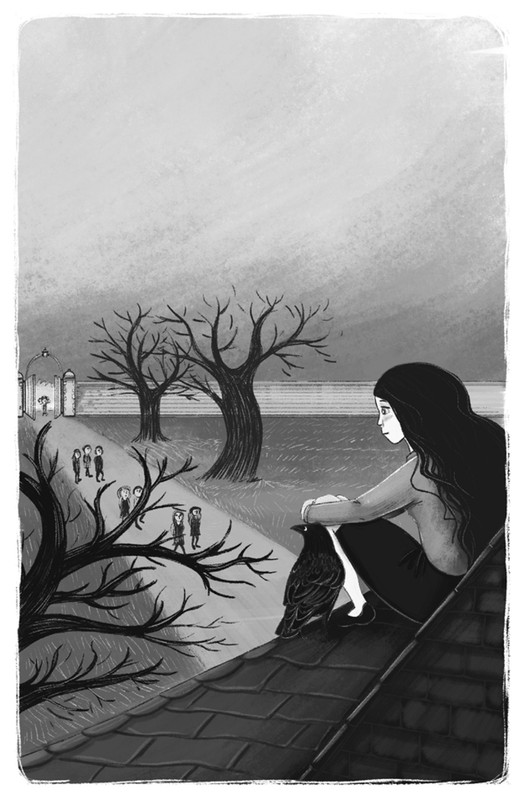 This year is different. Mabel, a new student, is also different.
'I am infinite,' she whispered.

Mabel smiled. Without opening her eyes, she nodded. 'All of us are,' she said. 'But only some of us know it.'
Wonder and Mabel become friends, despite Hollowbeak's concerns. Together they begin to complete the list of wishes that Mabel has written, wishes that include touching a star, throwing a pie and making someone feel pure happiness.
But Wonder and Mabel are each holding onto a secret.
I loved this book! It was so beautiful but so sad! Although I knew from very early on where the story was going, I found myself tearing up towards the end.
There were so many passages that made me want to linger. Descriptions like this one only added to the story's beauty and haunting feel:
The tree, like Hollowbeak, was a bent and twisted thing, its bark as silver as twilight and its branches as black as midnight. It was peculiar and it was old and it seemed somehow imbued with age and wisdom, and Hollowbeak felt in it a kindred spirit.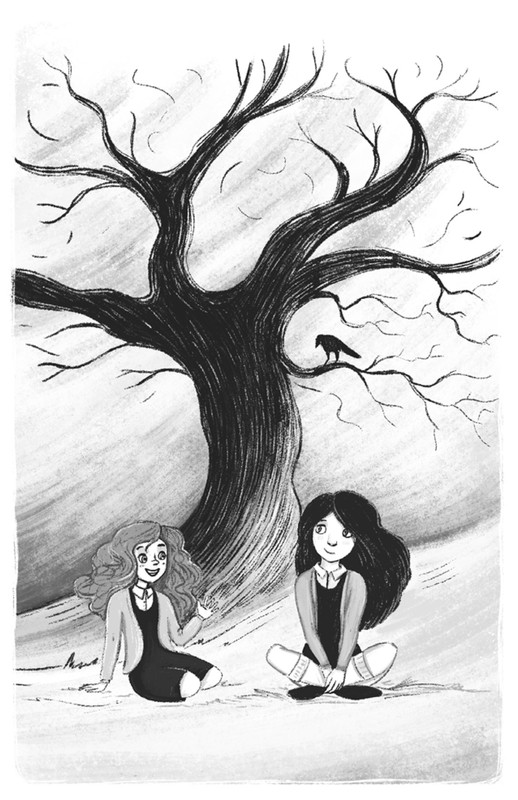 I probably wouldn't have appreciated this book as a child as much as I do now. I'm not sure if I would have read it at all because I was a pretty sensitive kid. I can still remember all too well what being broken by Charlotte's Web felt like and I expect this book would have elicited similar feelings, despite the sadness being wrapped in unconditional love.
I adored Rachel Tribout's illustrations. They capture mood of the story so well and the cover image is simply gorgeous. I was fascinated by the shiny, almost metallic accents on the paperback cover.
If you've ever borrowed some courage by reading about girls who roar until you are able to roar for yourself … If you've ever been scared of being hurt (yet again) but bravely put yourself out there anyway … If you've ever yearned to be truly seen and appreciated for who you are … Wonder's story will resonate with you.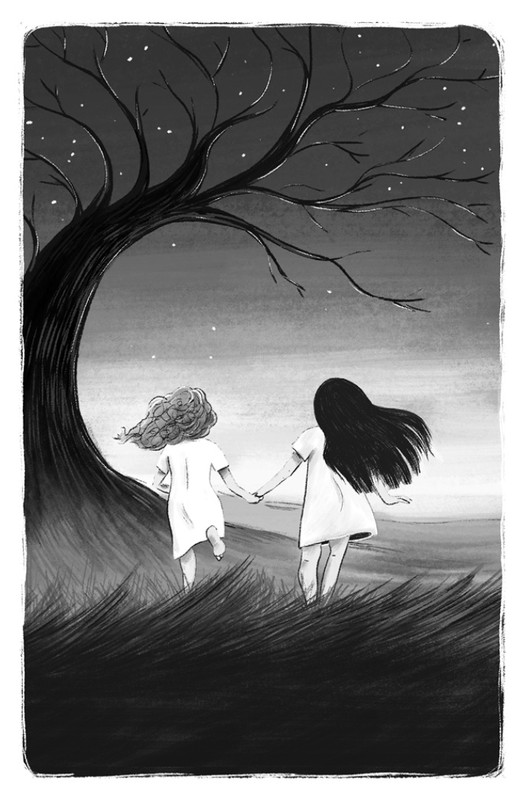 I fell in love with these young girls and their friendship. I probably never would have met them at all had it not been for my library. As soon as I finished reading I bought my own copy for the next time I want to experience their friendship. I'll make sure to bring tissues to my reread.
Once Upon a Blurb
Lonely orphan Wonder Quinn lives in the attic of Direleafe Hall with only a gloomy crow for company. Every year she hopes to make a true friend and every year her heart breaks when she doesn't.
But when a spirited new student, Mabel Clattersham, befriends her in class, Wonder's dreams seem to be coming true. As the girls grow closer, Wonder discovers her friend has a list of strange wishes: Throw a pie, leap into the sky, break someone's heart …
What is Mabel's big secret? Can Wonder protect her heart from being broken all over again?
The Heartsong of Wonder Quinn is an enchanting tale celebrating friendship, bravery and the importance of staying true to yourself.