Illustrations – Andy Elkerton
Do you want to teach your children table manners and have fun doing it? Just add dragons! I love this book so much! I mean, come on! There's dragons!
The rhymes make reading aloud lots of fun and the gorgeous illustrations complement the text brilliantly. Whether they're being read to or reading to themselves, kids are going to love this book. They will be able to clearly contrast the rude behaviour at the beginning of the book with the good table manners shown at the end.
The illustrations are incredible! I really loved seeing the diversity of people (and dragons) shown at the restaurant. The colours throughout the book were beautiful and vibrant, and the expressions on the faces of everyone at the restaurant were priceless.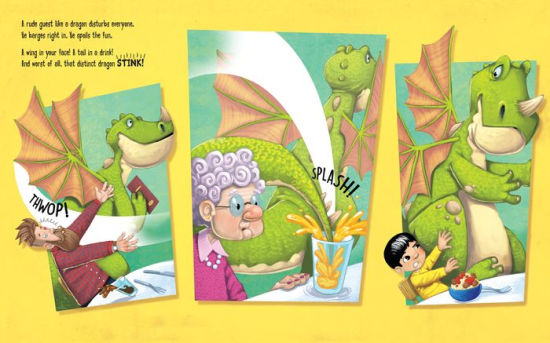 This is one of those books where everything works well together. You could take away the illustrations and still have a great story. You could take away the text and still understand the story from the pictures alone.
Thank you very much to NetGalley and Capstone for the opportunity to read this book. This book needs to be in libraries and homes everywhere! This is a book I'd still enjoy reading the 100th time. Did I mention the dragons?!
Once Upon a Blurb
We know you shouldn't take your dragon to the library, but what about taking him out to dinner? After all, dragons need to eat too! But with fiery breath, flapping wings, and pointy spikes, that might not be a good idea! Rhyming text and diverse characters bring the importance of dinner manners to a new level in this colorful picture book by Julie Gassman.