Illustrations – Stephen Gilpin
So, you think you're having a bad hair day? Well, you haven't seen anything until you see Aidan Allen's hair! It's got a mind of its own and no matter how much Aidan yells and screams at it, it just won't behave. Can Aidan find a way to tame his mane?
Hair-Pocalypse is a fun picture book that teaches about hygiene in an entertaining way. I particularly loved the passage where needs are distinguished from wants. Although the focus is on hair in this instance, it is a great lesson that parents can apply to other circumstances relevant to their child.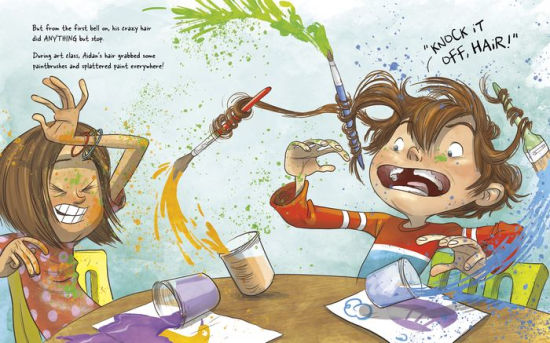 The story is funny and engaging, and the illustrations are captivating. I loved the personalities that were captured on the childrens' faces in the illustrations and the use of colours and detail to maintain your attention. Be certain to look closely at the pictures, as it seems the story may not be over for Aidan at the end of the book.
Thank you very much to NetGalley and Capstone for the opportunity to read this book. I want to this book to find its way into homes, schools and libraries. Parents are sure to see their kids in Aidan and kids are going to really like him.
Once Upon a Blurb
Aidan Allen has angry hair. That's right – angry hair. Hands down, he has the angriest hair anyone has ever seen. But why is his hair so angry? Why is his hair trying to ruin his life? Why is the sky blue? Two of these three questions will be answered in this comical tale of kid vs. hair. In his debut picture book, Geoff Herbach mixes his fresh writing style with over-the-top situations to help his character through a very hairy situation.