Illustrations – Ken Lamug
Now, this is my kind of book! I expect that the level of childlike joy I experienced while reading A is for Asteroids, Z is for Zombies and examining the gory illustrations shows just how much of a sick, sick puppy I am.
I inherited my warped sense of humour from my beloved Nan (the coolest person I've ever met) who, despite her adoration of cats and adoption of too many to count throughout her life, owned a well worn copy of 101 Uses for a Dead Cat by Simon Bond. This was one of my favourite books growing up. I would page through it every time I visited Nan and ended up buying my own copy as an adult. The humour in this book reminds me of Simon Bond's.
My Nan would have loved A is for Asteroids, Z is for Zombies just as much as I do. Taking on some serious contenders for our impending doom, then adding verse that rhymes and lulls you into a false sense of security with the feel of a children's bedtime story, Paul Lewis has done a fantastic job with this book.
The illustrations, mostly black and white with the appropriate splashes of red, bring the words to life (or should that be death…). Ken Lamug has captured the tale perfectly with simple yet detailed, devastating yet hilarious, scenes of destruction. I loved watching the father's expression change throughout his reading of Aunt Dorcas' thoughtful gift for Tim, her nephew.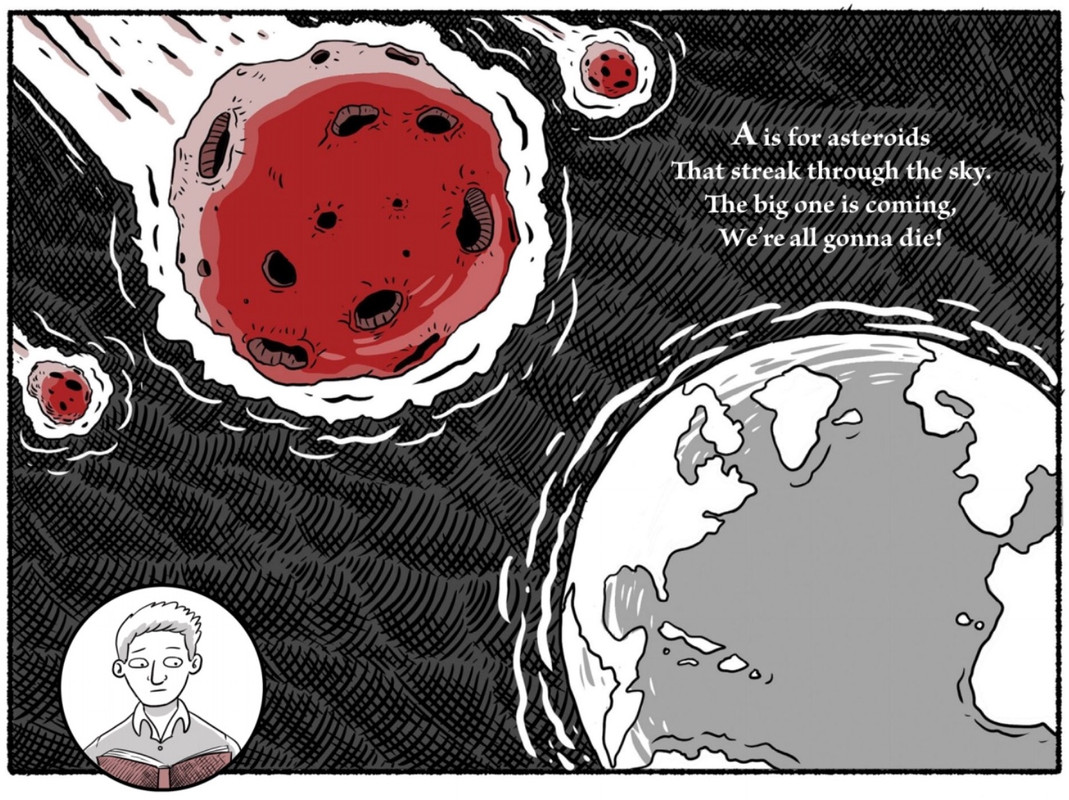 I expect this book could be polarising but if you aren't my kind of person I doubt you'd pick it up in the first place. For those who do pick it up, you're in for a treat that I'm certain you'll be compelled to read more than once.
Thank you so much to NetGalley and Andrews McMeel Publishing for the opportunity to read this book. This has just become one of my favourite reads of the year.
Once Upon a Blurb
A darkly comic fable that offers visions of the apocalypse for every letter of the alphabet.
Starting with a father whose son has been asking questions about global dangers, A is for Asteroids, Z is for Zombies takes us inside our worst fears, laughing at some and taking others seriously. With macabre verse and fantastically gory illustrations, it provides gallows humour for our doom-haunted times.