Illustrations – Jim Kettner
Lacy J. Davis has nailed it in this graphic novel memoir of her battle with an eating disorder in Ink in Water. She bravely takes the reader on a journey with her from its inception with thoughts of not being good enough to the beginnings of food restriction and anorexia, to compulsively exercising and finally bulimia. We watch on as her world shrinks along with her body, as she shuts out friends while her obsession with her body takes hold. We're taken inside her mind as she battles the thoughts telling her she's too fat and we silently cheer her on from the sidelines as we watch her courageously fight to become healthy again and triumph over her demons.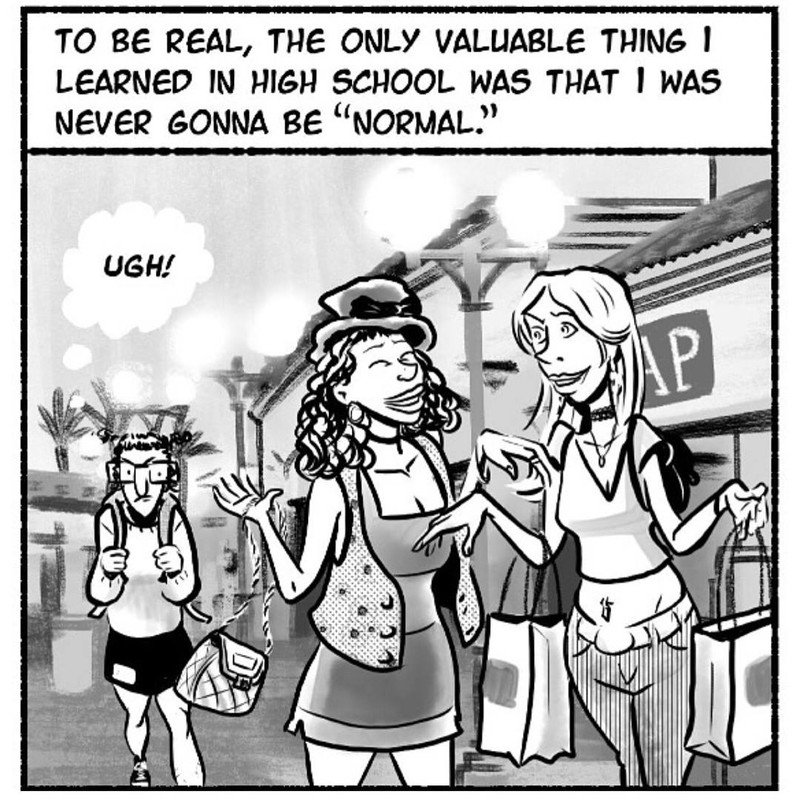 While everyone fighting an eating disorder is on their own journey, Lacy takes us on an unflinching ride through hers. Not sugarcoating (yeah, I know, weird word to use in a review for a book about eating disorders) her struggles, yet ultimately giving us hope, this book will speak to everyone who has had, has or knows anyone with an eating disorder. People who can't understand why they just don't eat more or why they don't just stop exercising so much will gain much needed insight into what life with an eating disorder looks and feels like.
There are as many stories behind why eating disorders begin as there are people struggling with them and what works for one person may not work for another as they work towards recovery. I applaud Lacy for showing us that recovery from eating disorders isn't a success only path but that ultimately there is hope.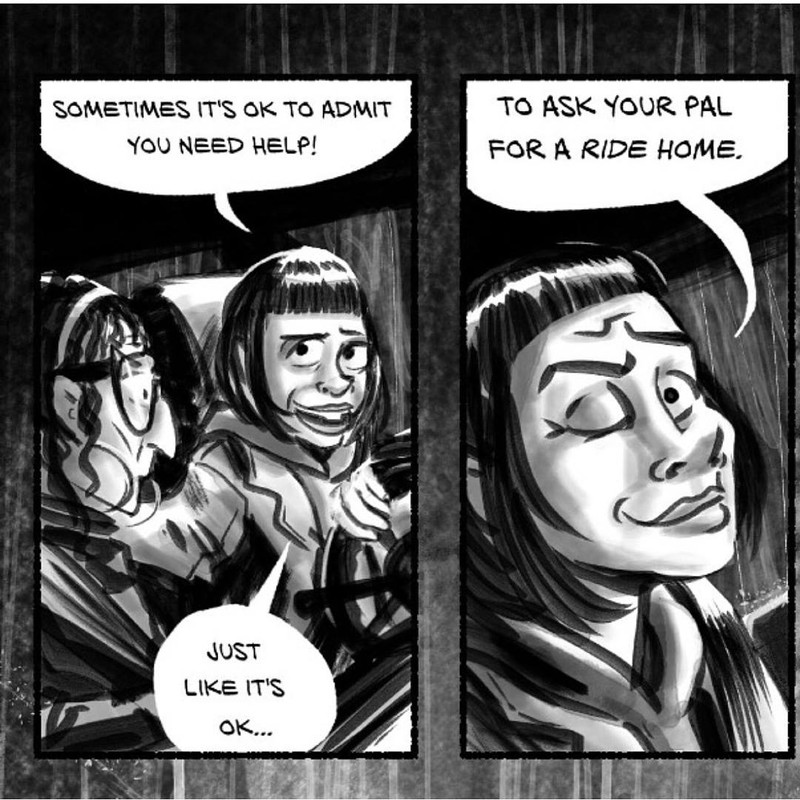 Jim Kettner's illustrations are gritty and take us deeper into Lacy's journey than we could have gone with words alone. We become a part of Lacy's struggles and her grief, we're inside her head listening to the voices telling her she's not enough and we feel the hope that shines through despite her struggle.
Thank you so much to NetGalley and New Harbinger Publications, Inc. for the opportunity to read this graphic novel. If you have an eating disorder I encourage you to keep fighting, don't stop searching until you find treatment that works for you and hold onto hope. Recovery is possible. Yes, even for you!
Once Upon a Blurb
At once punk rock and poignant, Ink in Water is the visceral and groundbreaking graphic memoir of a young woman's devastating struggle with negative body image and eating disorders, and how she rose above her own destructive behaviours and feelings of inadequacy to live a life of strength and empowerment.
As a young artist living in Portland, Lacy Davis' eating disorder began with the germ of an idea: a seed of a thought that told her she just wasn't good enough. And like ink in water, that idea spread until it reached every corner of her being. This is the true story of Lacy's journey into the self-destructive world of multiple eating disorders. It starts with a young and positive Lacy, trying to grapple with our culture's body-image obsession and stay true to her riot grrrl roots. And while she initially succeeds in overcoming a nagging rumination about her body, a break up with a recovering addict starts her on a collision course with anorexia, health food obsession, and compulsive exercise addiction. At the request of her last real friend, she starts going to a twelve-step Overeaters Anonymous course, only to find that it conflicts with her punk feminist ideology.
Blending bold humor, a healthy dose of self-deprecation, vulnerability, literary storytelling, and dynamic and provocative artwork by illustrator Jim Kettner, Ink in Water is an unflinching, brutally honest look into the author's mind: how she learned to take control of her damaging thoughts, redirect her perfectionism from self-destructive behaviours into writing and art, and how she committed herself to a life of health, strength, and nourishment.