Illustrations – Steph Calvert
Ahoy, me mateys! This book were bein' a fun ride. Chock full of colourful pictures and plenty o' pirate characters, I enjoyed readin' this story. Gary the Stegosaurus does his best t' please Cap'n One-Tooth. Avast! He gets fired!
Gary was not bein' the right size for pirate clothes, he be too big, his tail be too spiky, he not be eatin' pirate food, and he not be good at countin'. Maybe there be 'nother job perfect for a Stegosaurus, eh?
Cap'n Thomas Kingsley Troupe, ye did a good job. Cap'n Steph Calvert, ye drawin' ability be full o' whimsy. Lads and lasses, they be enjoyin' this here book.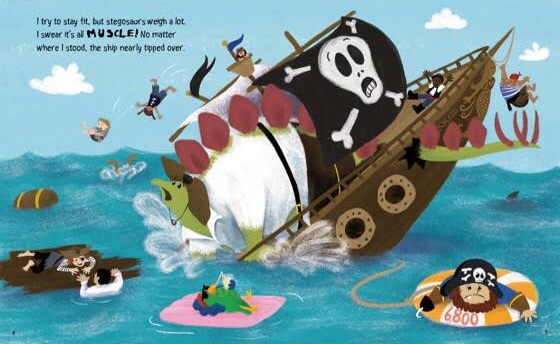 Thanks to me mateys at NetGalley and Capstone for givin' me the opportunity to be tellin' 'em what I be thinkin' of it. Arrr!
Once Upon a Blurb
Gary the Stegosaurus wants to be a pirate. But then he gets the chance, things do NOT work out. Getting seasick is the least of Gary's worries once he's on that ship! This delightful picture book from the Dinosaur Dreams series includes discussion questions, an interactive look-and-find fact section, and dinosaur facts.