Illustrations – Sofia Cardoso
The Social Butterfly just broke my cute-meter! It's such a lovely picture book with a great message and the sweetest illustrations.
Charlotte is a gorgeous purple butterfly who makes new friends everywhere she goes. She loves talking, singing and telling jokes, and she also loves school. When her constant chattering one day results in her friends missing out on eating lunch, not being able to concentrate on reading or their maths worksheet in class, or not hearing something important their teacher Miss Flora says, they each get upset with Charlotte. Charlotte talks to Miss Flora about her fears that her friends don't like her anymore. Will Charlotte take Miss Flora's advice?
This book has a great message for all of the young social butterflies out there about learning when it is appropriate to talk, laugh and play with your friends and when you need to be quiet and pay attention.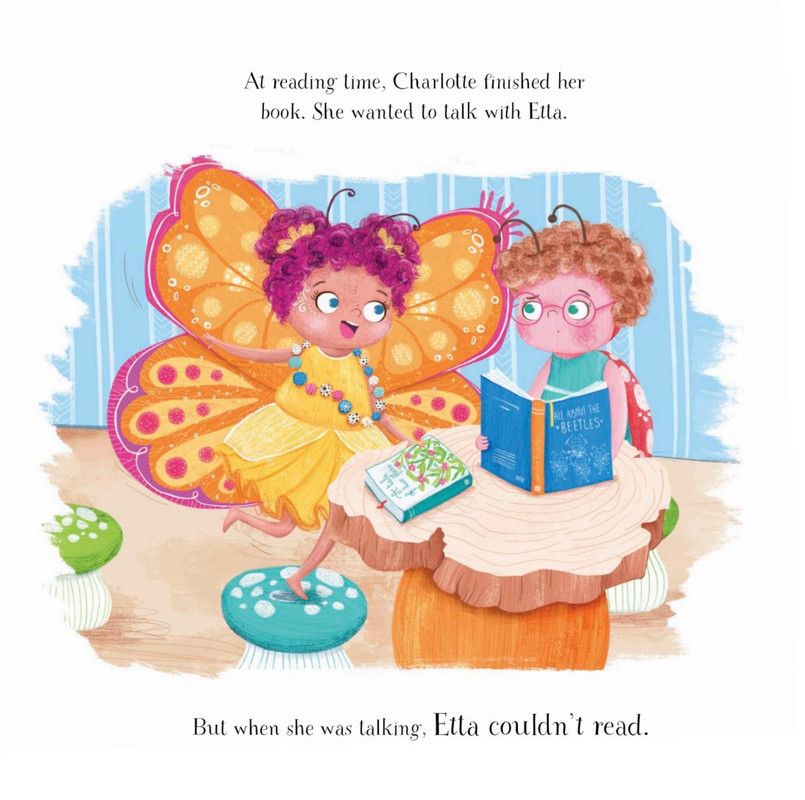 The writing style was engaging and the illustrations were adorable! The layout has been well thought out and the font choice complements the soft colour palette of the illustrations. The childrens' expressions leave no room for confusion regarding what they're feeling and the children themselves are simply the cutest little insects ever! The backgrounds are detailed and I loved the attention to detail. I especially loved Miss Flora's chipped upside down teacup table.
After reading this book I had convinced myself I wanted to live in a mushroom and be friends with Charlotte. I think I want to be a butterfly as well but since my favourite colour is already taken, I may have to be blue instead.
Thank you so much to NetGalley and Capstone for the opportunity to read this book. This book would make a fantastic bedtime story and I'd also love to see it in schools and libraries. I'd enjoy reading this book over and over. Charlotte now has a place in my heart.
Once Upon a Blurb
Charlotte loves talking, singing, and playing. What Charlotte doesn't love is sitting still, being quiet, and listening, which is a big problem at school. Charlotte's overly social ways interfere with her friendships and her learning. Will Charlotte be able to modify her behaviour and learn when to be social and when to be quiet? A sweet and relatable picture book story that shines a light on social behaviours.