Kuma-Kuma Chan's Travels is the third in the Kuma-Kuma Chan picture book series. Kuma-Kuma Chan loosely translates from Japanese as 'cute little bear'. In this book we read about where this bear travels, such as a tropical beach and to the top of a mountain, although we learn that Kuma-Kuma Chan doesn't actually go anywhere. He travels in his imagination, in his writing and in his dreams. He sends the unnamed narrator writings about his travels but because his writing is too messy, the narrator cannot read them.
I expect the intention of this book is to encourage readers to also use their imaginations. From reading reviews of previous books in the series I understand that this bear is quite popular in Japan. It's not the kind of children's book I gravitate to though as nothing really happens.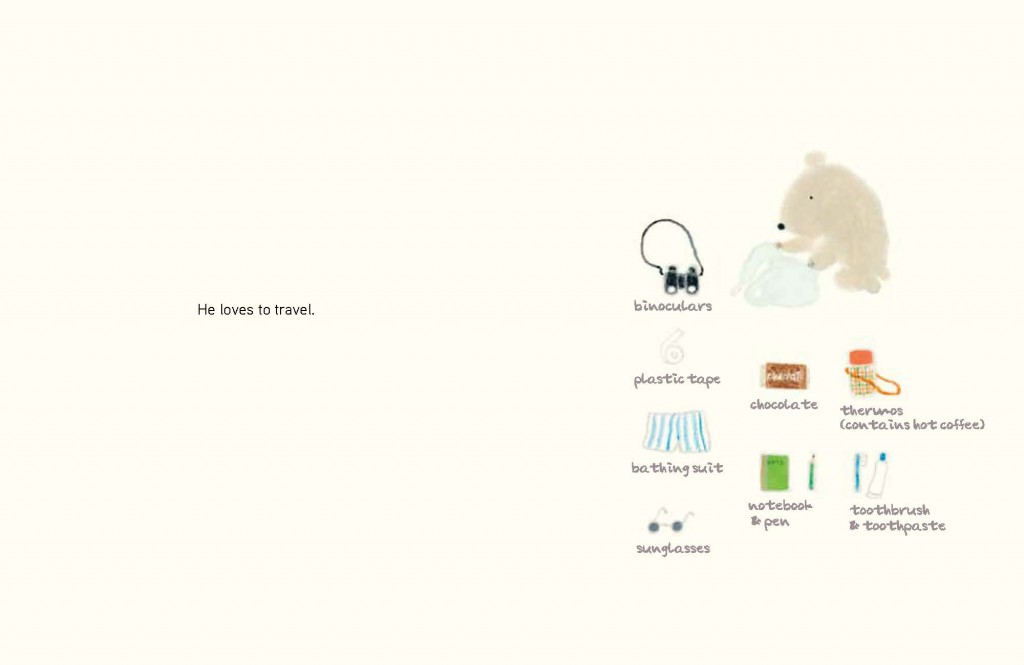 There isn't the rhyming or excitement that usually engages young children or bright, detailed illustrations to capture their imaginations. The illustrations are simple and have muted colours. I got sort of a zen feel from reading the book, like I was floating in clouds while I was reading it.
Thank you very much to NetGalley and Museyon Inc. for the opportunity to read this book.
Once Upon a Blurb
In the third book in the Kuma-Kuma Chan series, the title character flies off to a south sea isle where he lies in the sun and drifts into a lazy snooze. He climbs to the summit of a mountain and views the sunrise while drinking a cup of hot chocolate. Instead of physically setting out for one place or another, Kuma-Kuma travels freely all over the world – inside his head. Once again, Kuma-Kuma Chan charms as he exemplifies the joy of a simple, peaceful, life. With its spare text and delightful illustrations, this small-format picture book invites readers to explore their own imaginations and create their own travels.