You know those amazing people who can look at a branch and think to themselves, 'Gee, this would make a brilliant bird' and then go and whittle that branch into something that actually looks like a bird? I'm not one of those people, but Chris Lubkemann certainly is! I page through books like Victorinox Swiss Army Knife Whittling Book, Gift Edition in jaw dropped awe and wish I was a tenth as talented as this man.
I grew up coveting my Dad's Swiss Army Knife and felt like I was super special whenever he'd let me play with the toothpick – carefully, so I didn't break it. The day that I was judged responsible enough to have my very own Swiss Army Knife I felt like I'd achieved a major rite of passage. I love these little marvels of engineering and currently have my grandfather's but am eyeing off this gorgeous purple one that I may be forced to purchase.
So, this book. From the dedication to Carl Elsener, Sr., complete with a lovely photo of him with one of the happiest smiles I've ever seen, leaning on a table filled with upstanding Swiss Army Knives in battle formation, I began smiling and the only times I wasn't smiling after that was when my brow was furrowed in astonishment at what author and whittler extraordinaire Chris can create out of so little.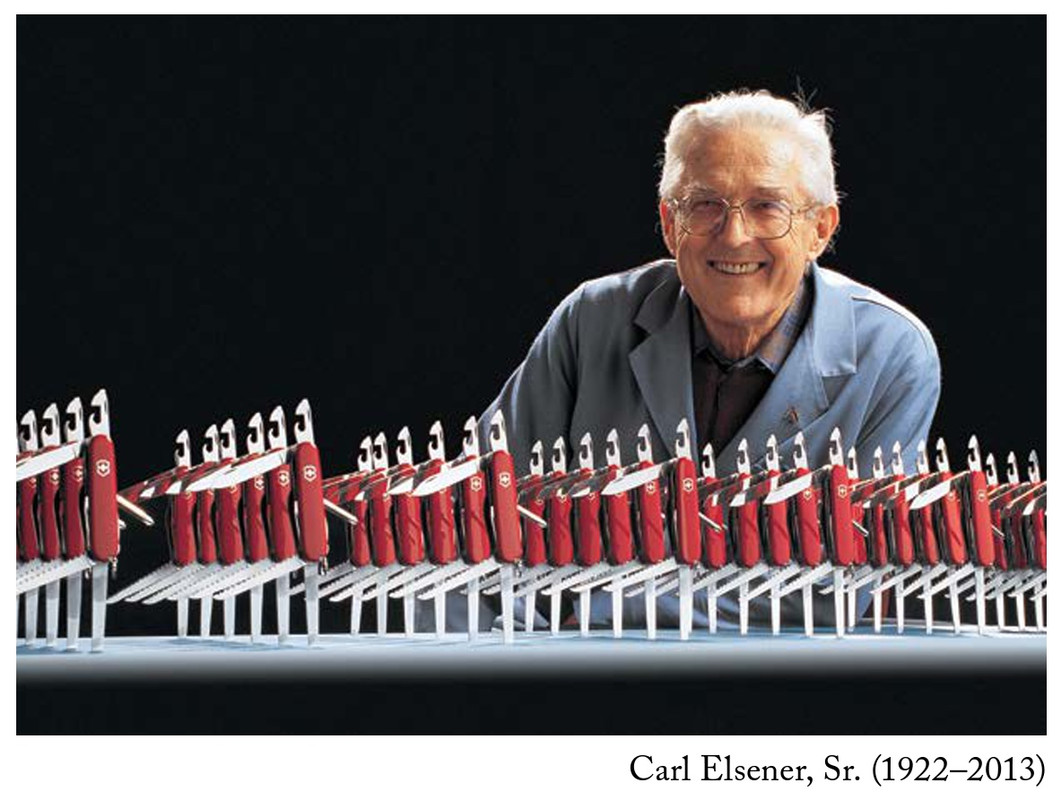 Chris is passionate about his craft and there's something contagious about passion. After learning about the history of the company and seeing some of the incredible variations of the models, I almost feel like a Swiss Army Knife evangelist now. From the basic model to the extraordinary Swiss Champ XAVT with 118 parts to the adorable limited edition ones with designs like bees or an astronaut dog in space, I never realised how many different functions these tools can achieve or how cute they can be. Also, in just their Ibach factory alone, 60,000 Swiss Army Knives are produced per day! Who knew?!
Onto the whittling. Not only do you get step by step instructions, you get coloured photos to support them. You will learn how to customise your knife to make it easier to whittle with, safety instructions, how to choose your branches and the other tools you will need. The projects will show you how to make tools, toys, animals and household items such as coasters. My favourite creation has to be the rowboat, complete with oars! So, have I converted you yet?
I am all too aware of my own klutz level so you won't be seeing any updates from me with photos of my marvellous creations. I'd prefer my fingers to remain attached to my hands. For those of you like me this book is simply incredible to look through. You will gain such an appreciation for the talented non-klutzes of the world.
For those talented or soon to be talented whittlers, I applaud your artistry. This book would be perfect for anyone looking for a new hobby or for current whittlers looking to master new projects.
Thank you so much to NetGalley and Fox Chapel Publishing for the opportunity to read this book.
Once Upon a Blurb
With this well-illustrated guidebook and a trusty Swiss Army Knife, readers will be ready to whittle wherever they go. World-famous whittler Chris Lubkemann shows how to carve 43 useful and whimsical objects using nothing more than a stick and an Original Swiss Army Knife. Chris offers step-by-step instructions for all the traditional whittling favorites like spoons, forks, and flowers, plus some decidedly funny animals and the classic curly tail rooster. He also provides sage advice on how to choose wood, sharpen a blade, and safely control your knife. Published in collaboration with Victorinox AG, makers of the Original Swiss Army Knife.