Did you know that the Egyptian mummy-making process took 70 days? Or that 15 of those days were needed to wrap the mummy?
I've been an Egypt nerd for most of my life. I learned so many new facts while reading this book and it's ignited the need to learn more. I would have done some serious drooling over this book as a kid. My Nan and I shared our fascination of Ancient Egyptian culture, beliefs and customs, and for a time I was sure I was going to be an archaeologist when I grew up.
I read books and more books about Egypt. When we got to choose our own topic for a project in primary school I chose Ancient Egypt. That project is still sitting in a box in the garage, pulled out and leafed through from time to time when nostalgia finds me. I had a silver necklace I wore throughout high school with a Nefertiti bust charm on it. I laboured for months over a detailed Tutankhamun burial mask cross stitch for my Nan and although she was an incredible artist, she removed one of her paintings from the living room wall and hung my framed present in its place. My Nan was totally awesome!
I loved that this book takes you on a journey through the mummification process that is appropriate for children (it's recommended for ages 8 and above), but it is also interesting enough to hold an adult's attention. Just some of the snippets of information I enjoyed coming across while reading include:
What images were on the inside of coffins and why
Who the first Egyptian mummy was
Where we get the English word mummy from
What determines whether you read hieroglyphs from left to right or right to left
What different colours symbolised in Egyptian culture.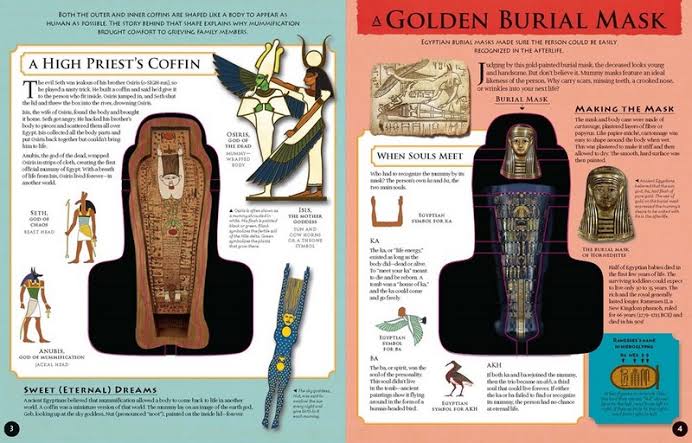 While there were plenty of photos and illustrations interspersed with the text, the layout didn't feel cluttered. The copy I read was digital so I haven't seen the final die-cut model but from the photos throughout the book I can imagine it would help bring what you're reading about to life. I'm also quite proud to be able to tell you that I now know how to write my first name in hieroglyphs thanks to this book.
Thank you so much to NetGalley and Quarto Publishing Group – becker&mayer! kids for the opportunity to read this book.
Once Upon a Blurb
Calling all explorers and archaeologists! Inside Out: Egyptian Mummy comes with everything you need to start an Egyptian adventure, from discovering a tomb to unwrapping a mummy.
Though the ancient civilization of Egypt may be long gone, itsdead still have secrets to tell. From the myth of Isis and Osiris, to King Tut's tomb, to the intricacies of preparing the body for its underworld journey, Inside Out: Egyptian Mummy takes you step by step into a tomb. Get a fascinating glimpse into how an ancient culture saw death and the afterlife beyond.
That isn't all though! Alongside beautiful illustrations and photographs, an interactive die-cut model reveals the many rites of the Egyptian tomb. You will be amazed by everything from the iconic golden burial mask, to the lucky amulets the dead were buried with, protective linen wrappings, and even the mummified body and preserved sacred organs. And when it comes to hieroglyphics, hidden burial grounds, and missing treasure, there's always more to uncover, so get your start now, who knows where your journeys will take you!