Daisy's pet Ladybird has decided to play a game of hide-and-seek. Daisy enlists the help of the best detective in Plant City, Basil, to help find him. They search the school, train station, museum, fun fair, restaurant, garden centre, a concert, hospital, riverbank and market. Along the way they find many other animals doing fun activities including a skateboarding crocodile and items such as a picture of a pineapple.
The illustrations were colourful and jam packed with activity. Kids will enjoy spending time searching the pages for animals doing cute and funny things. This book is the first in a planned series and it definitely has potential but I think it could have been more interactive.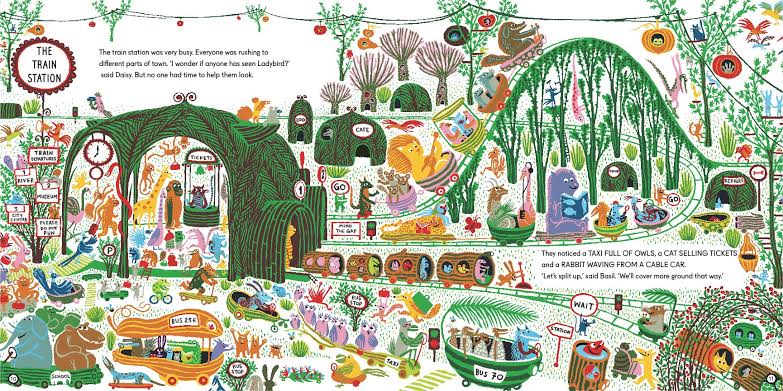 I had expected the book to ask the reader/seeker to find more things. As the front cover boasts that there are over 500 things to find I was surprised that each scene only required on average three things to be found. Perhaps additional items to find could have been listed at the back of the book, along the lines of, "Well done! You've found Ladybird and some of the residents of Plant City. Can you also find …" and then maybe list some more things to find in each scene.
I know kids can find their own items in the scenes and adults can ask a kid if they can see something but most of the fun of this sort of book is having a big list of items to find and then having the satisfaction of knowing where everything is in each scene.
While I liked the style of the illustrations there were a few animals I couldn't identify. I'd be able to work around this with a child by asking them to find an animal of a certain colour doing a particular activity. I also would have liked a final page where Daisy and Basil actually find Ladybird. As it stands, Daisy wants to cry because she misses her pet so she and Basil try silly hats on to cheer themselves up so the story itself finishes on a bit of a downer.
Helpful Hint: Just because Daisy and Basil can't find Ladybird in each scene doesn't mean you won't be able to find him.
Thank you so much to NetGalley and Quarto Publishing Group – Frances Lincoln Children's Books for the opportunity to read this book.
Once Upon a Blurb
Daisy's pet ladybug goes missing, so she visits super-sleuth Basil, the best detective in Plant City. Can he help her find Ladybug? Follow Daisy and Basil as they look for Ladybug all over Plant City.
Is he in the museum, the carnival, the train station, the school, the concert or the restaurant? Witty, colorful, illustrations packed with visual jokes and plenty of wild things to spot in the background will delight children of all ages.