Illustrations – David Litchfield
David Litchfield's illustrations are so beautiful. The first page was probably my favourite. We're in a forest with so much atmosphere you can almost feel it. There's darkness with rays of light shining through the trees. There's a gorgeous tree with a door to Mouse and Bear's home, with stones leading to it and there are scattered flowers in the area, concentrated around the bottom of the page. Vines wrap themselves around tree branches and it looks like there's some moss covering the bottom of the tree where our friends live. We're introduced to our characters as they're walking, backs to the reader, up the steps to their home. The rest of the illustrations show just as much talent but none took my breath away like the first.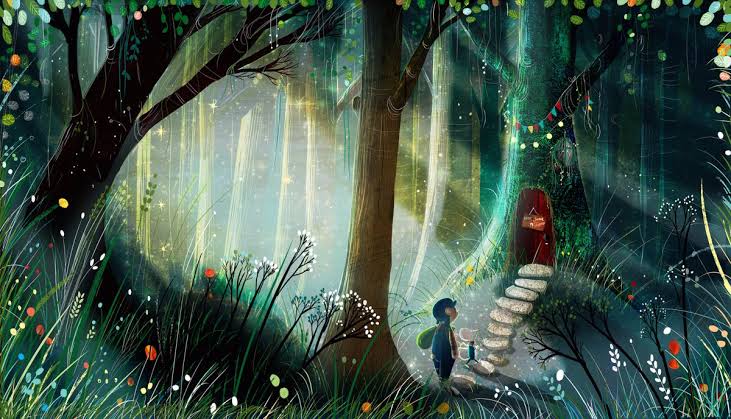 So, there was also a story and it's adorable. Mouse wants to go to the Moon so he studies and then makes a Moon Map. When he's finished he sets off on his adventure – alone, because he can do it himself – but then he discovers that the forest can be very dark when you're by yourself. This is a lovely friendship story and Bear's catchphrase, "But I've got you, and you've got me – so we'll be all right.", which is repeated throughout the story says it all.
Adults, pay attention to the names of the reference books Mouse uses and you may find one by Stephen Pawkins. 😊 Also to the adults, in this book a map that you presume is made from paper can turn into a boat that holds both characters and not sink, and it's okay. It's only a story. You'll be fine. Go with it and enjoy the ride. Ooh, and there's even instructions for how to make your own paper boat.
Once Upon a Blurb
One day, adventurous Mouse sets off to find the moon with his Marvellous Moon Map, leaving his worried friend Bear behind. But as the Woods get darker, and the weather gets worse, Mouse soon realises that he needs more than just the Moon Map to find his way …
An emotional and atmospheric tale of true friendship, beautifully told by Teresa Heapy with stunning illustrations from Waterstones Prizewinning David Litchfield