Illustrations – Peter Brown
Jasper is a big rabbit now, so green underwear that glows shouldn't scare him. Even though he's most certainly not scared of them, he's done with them now. But they're not done with Jasper. This picture book had an R.L. Stine / Paul Jennings sort of vibe to it.
The illustrations, mostly black and white but with a Halloween green glow to add to the spook factor, were brilliant! Who knew underwear had so many expressions?! And where can I put my order in for some?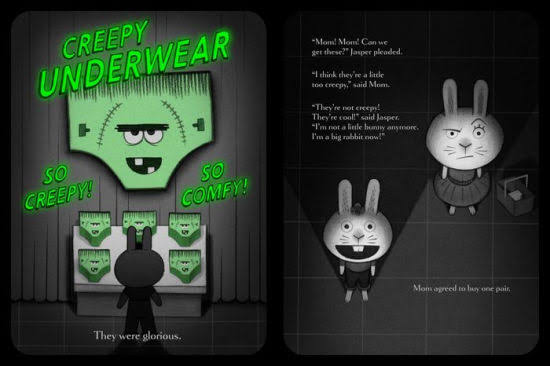 Once Upon a Blurb
Jasper Rabbit is NOT a little bunny anymore. He's not afraid of the dark, and he's definitely not afraid of something as silly as underwear. But when the lights go out, suddenly his new big rabbit underwear glows in the dark. A ghoulish, greenish glow. If Jasper didn't know any better he'd say his undies were a little, well, creepy. Jasper's not scared obviously, he's just done with creepy underwear. But after trying everything to get rid of them, they keep coming back!