Illustrations – Zafouko Yamamoto
Whatever device you're reading this review on, you have Ada Lovelace to thank for it. The child of poet Lord Byron and Lady Byron, Ada had big dreams. Although her mother tried to dissuade Ada from her passion of inventing and replace it with her own love of mathematics and logic, Ada was able to combine her mathematical talent with her dream.
She was introduced to Charles Babbage who was working on a machine that could solve maths equations quicker than people could. Ada thought she could make the machine do even more impressive things and so she worked on a code that would tell machines what to do, a code we still use today.
To say Ada was a visionary is an understatement. She became the world's first computer programmer a century before computers were even invented!
Despite obstacles including illness and simply being a woman in the 1800's, Ada proved that with determination and hard work, she could achieve greatness in her field. She was so ahead of her time that her work went largely unnoticed and unappreciated during her life, yet her contributions are vital to our everyday lives over 150 years after her death.
If Ada has something to teach us besides girl power, it's that you should follow your dreams and not allow anyone to squish them.
This is only the second book I've read in the Little People, Big Dreams series. There's enough information in them for kids to learn about the basics of the person they're reading about's life and their contributions to our society but not so much that they're bogged down with dates and boring bits.
The illustrations are interesting and have a childlike quality to them but I would have preferred there to be more bright colours and for the peoples' faces to be more expressive.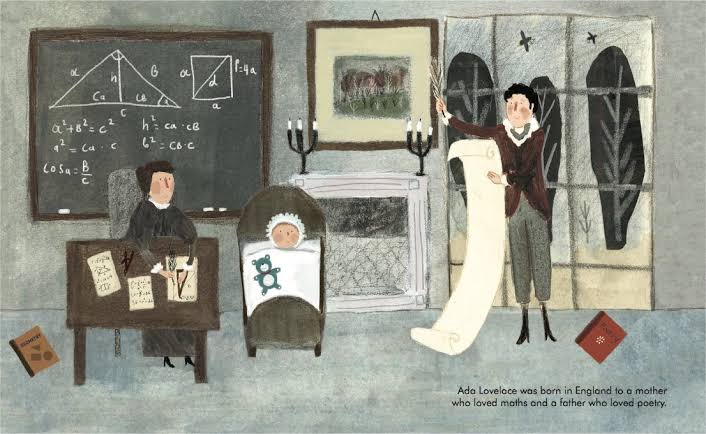 While I would have used books like this one for school projects, it wouldn't have been the type of book I would have chosen at the library to read for fun. I was all about Roald Dahl with his wacky and whimsy worlds and cared little for non fiction, but that's just me. I definitely appreciate this type of book now and can see how it would have inspired me to want to follow my dreams had I read it as a child.
Thank you so much to NetGalley and Quarto Publishing Group – Frances Lincoln Children's Books for the opportunity to read this book.
Once Upon a Blurb
Meet Ada Lovelace, the British mathematician and daughter of poet Lord Byron. Part of the beloved Little People, Big Dreams series, this inspiring and informative little biography follows the colorful life of Lord Byron's daughter, from her early love of logic, to her plans for the world's first computer program.
As a child, Ada had a big imagination and a talent for mathematics. She grew up in a noble household in England, where she dedicated herself to studying. Her work with the famous inventor, Charles Babbage, on a very early kind of computer made her the world's first computer programmer. This moving book features stylish and quirky illustrations and extra facts at the back, including a biographical timeline with historical images and a detailed profile of the mathematician's life.
Little People, Big Dreams is a best-selling series of books and educational games that explore the lives of outstanding people, from designers and artists to scientists and activists. All of them achieved incredible things, yet each began life as a child with a dream.