Welcome to 💔 Achy Breaky Heart Month! 💔
I'm kicking off my love inspired bookfest with this fun Kevan Atteberry book for quirky adults and their kidlets, who are going to be quirky too, like it or not! 🤪 If I was the type of person to get all gooey over Valentine's Day, this is the book I'd want my Valentine to buy me.
Papa monster and junior monster are chasing a skink through the stinky swamp under the gaze of a full moon. The young monster sees Papa enjoying himself so much and wonders if Papa loves him as much as the purple-horned skunk, the ghost bats and other wonderful creatures and creepy crawlies that they encounter along the way. Papa's answer is always an enthusiastic 'yes!', and that he loves him more.
This is so much fun to read aloud, with rhymes of the "bubbling slime" and "thick gooey grime" variety, a perfect bedtime story with laughs and reminders of how big a parent's love is for their child. If I had a kidlet I'd be making up my own "I love you mores" to accompany this book and would use it to increase the silly in our home. However a calming story may be needed after this one if you expect your child to go to sleep because this one has the potential to increase both excitement and decibels.
I really enjoyed the illustrations, with some left of centre takes on familiar animals. My personal favourites were the purple bloodsucking ducks with green wings, fangs and kind of dopey expressions.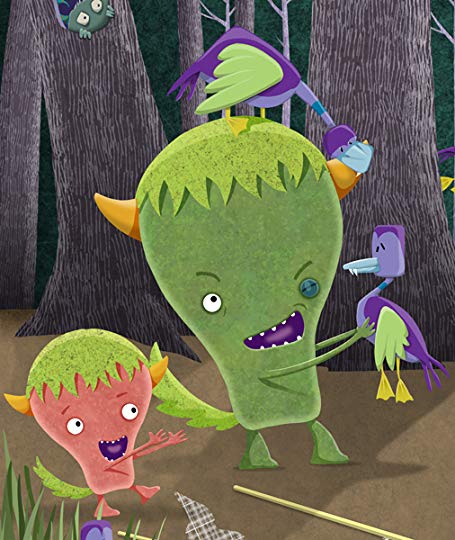 I was also very partial to the spider parade, all of whom also had fangs. My favourite headstone was the one for Edgar Allen Potato. 😃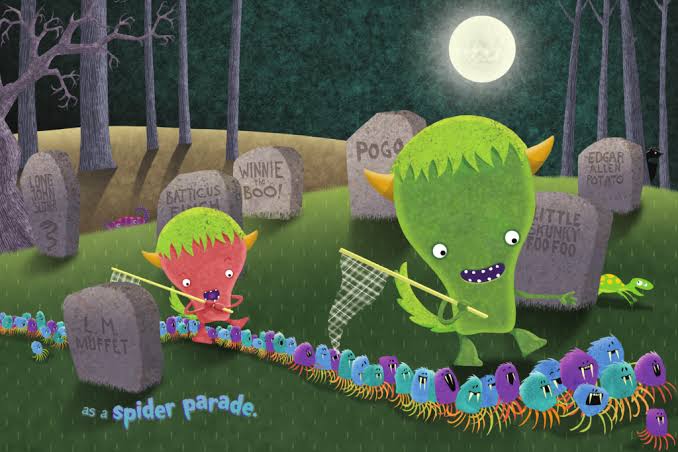 I smiled my way through this book and would happily do so over and over … and over …
P.S. It may be a small bookfest because I'm allergic to romance. 🤮
Once Upon a Blurb
Little monster wonders: Does Papa love the swamp more than he loves his little monster?
Papa and little monster are on a skink chase in a dark, stinky swamp. 
Do you love me as much as the skink that you chase … or the smell of the swamp … or the beasts in this place? 
From the author-illustrator of Bunnies!!! and Puddles!!!, as well as the illustrator of Tickle Monster, Kevan Atteberry, comes a monstrously tender and silly tale guaranteed to elicit lots of giggles and monster hugs.