Illustrations – Mauro Sorghienti
I'd like to present this book with the coveted 🏆 I'm Excited About This New Series award for February 2018. 👏
The first in the Mysterious Monsters series, early reader chapter books for kids from 6 to 9 years, we're introduced to the Mattigan family who live in Portland, Oregon, in the best Hide-and-Go-Seek house in the world.
While their father is in West Virginia to debunk the legend of the Mothman, siblings Maddie, Max and Theo get an unexpected visitor. They meet their Grandpa Joe for the first time and unlike their father, Grandpa Joe believes in monsters and brings his Mysterious Monster journal with him. Although their father has always maintained monsters aren't real, it isn't long before Grandpa Joe has convinced the Mattigan children to search the woods around their home for evidence of Bigfoot!
The Mattigan family are:
Father: Marcus, professional sceptic and star of "Monstrous Lies with Marcus Mattigan". Appears to have a fairly advanced case of Dad humour.
Mother: Vanished two years ago… [cue The Twilight Zone theme]
Oldest Child: Maddie, 12 years old, likes being in charge of her two younger brothers and is adept at using both Eyeballing and Lecture Mode to keep her brothers in line.
Middle Child: Max, 10 years old, is frequently seen with his "spy-nocular" and adopting "the crouch". Max loves maps and old books. His love of books obviously makes him my favourite character.
Youngest Child: Theo, 8 years old, loves watching Hansel and Gretel and doesn't go anywhere without his sack of peanut-butter-and-banana sandwiches.
This book has plenty of humour, adventure and mystery, and was a lot of fun to read. I really enjoyed David Michael Slater's writing style and was surprised by how quickly I came to know and like these children. All of the characters have their own quirks and there aren't any boring bits in the story.
The Mattigan family have a number of family and personal catchphrases which you'll quickly become well acquainted with. My favourite catchphrase was Max's variations of "If that's your/his/my/our real name", which made me smile each time I read it.
All of the catchphrases are used frequently and while they were amusing and cute in this book there is the potential for them to wander toward the ad nauseam end of the spectrum for adults after a couple of books if they continue to be used as much. However, adults aren't the target audience so this point is basically irrelevant.
Mauro Sorghienti's illustrations were jaw drop worthy. What a talented artist! I'd love to own a coloured copy of the illustration of the Mattigan mansion surrounded by the trees of Forest Park. There's a mysterious and haunted quality to the building and I want to know when I can move in!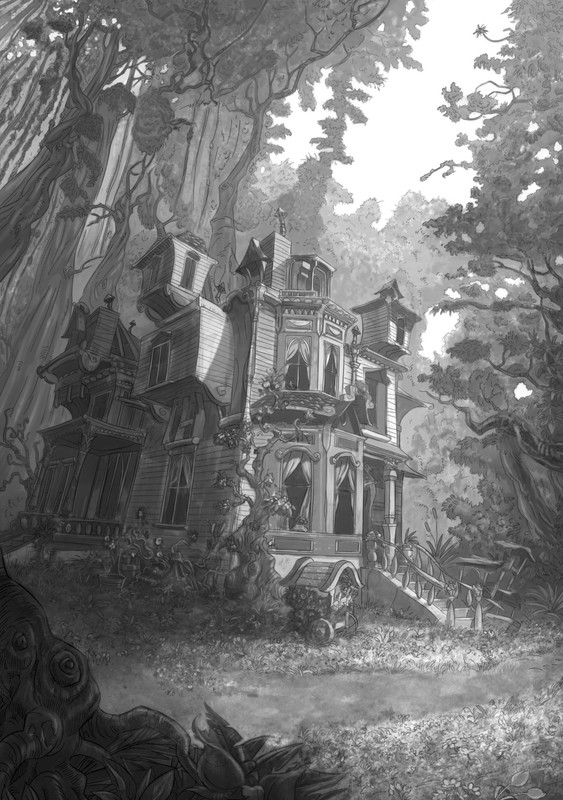 If this book is any indication of what's to come this is going to be a super fun series. I need to go on some more adventures with this family ASAP and I look forward to telling you about them.
Thank you so much to NetGalley, Incorgnito Publishing Press imprint Corgi Bits and Smith Publicity for the opportunity to read this book.
In the second book we will be finding out if the truth really is out there. I want to believe! [cue The X Files theme] 👽
Once Upon a Blurb
The Mattigan kids don't believe in things that go bump in the night. After all, their dad is famous for proving such things are impossible. But, when their long-lost Grandpa Joe shows up with his Mysterious Monsters journal, begging for help, the siblings find themselves drawn into a search for Bigfoot. 
Along the way, they'll have to deal with meddling babysitters, suspicious psychics, a YouTube disaster, and their furious father. To solve this mystery, Maddie, Max, and Theo must rethink what's possible – and make lots of peanut butter and banana sandwiches.