Illustrations – C.S. Jennings
It was Snow White and the Seven Robots that started my Far Out Fairy Tales obsession. I've now got in my hot little hands all of the other graphic novels in this series that my library currently own (until I beg them to buy the rest). Because of my love of the Snow White retelling I was excited to see what strangeness and wonder Goldilocks would offer.
Comparing this book to the Snow White one I was disappointed. It's still entertaining and I know I shouldn't compare but I was glad I found Snow White first because I doubt Goldilocks and the Three Vampires would have ignited a new obsession.
The three vampires didn't make me want to sink my teeth (sorry!) into the story as their personalities were about as dead as they were. Goldilocks was more interesting and thankfully she was smart but she was a bit too much of a know it all to make me warm to her. I kind of wanted to vampires, or at least the spiders, to triumph in the end.
The story itself was fun. Goldilocks is on an Indiana Jones style adventure with her very own flying arrow death trap to navigate along the way. Goldilocks is a crypt cracker and the National Museum has sent her to study a tomb rumoured to have treasures hidden by King Arthur inside. She has to use her smarts and some gymnastic ability to survive three death traps before stumbling upon the homes of three vampires.
I loved C.S. Jennings' illustrations, particularly the various expressions of the vampires and the massive spiders.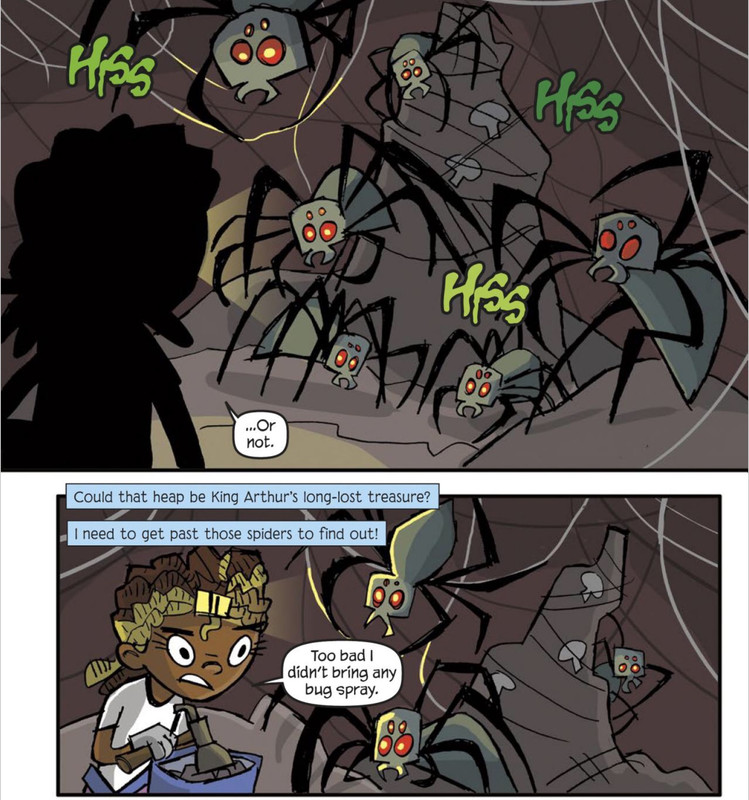 The glossary and questions about the story are great extras at the end. The section at the end outlining the main differences between the original story and this Far Out version are very helpful. I hadn't actually picked up on the three traps correlating to the original Goldilocks trying out the porridge, chairs and beds.
While there wasn't anything specifically wrong with this graphic novel, with vampires 🧛‍♀️ 🧛‍♂️ 🧛‍♂️ , spiders 🕷 and an archaeological expedition, I was looking for a wow factor that I didn't find.
Once Upon a Blurb
Goldilocks is an explorer extraordinaire. Curious and fearless, Goldi searches the world for hidden artifacts and forgotten treasures of ancient civilisations. When her travels bring her to a creepy crypt, she discovers more than just dusty relics in the shadowy chambers … She's stumbled into the home of one, two, THREE blood-sucking vampires! Can Goldi use her smarts to navigate the tomb's tricky traps and defeat the vampire trio, or is this her last archeological adventure?