Illustrations – Omar Lozano
Now, this is fuel for my Far Out Fairy Tales obsession. Jak, a girl in this version with a very funky hairdo, has been told by her internet obsessed mother (well, her avatar anyway) that she has to sell her best friend Cow, a robot, for parts to the scrap man. The scrap man makes a deal with Jak to save Cow and possibly even the planet, but it means a trip to the space station at the top of the elevator to Cloud Kingdom to find some magic nano-beans.
Jak and Cow actually have personalities!! Naturally Jak's mother's avatar looks nothing like her and she calls at the most inconvenient times, which was part of the humour of the story for me. There's a monstrosity of a space octopus type creature that stands in for the giant in the original fairy tale.
The most fun of all was the use of the word scrap, which will never be the same after you read this graphic novel. My favourite was "Holy Scrap!", although "What the scrap?!" also deserves a mention.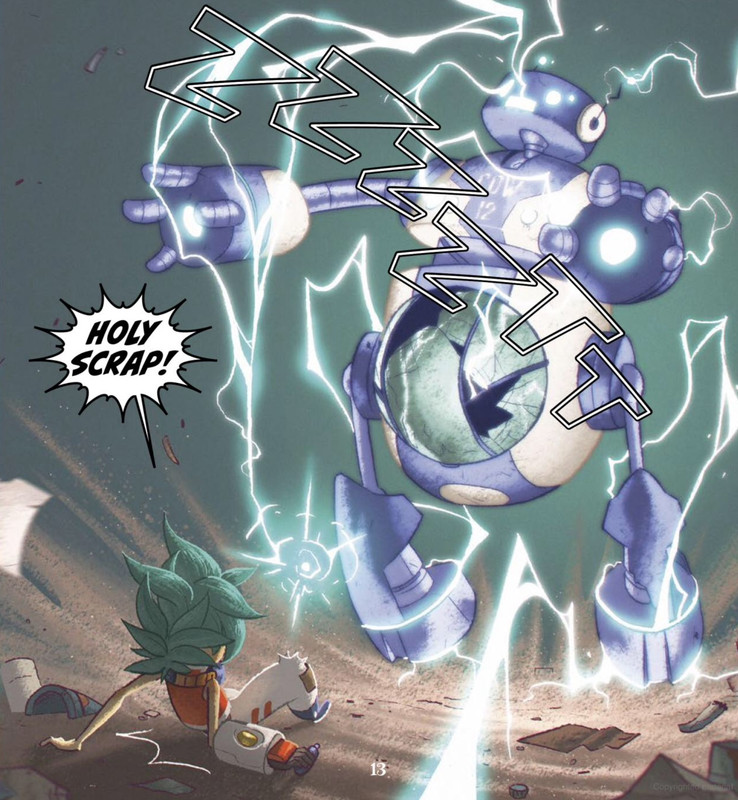 The illustrations were just as fun as the story, with Jak's personality coming alive with her expressions. The different colours used for the locations helped set the tone for each part of the story.
This story had a bit of everything I look for in a graphic novel – characters with personalities, adventure, humour, danger and some good ol' quirky bits. There weren't any boring sections in the story and I followed along without having to reread sections to work out what I missed. I'd happily reread this one!
Once Upon a Blurb
Jak and her robotic servant, Cow, are in a pickle; Mom wants Jak to sell Cow for scrap, but Cow and Jak have become best friends. So instead of selling the rusty old robot for spare change, Jak strikes a bargain with the scrap collector: if Jak and Cow can visit the Cloud Kingdom via the Space Elevator and get hold of some magic nano-beans, Jak can keep Cow safe and sound. But what they find in space is anything but safe – and its sounds are far from soothing …