🥧 Happy Pi Day!! 🥧
To get into the spirit I went through my stack of Grug and Clifford books to see which one would be most suitable for Mum today. I came across Grug Learns to Cook and thought there was a chance Grug would learn to cook pie 🥧 so went with that one.
Grug tries three recipes from his Bush Food Cookbook: tea-tree soup, gum-leaf rolls and carrot cake. So no pie, but it's the thought that counts, right?
It turns out Grug is as good at cooking as I am and he likes to sample cake batter too. Grug gets an 'A' for effort. The results? 🤔
Well, besides the batter splatter which results in my favourite illustration, Grug does wind up with some edible ingredients, if not edible cake. Which brings me to my favourite part:
"Grug baked the rest of the mixture, but it came out burnt and black. He put carrots on the top to make a carrot cake."
In context and with the accompanying illustration this bit earned a giggle from me. I'm fairly confident that my culinary masterpieces were the inspiration behind Grug's marvellous food creations in this book. At least Cara hadn't been invited over for dinner. I'm not sure there would have been enough left at the end of the lesson to feed two.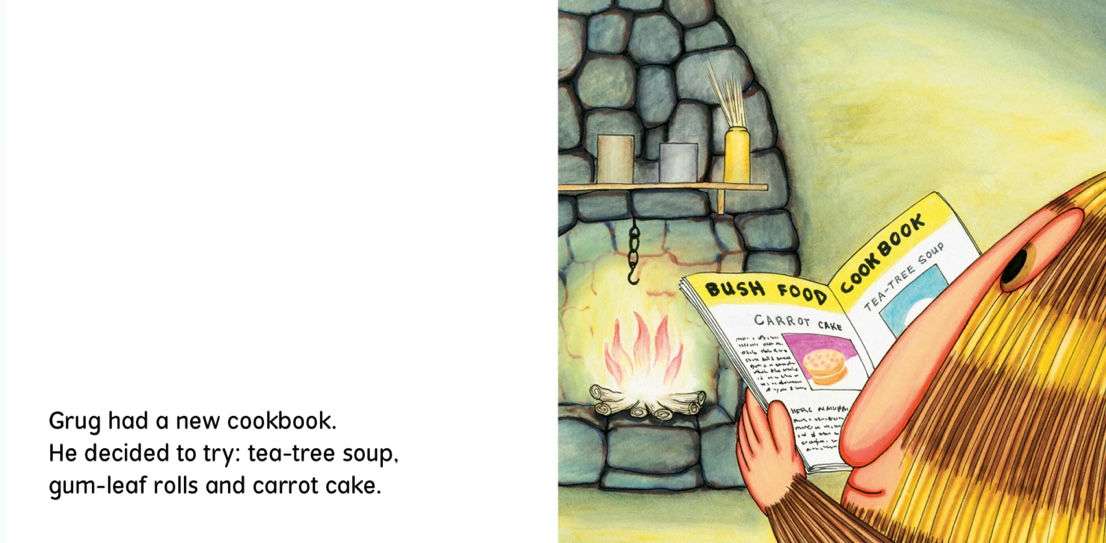 You've got to give Grug credit. He's always willing to try new things, he tries his best at everything and when things inevitably don't go quite to plan he doesn't get upset. He makes the best out of the situation, salvages what he can and goes to bed so he can be ready for his next adventure. I can't wait to find another excuse to give Mum another Grug book soon! 😃
Once Upon a Blurb
Try some scrumptious gum-leaf rolls prepared by Grug!
This classic Aussie hero is back from the bush to enchant a new generation of youngsters!