Illustrations – Joey Ellis
Do you believe in magic?
Xander does. He's been a magic hunter for most of his life. When he was younger his friend Kelly would go on magic hunts with him but no longer does. On the very day that he decides to give up on magic it blasts across the sky in all of its technicolor glory. He doesn't see fairies, gnomes or a spirit.
Instead he witnesses three rainbows, but there's no pot of gold at the end of these rainbows. What Xander discovers are three unicorns! But not just your garden variety type. These are zombie unicorns 🧟‍♀️🧟‍♂️🦄 and they barf rainbows 🤢🤮🌈🌈🌈!
"RONK!"
Being zombies they also smell terrible and tend to be accompanied by flies. The unicorns have heard about human adults who no longer believe in magic and will experiment on them if discovered. Xander knows it's up to him to protect these rainbow vomiters from harm, but how?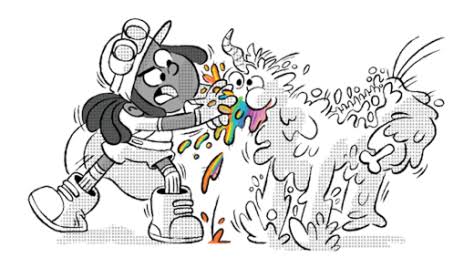 Matthew K. Manning has written one of the most entertaining books I've read this year. The writing engages the reader from the beginning with this amazing and absurd story (I say that with the utmost respect) that is so imaginative and funny. I wanted these rainbow-barfing unicorns to be real. I wanted to go watch them vomit rainbows into the sky for myself. I wanted to visit Pegasia to witness for myself this magical dimension.
Joey Ellis' illustrations capture the comedy in this book perfectly! My favourite illustration today is of Xander bathed in a rainbow yet pretending he can't see anything out of the ordinary. It accurately depicts the humour of a kid obviously caught in a lie, denying it regardless and refusing to make eye contact. I expect my favourite illustration will change each time I open the book though.
I spent the whole book thinking this would make an incredible series and I dreaded nearing the end because I needed more! More unicorns! More vomit! More fun! Then I made it to the very end and lo and behold, what do I see on the back cover? The covers for the next three books in the series! Yippee!!! They look like as much fun as this one and I can't wait!
I will be buying this book as soon as it's released (for myself) so I can reread it to my heart's content and have already recommended it to my favourite librarian for an avid young reader who consistently checks out the same kid's books I do. I need to read the rest of the series urgently!
Food I craved while reading this book: apple donuts, cotton candy and blueberry strudel.
Thank you so much to NetGalley and Capstone for introducing me to this new favourite.
Reread 9 April 2020
From the 'Why I Call Myself an Alleged Adult' Files: When asked what I wanted for my birthday last year I requested a series of kid's books about zombie unicorns that vomit rainbows. I've been holding off on bingeing them until now because …
🦄 9 April is Unicorn Day! 🦄
It's been two years since I first discovered Xander and the Rainbow-Barfing Unicorns and I'd forgotten how much fun they are to read about. This book is a great way to escape from reality for a while.
We're introduced to Xander, a 12 year old outcast who still believes in magic, and three unicorns who have been banished from Pegasia, their home. Cradie, Blep and Ronk used to be ordinary, everyday unicorns but something happened on Pegasia that transformed them into smelly, rainbow-vomiting, zombie-like creatures.
"The thing is, we were normal unicorns, but then we got a space virus, and we had to walk through the Banish Desert, which is nowhere near as much fun as the Danish Dessert – but that's another story entirely – and then we dropped through the Western Portal and ended up on this mountain and Ronk can't stop vomiting rainbows and neither can we, if I'm being honest, and -"
During my second read I wondered how the unicorns were able to speak the same language as Xander. I also noticed the illustrations, which I love, don't always line up with the descriptions in the text. For example, Ronk is supposed to have two yellow eyes, not one yellow and one white, and Cradie's hooves are supposed to be greenish, not purple.
Following the story is a glossary, a list of barf words and jokes. This book's character spotlight shines a light on Ronk – exposed spine, melting skin, hairy ooze and everything else that makes this unicorn unique.
I'm ready to find it out what happens next!
Once Upon a Blurb
Xander Stone didn't believe in unicorns – until one puked on him! In this adventure, twelve-year-old Xander first meets the Rainbow-Barfing Unicorns – stinky, zombielike, upchucking creatures from the magical world of Pegasia. They've been banished to Earth for, well, being stinky, zombielike, upchucking creatures. However, Earth presents them with a great danger: HUMANS. Luckily, the dashing, naively heroic Xander vows to protect them and their disgusting secret at all costs.