Illustrations – Rachel Wells
That's not my obsession! Oh, wait. Yes it is! My library got another one! 😊 This time our little white mouse is being picky about otters. After carefully checking the preceding otters this happy little rodent finally finds their otter, the one with a fluffy tummy.
So the way I see it, there are currently five other otters available for adoption so I'm claiming the rest. I'm now part of a bevy of otters. One has a shiny nose, one has rough paws, one has fuzzy ears, one has a soft tail and the final one has a smooth tongue.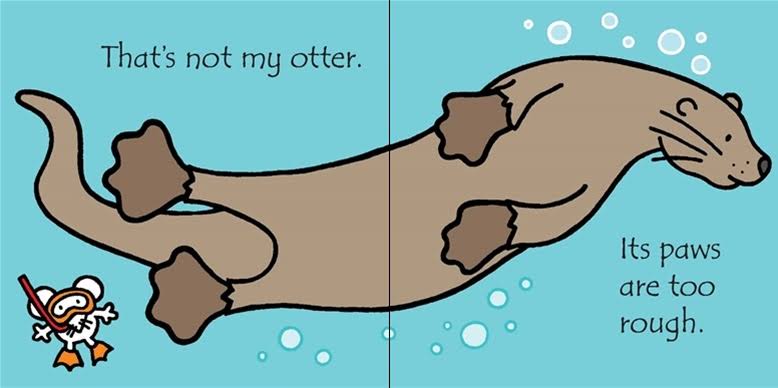 I know I shouldn't play favourites but I'm quite partial to the one poking its tongue out as I frequently do the same thing. I think I may also add the dragonfly and butterfly to my growing That's Not My … family.
If Mr Mouse and his otter are interested, my otters and I will be playing in the water and making really cool waterslides most days, and they're welcome to join us in the fun whenever they want.
Once again, this touchy-feely book is adorable and makes me clucky enough to wish I had my own otter pup baby to read it to.
Bonus Otter Fact: According to Defenders of Wildlife, sea otters have the densest fur in the animal kingdom, ranging from 250,000 to a million hairs per square inch, which insulates them.
Once Upon a Blurb
A delightful touchy-feely book with simple, repetitive text from Usborne's flagship series for the very young. Adorable otters fill the pages and a little white mouse appears on every page, for children to spot. Bright, colourful illustrations with carefully chosen textures to touch and feel on every page. Helps very young children develop language and sensory skills.