Illustrations – Joey Ellis
So, here we are at the end of this series. After my initial delight at the strange concept and the fun I had visiting a couple of other dimensions, I'm finishing the series disappointed.
Xander has somehow caught the virus that made his unicorn friends zombies. I'm not sure why it's taken so long for this to happen or why it happens at the same time to all of the people who have interacted with the unicorns, regardless of when they watched the magic show.
Xander and the other humans have different symptoms to the unicorns. Instead of vomiting rainbows, they lose all of their colours. Even their clothing turns grey. It's up to Xander, Cradie, Blep and Ronk to figure out a way to restore colour to the humans.
I had a whole bunch of questions throughout the series that I was looking forward to having answered when I made it to the final book. I didn't get a single question answered.
The lack of attention to detail in the series really bugs me now. It was always something I noticed but it began to impact on my enjoyment of the series in book five.
This time around the main problem I had related to the central plot. So, Xander has lost his colours.
In fact, his skin was grey, his hair was a darker grey. Even his clothing was grey!
Two pages later …
He was wearing a bright purple onesie, but he was too worried to be embarrassed.
Seven pages after that …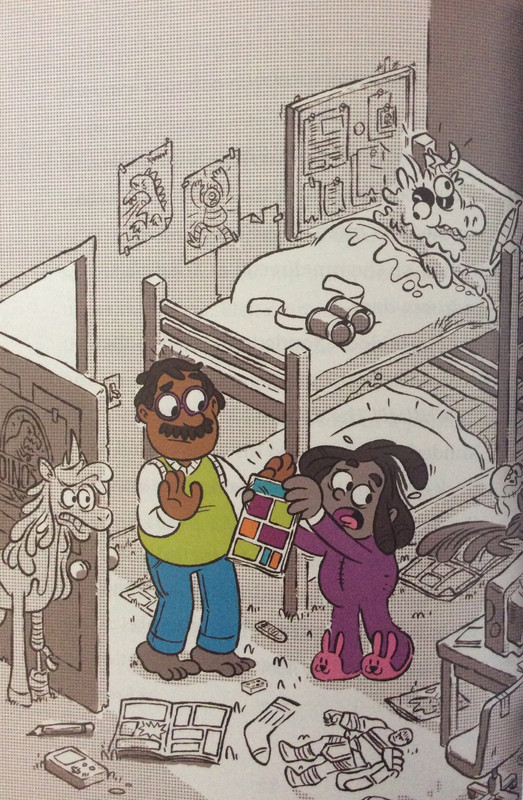 Xander's onesie is purple, his bunny slippers (which are certainly cute) are pink and the inside of his mouth isn't grey either! Kids notice inconsistencies like these. It makes me wonder if the publisher lost interest in this series as it progressed.
Until book five, whenever Ronk said, "Ronk!" the word was always green and in a different font; in the final two books it's blue for some reason. Cradie and Blep have also previously had colours specific to them when they vomit rainbows. These are also blue in this book. Later in the book there are places where the text is entirely normal. I would have thought this was clever if it related to Xander but the unicorns didn't lose their colours in this book.
At the end of this book there's a glossary, barf words (these have been the same in each book), jokes and a character spotlight where you learn more about Xander.
Up next: Start figuring out next year's 🦄 Unicorn Day! 🦄 read/s.
Once Upon a Blurb
The Rainbow-Barfing Unicorn virus hasn't infected humans … until now! In this adventure, twelve-year-old Xander contracts the mysterious virus of the Rainbow-Barfing Unicorns. The virus gives the unicorns their barfing abilities, but it's having the opposite effect on Xander – it's draining him of any colour at all! Xander's fate lies in the hands – er, hooves – of Ronk, the most dimwitted of all Rainbow-Barfing Unicorns. This is not good. In fact, this is bad – really, really bad.
Plump-full of grotesquely delightful characters and fantastical realms, Xander and the Rainbow-Barfing Unicorns is so epic it'll make you wanna puke.