Illustrations – Joey Ellis
I love visiting the other dimensions and the flashbacks of the unicorns' time before they became zombies so this book felt a bit tedious in comparison. Most of the time we're either hanging out at the Montgomery Orchard or the landfill next door.
There are some new characters in this book, several thousand of them in fact. Insect fairies from Pegasia are sick of all of the sweetness and adorability of their home so they hitch a ride through a portal to see what Earth has to offer. They like what they see and decide to stay, but this doesn't bode well for Cradie, Blep and Ronk; if humans discover these magical creatures they're sure to be locked up and experimented on.
I thought insect fairies would be interesting characters but I found them annoying. We only really get to know Willibop, who's pretty cantankerous. Because this book basically felt like an exercise in pest control, my mind started to wander.
I keep wondering what Xander's parents know about the unicorns. Their son is the person who introduces the unicorns during the weekend shows and given how popular the shows are supposed to be, have these parents seen the show? Asked Xander where he got the 'ponies'?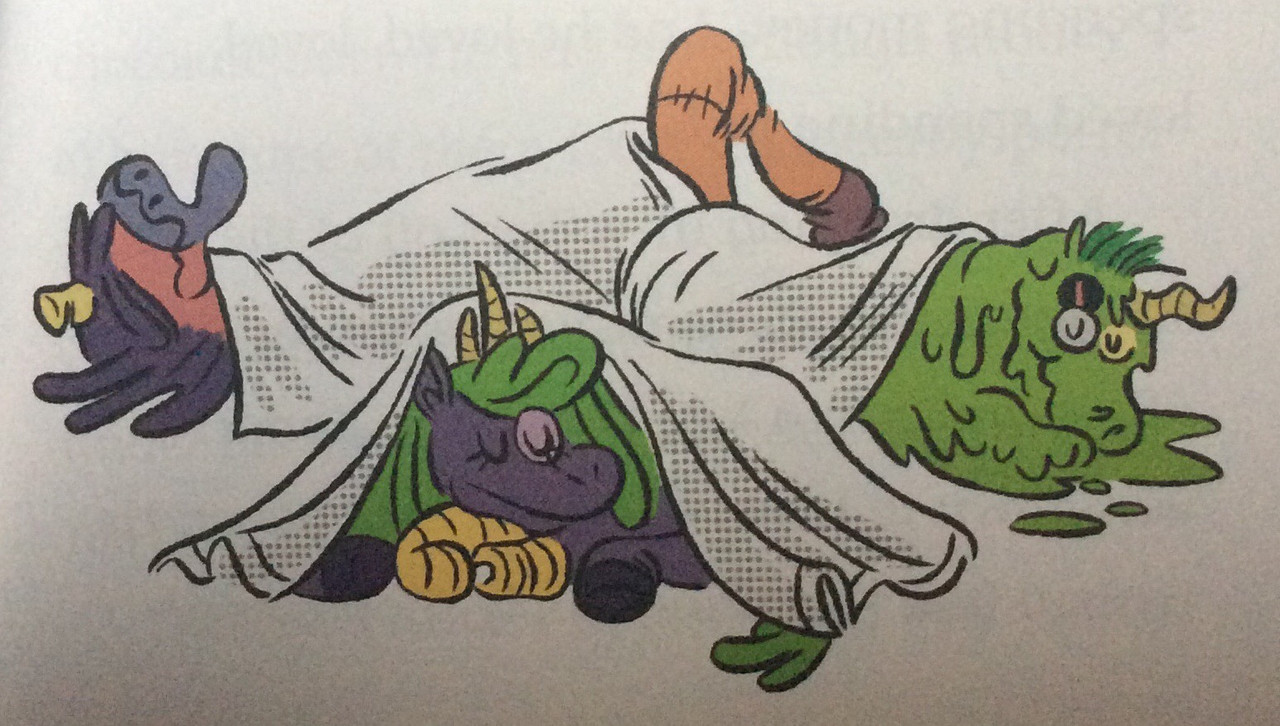 After searching for Stalor in another dimension, the unicorns seem to have forgotten all about him. I'm not sure if he even survived the events in The Search for Stalor.
Then I thought about the zombie virus the unicorns were infected with. Is there a cure they could be looking for? Is there going to be any information about the origin of the meteorite that brought the zombie disease to Pegasia?
Is Xander finally going to admit his crush to Kelly? Is Kelly going to finally figure out that there are unicorns in her aunt's orchard? Is Kelly's aunt going to figure it out? With only one book left in the series I'm really hoping for some answers to at least some of my questions.
Ronk has randomly been described as grey during the series, which makes me wonder if he was originally going to be that colour. Most of the time he's described as green and is always pictured that colour. In previous books, whenever Ronk says, "Ronk!" the word was always green; in this book it's blue for some reason.
At the end of this book there's a glossary, barf words (these have been the same in each book), jokes and a character spotlight where you learn more about Willibop, the insect fairy.
Up next: Who Turned Off the Colours?
Once Upon a Blurb
Xander discovers a new magical creature – millions of them, actually! In this adventure, a swarm of insects threatens the Montgomery Orchard and twelve-year-old Xander's fruitful summer job. Luckily, the so-called bugs aren't actually bugs. Unluckily, they're miniature, unicorn-hating, insect fairies from the magical world of Pegasia!
If Xander and his team of Rainbow-Barfing Unicorns can't rid the orchard of these no-good fairies, their secret will be blown quicker than a stomach-load of full-spectrum chunks. Plump-full of grotesquely delightful characters and fantastical realms, Xander and the Rainbow-Barfing Unicorns is so epic it'll make you wanna puke.