Text – Ruth Symons
My brain got stuck on WOW! mode as I made my way through this book. Ruth Symons' words were lovely, with easy to understand explanations of what's happening in the flora and fauna worlds throughout the seasons, but were outshone by the pictures. I don't think it would have mattered what words were used. They were never going to be the main event here.
My mind could not wrap itself around the creativity and genius of this artist and I kept telling myself that there was no way she could be this talented – but she is! There is not a splash of paint nor line of drawing in the entire book. Helen Ahpornsiri uses flowers and leaves to create the most stunning masterpieces of flowers, plants and animals! The heron and butterfly you see on the front cover are just a couple of examples of the jaw dropping images you will discover in these pages.
I can't find a big enough or pretty enough word to describe just how breathtaking the animals in particular are. Helen's attention to detail is extraordinary and how she can give each animal individual characters and expressions is beyond me. With the amount of work that must go into each creation you could forgive her for using the same image of a butterfly each time one was needed, yet each butterfly is an individual. There's a row of ducklings following their mother and every single duckling is unique.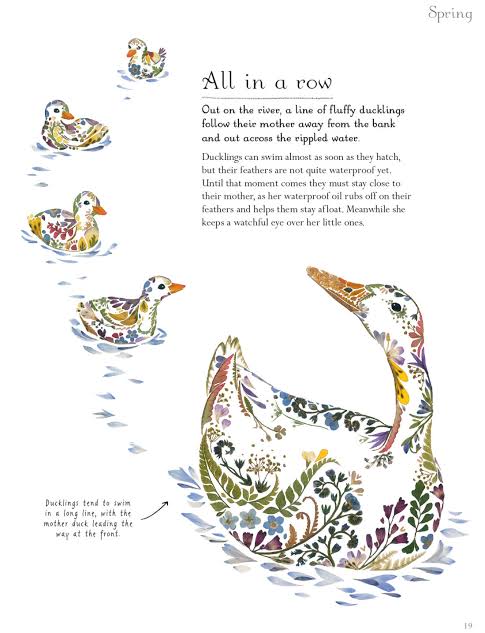 You'll see bats, frogs, dragonflies, deer, squirrels, foxes, field mice, a hare and various insects. There are a group of mushrooms that are so beautiful.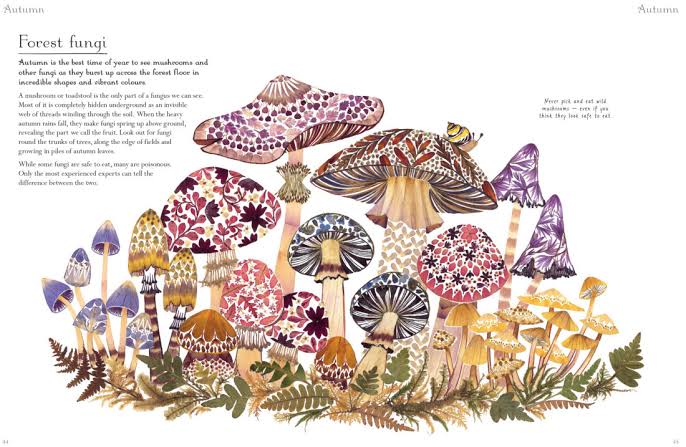 I thought that this book couldn't get any better but then I found the couple of pages where the background was black instead of the white that is behind most of the images. I have no words for the portrait of the owl with the black background. I would love to do a cross stitch of this design so I can hang it on my wall and marvel at it for the rest of my life.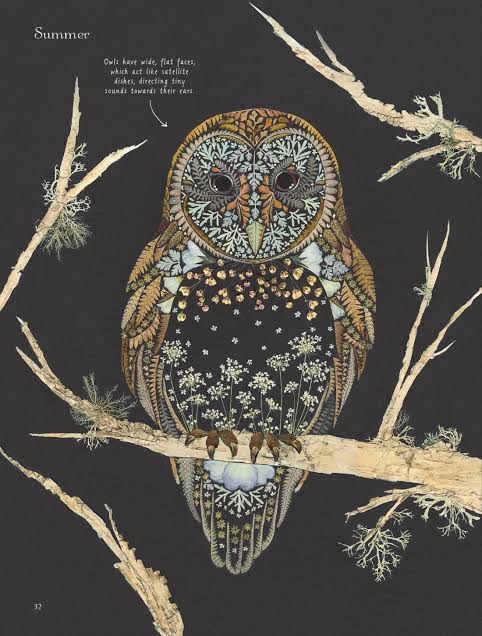 You have to check out the time lapse videos of the creation of some of the animals on YouTube. Fair warning though, your brain may get stuck on a WOW! loop.
My library catalogue has this book listed under junior nonfiction although adults are probably going to love this even more than their kidlets. I could easily see this book making its way onto my coffee table so it's always close by when I need to admire it.
Once Upon a Blurb
An intricately crafted journey through four seasons of flora and fauna
Helen Ahpornsiri's intricate artwork transforms leaves, petals, and seeds into bounding hares, swooping swallows, and blossoming trees. Using nothing but pressed plants, this journey through the seasons captures the wonder and magic of the natural world between the pages of a book. This standout title with beautiful nonfiction text will take readers through an extraordinary year in the wild.