I fell in love with Bump immediately in The Vanishing Season and now he's back, shedding fur throughout the pages of No Mercy. Ellery and Reed are back, too. After the events of the first book (you could read this book as a standalone but I'd highly recommend reading them in order) Ellery has been suspended from her job and forced into group therapy with other survivors of violent crimes.
Because this is Ellery she's not so interested in looking inward because, ugh, feelings! Rather, this is the perfect opportunity to get herself personally involved in the crimes affecting some of the other group members. Ellery starts investigating an unsolved sexual assault, whose perpetrator may be responsible for a number of other assaults. She also manages to get entangled in a historic arson case despite the convicted arsonist having already spent decades in prison.
Naturally Ellery, who is strong, determined and at times petulant, jumps in head first and pretty soon Reed, FBI profiler and the man who rescued her from Francis Coben's closet many years ago, has joined her in Boston. Even though Ellery basically has Reed wrapped around her little finger I still really like him, or maybe I just want him to cook for me. No matter how much I like Reed he's a runner up to his adorable daughter, Tula, who's my favourite human character of this book. Sorry, but no human could ever own a piece of my heart like Bump does!
I loved that there was more of a focus on Ellery and Reed's relationship in this book. Their initial interactions in the first book were understandably awkward because of their shared history up to that point. While they're still finding their way they're more comfortable in each other's presence and they're building a more equal relationship, although Reed still feels the need to protect Ellery and Ellery still understandably chafes at physical and emotional closeness with any man, even Reed.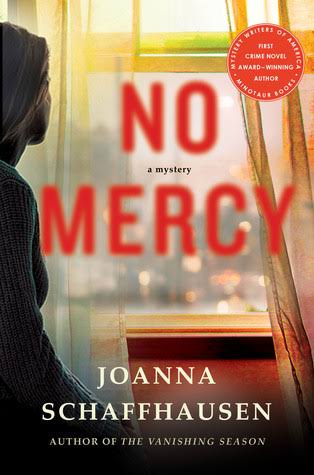 Cover Rant: When I reviewed The Vanishing Season I'd only seen the American cover and thought it was nice enough, if a bit tame as a representation of Ellery's personality and story. Then I saw the UK version which, pardon the pun, nailed it! The American cover for No Mercy again falls short for me while the UK version shines. The American cover for this book doesn't give the reader any sense of who Ellery is or what this story is about. I think Ellery would be disappointed that there isn't anything gritty or honest about this cover. Sure, looking outside the window you can tell that the story has moved to the city, but the matches on the UK cover? They grab my attention and make me want to know more!
Content warnings include sexual assault and family violence.
Thank you so much to NetGalley and Minotaur Books, an imprint of St. Martin's Press, for the opportunity to read this book. Please publish the third book soon! I'm hanging off a cliff here waiting to find out what's next for Reed!!!
Once Upon a Blurb
Police officer Ellery Hathaway is on involuntary leave from her job because she shot a murderer in cold blood and refuses to apologise for it. Forced into group therapy for victims of violent crime, Ellery immediately finds higher priorities than "getting in touch with her feelings."
For one, she suspects a fellow group member may have helped to convict the wrong man for a deadly arson incident years ago. For another, Ellery finds herself in the desperate clutches of a woman who survived a brutal rape. He is still out there, this man with the Spider-Man-like ability to climb through bedroom windows, and his victim beseeches Ellery for help in capturing her attacker.
Ellery seeks advice from her friend, FBI profiler Reed Markham, who liberated her from a killer's closet when she was a child. Reed remains drawn to this unpredictable woman, the one he rescued but couldn't quite save. The trouble is, Reed is up for a potential big promotion, and his boss has just one condition for the new job – stay away from Ellery. Ellery ignores all the warnings. Instead, she starts digging around in everyone's past but her own – a move that, at best, could put her out of work permanently, and at worst, could put her in the city morgue.