This is the story of a girl who lost her voice and wrote herself a new one.
I expect I'm one of the only ones reading SHOUT before they've read Speak. I've had Speak on my 'I absolutely have to read this book' list for as long as I can remember but still haven't read it. I searched my local library for it but they don't own it. I tried for several years to buy it on Kindle but it wasn't available to purchase in my country (I just checked and it's still not an option). I finally bit the bullet and added it to my Book Depository order last year and it's been looking at me ever since from my shelf, quietly asking me why I haven't opened its pages.
Honestly? It's intimidated me. It's the book about sexual assault and while I've read so many others, I think I've worried about what it will bring up for me when I do finally read it. So, long story slightly shorter, my plan is to SHOUT, then Speak, and then SHOUT again. I'm interested to see if my perspective on SHOUT changes after I've read Speak. I guess time will tell.
The first section of this book is essentially memoir in free verse. Laurie takes the reader on a journey through a series of childhood memories; a father haunted by war when alcohol isn't numbing his memories, a mother silenced, her own experiences of school, work and surviving sexual assault. I really loved reading about Laurie's experience as an exchange student in Denmark and would happily devour as much information as I could about those 13 months; what I've read has sparked an interest in Danish culture.
The second section, which begins almost two thirds of the way through the book, broke my heart as Laurie shared just a handful of stories about her interactions with other survivors, whose young bodies have been invaded and lives changed, most often by those they know and should have been able to trust. Although this section made me cry one of the things that got to me the most was something hopeful – the colourful ribbons tied to fences in Ballarat, Australia in support of the abused, which ultimately created Loud Fence. The images of those ribbons of support broke me.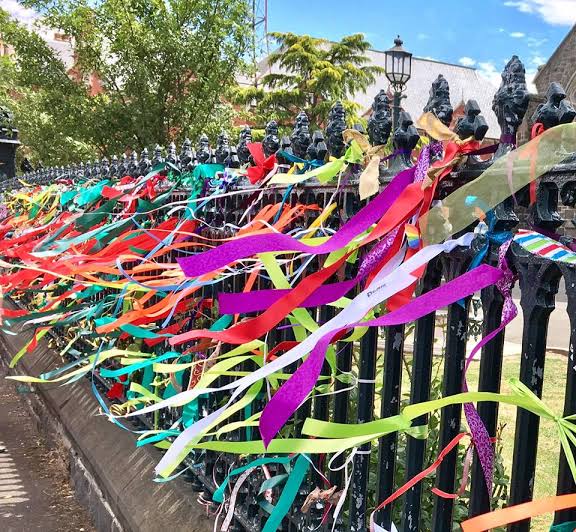 This section includes responses from readers, students who have heard Laurie speak, teachers and librarians; those who need to share their story, those who don't understand what was so bad about Melinda's experience in Speak, those who want to censor "inappropriate" reading material.
I'm not sure how to sum up the third section other than to say that it was the shortest section but also the one in which I shed most tears. Laurie's final poems about her parents simply gutted me.
Although it's clearly stated in the blurb I still hadn't thought there'd be as much memoir as there was in this book. I'd expected a greater percentage of poems to be directly addressing sexual assault, even though there are plenty that do. When my expectations didn't line up with reality I thought I'd be disappointed but I wasn't and I'm already ready for a reread. I expect that I will revisit this book each time I read one of Laurie's books that are mentioned here, to search out her favourite scenes and glimpses of the story behind the story.
There's a vulnerability here and it's entwined with strength, determination, courage, resilience and so much compassion. While I finished this book with a contented sigh I'm still yearning for more. Luckily for me, as this is the first of Laurie's books that I've read (shame on me!), I still have plenty to explore.
Thank you, Laurie Halse Anderson, for sharing some of your life in this book, for breaking my heart, growing my empathy, giving me so many amazing passages to highlight and inspiring me. I will see you on Ultima Thule.
Content warnings include sexual assault, PTSD, war, physical abuse, fat shaming, alcohol and other drug use.
Thank you so much to NetGalley and Viking, an imprint of Penguin Random House LLC, for the opportunity to read this book.
Once Upon a Blurb
Bestselling author Laurie Halse Anderson is known for the unflinching way she writes about, and advocates for, survivors of sexual assault. Now, inspired by her fans and enraged by how little in our culture has changed since her groundbreaking novel Speak was first published twenty years ago, she has written a poetry memoir that is as vulnerable as it is rallying, as timely as it is timeless.
In free verse, Anderson shares reflections, rants, and calls to action woven between deeply personal stories from her life that she's never written about before. Searing and soul-searching, this important memoir is a denouncement of our society's failures and a love letter to all the people with the courage to say #metoo and #timesup, whether aloud, online, or only in their own hearts. Shout speaks truth to power in a loud, clear voice – and once you hear it, it is impossible to ignore.