When Squirrel learns that the Golden Acorn Hunt is going to be a team event this year she's not happy. Squirrel has won the competition for the past eight years and wants to add another trophy to her collection. Beaver, Rabbit, Tortoise and Bird eagerly join her team but Squirrel doesn't think her friends will be fast enough to win. The day of the race arrives and Squirrel finds herself in a position where she needs to decide what is more important to her: winning or her friends.
I adored Katy Hudson's A Loud Winter's Nap so I was keen to get my hands on this book, especially after I fell in love with its gorgeous cover.
This picture book was written with 3 to 6 year olds in mind. There are plenty of themes to discuss with children, including the importance of teamwork and the value of friendships. If I was reading this to a child I'd also be talking to them about Squirrel's competitive nature and that, while winning can be fun, it's not everything.
I loved the illustrations, particularly the ones showing all of the different teams scurrying around the tress in search of the elusive golden acorn. While I smiled my way through all of the images my favourite was this one, showing the friends enjoying a picnic together.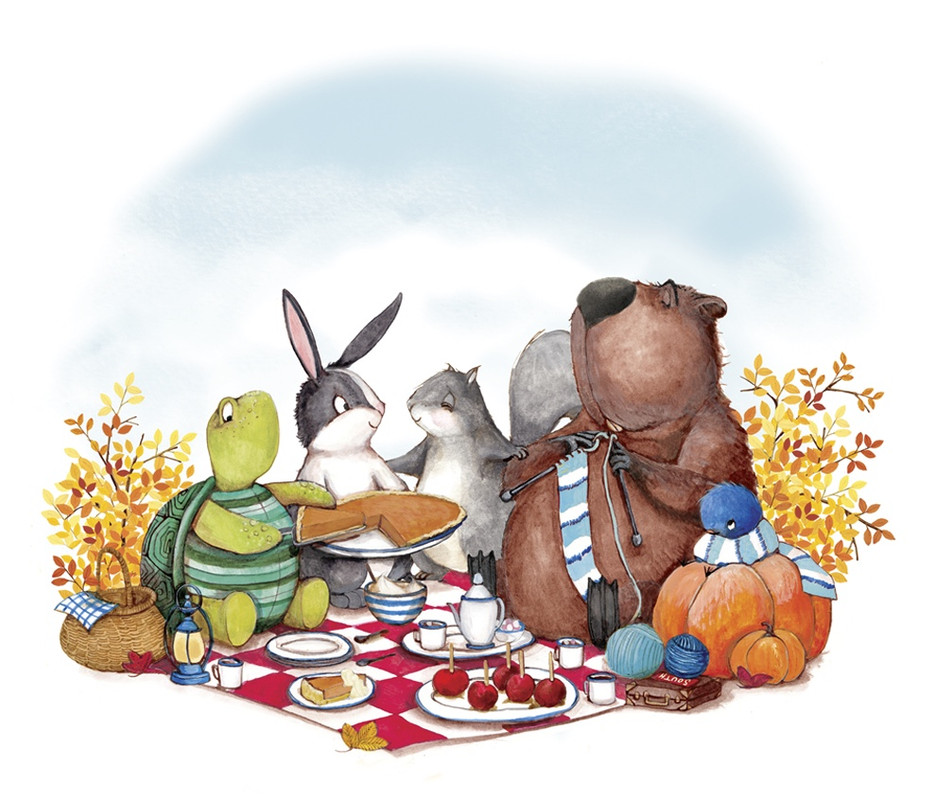 Thank you so much to NetGalley and Capstone for the opportunity to read this book.
Once Upon a Blurb
Whoosh! Squirrel takes off at full speed through the autumn leaves. But pump the breaks, because this year the Golden Nut Hunt race is a team event. Squirrel reluctantly enlists his friends and is not impressed. Will Squirrel's competitive spirit take over or will he learn how to be a team player?
Best-selling author Katy Hudson (Too Many Carrots and A Loud Winter's Nap) proves that winning isn't everything in this energetic picture book about friendship, teamwork, and forgiveness – and that's something to go nuts about!