Illustrations – Sami Kivelä
Colours – Jason Wordie
Spoilers Ahead!
Abbott is a 2019 Hugo Awards finalist in the Best Graphic Story category.
I'm not sure how to talk about this graphic novel without providing some information about the plot, so … Warning: potential spoilers ahead!
This is Elena Abbott.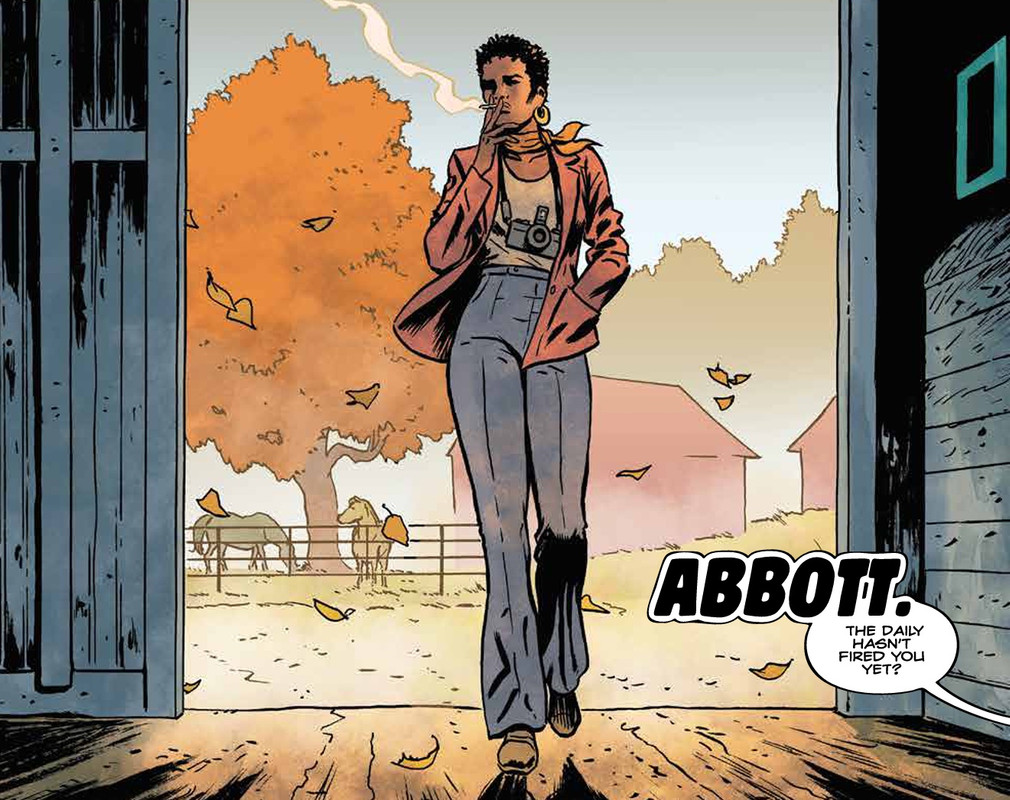 She's a reporter for the Detroit Daily and as a black woman in 1972, she's practically surrounded by racist and misogynistic white men. The newspaper board members and most of the police force aren't exactly thrilled about her reporting the truth, particularly when it involves police brutality.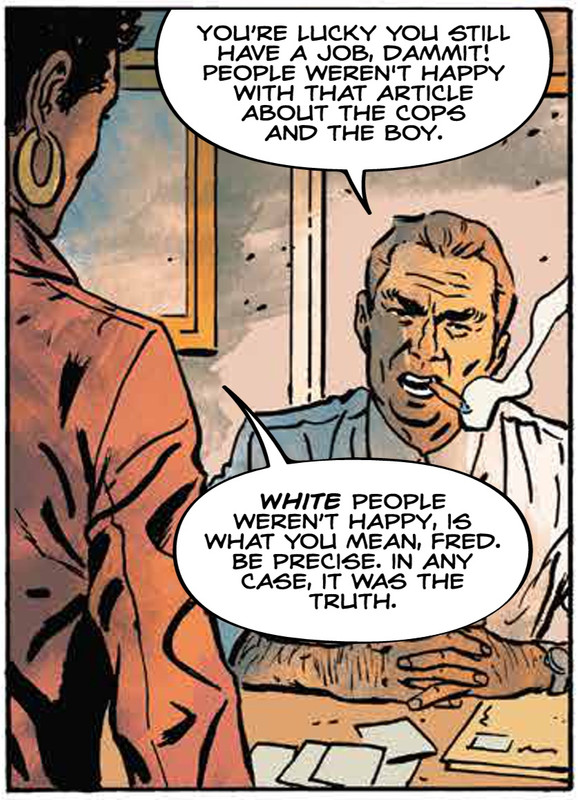 Having barely begun her new investigation into some eerily similar and grisly murders, Abbott discovers the perpetrators aren't the usual suspects (hint: the police force's usual suspects aren't white). Instead, Abbott is soon face to face with a supernatural blast from the past.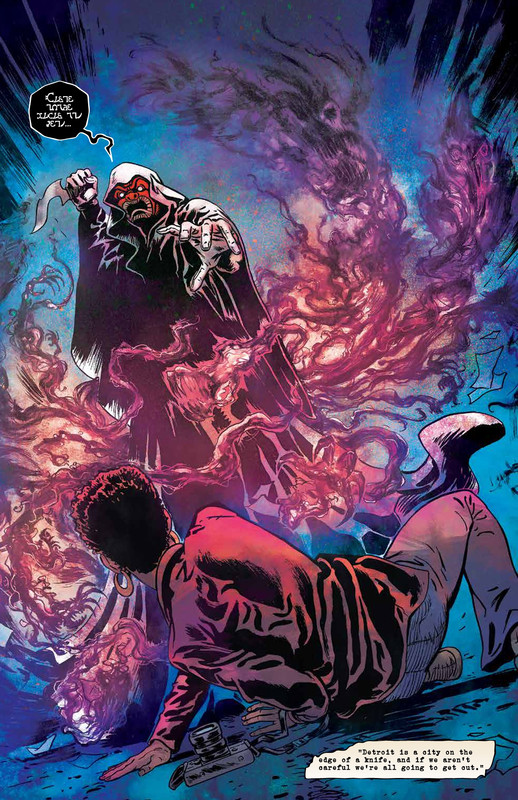 Abbott tries to tell James, both a police sergeant and her ex-husband, about the shadows she sees on the second body.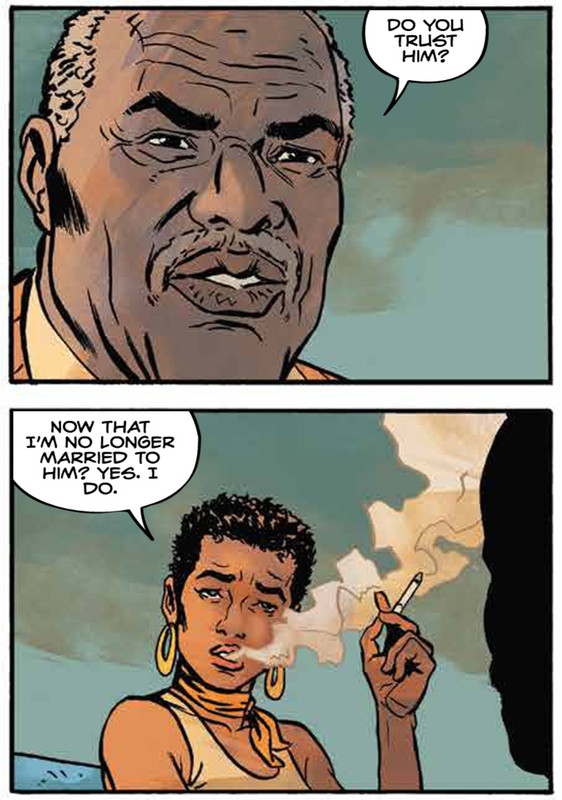 They're the same shadows that she saw on her husband, Samir, when he died. He called them the Umbra. Abbott seeks help from Sebastian, who tells her to stop running from her calling.
"Whether you accept it or not, Elena Abbott, you were born to wield the light. But there are those born to wield the shadow. Where your paths cross, blood will spill."
Abbott is a chain smoker who enjoys her daily two glasses of brandy and drives a 1966 V8 Mustang. I got the feeling she's not typically a huge believer in the whole 'calling' thing.
Later, Abbott has a conversation with Amelia, who has a message of her own. One that involves a gun. Amelia also happens to be romantically involved with Abbott but Abbott's keeping this under wraps right now.
I was hit with so much information in the beginning of this graphic novel. I didn't know how it would all fit together and I wasn't sure I would care when it did. Then I met my first shadow monster and it was all over for me from that moment on; I needed to keep reading.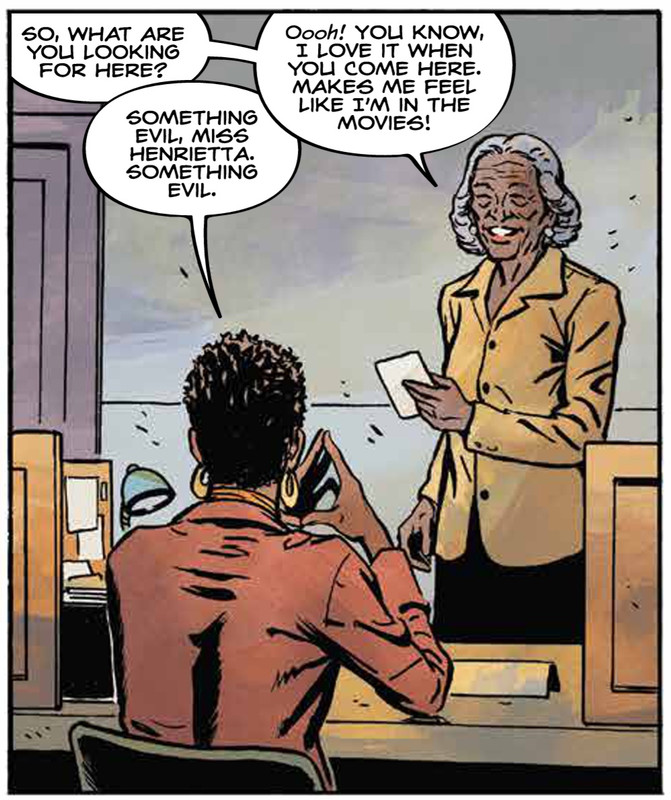 Much like Saga, which I've recently binged for my Hugo readathon, it seems like it's not a good idea to become emotionally involved with any of the characters in Abbott. My two favourite characters didn't survive this graphic novel but, although I'm preparing to harden my heart as we speak, I hadn't grown to love them yet.
I'm giving this graphic novel ⭐️⭐️⭐️⭐️ instead of ⭐️⭐️⭐️⭐️⭐️ for two reasons: it took a while for the story to get its hooks into me and I don't desperately need a sequel, even though I'm left with some unanswered questions and loose ends. Overall though, this was a very entertaining read.

Once Upon a Blurb
While investigating police brutality and corruption in 1970s Detroit, journalist Elena Abbott uncovers supernatural forces being controlled by a secret society of the city's elite.
In the uncertain social and political climate of 1972 Detroit, hard-nosed, chain-smoking tabloid reporter Elena Abbott investigates a series of grisly crimes that the police have ignored. Crimes she knows to be the work of dark occult forces. Forces that took her husband from her. Forces she has sworn to destroy.
Hugo Award-nominated novelist Saladin Ahmed (Star Wars: Canto Bight, Black Bolt) and artist Sami Kivelä (Beautiful Canvas) present one woman's search for the truth that destroyed her family amidst an exploration of the systemic societal constructs that haunt our country to this day.
Collects Abbott 1-5.