Illustrations – Devaki Neogi
After spending much time, effort and money going through an 'if I could turn back time' phase several years ago collecting The Baby-Sitters Club books, I turned my attention to another set of childhood memories, those involving Jessica and Elizabeth Wakefield. After more time, effort, money and an entire box full of Sweet Valley High books later I realised how impossibly large the task I'd set for myself really was.
It turns out Sweet Valley High series not only contained over 150 books, but it also had multiple Super Editions, Super Thrillers, Super Stars, Magna Editions and TV Editions. Then there were the plethora of spinoffs, which themselves oftentimes had their own special editions:
Sweet Valley Kids with Super Snoopers, Hair Raiser Super Special and Super Specials
Sweet Valley Twins with Super Editions, Super Chillers, Magna Editions, The Unicorn Club and Team Sweet Valley
Sweet Valley Junior High
Sweet Valley High Senior Year
Sweet Valley University with Super Thrillers
Elizabeth
Sweet Valley Confidential: Ten Years Later
The Sweet Life.
Eek! When I encountered these apparently never ending lists I reluctantly admitted defeat. I had to consider my sanity, budget and let's not forget the need for magical, never ending bookcases. Then there was the fact that I hadn't read a single SVH book since the 90's so who knew if I'd even enjoy them as an adult!
So here we are, several years later and I still haven't picked up my second hand copy of Double Love yet. Stumbling upon this graphic novel feels like cheating in a way but what a fun way to figure out if a SVH readathon will be in my near future or not.
I remember feeling so grown up reading the early books in the series on the beach as a pre-teen and having in depth conversations with friends about whether we were Jessica's or Elizabeth's. I always aspired to be like Elizabeth because she was the smart yet still gorgeous twin, the one who liked reading (what a surprise!) and I also aspired to find my own Todd. What was I thinking?! I don't remember him being so vapid, whingey and clingy.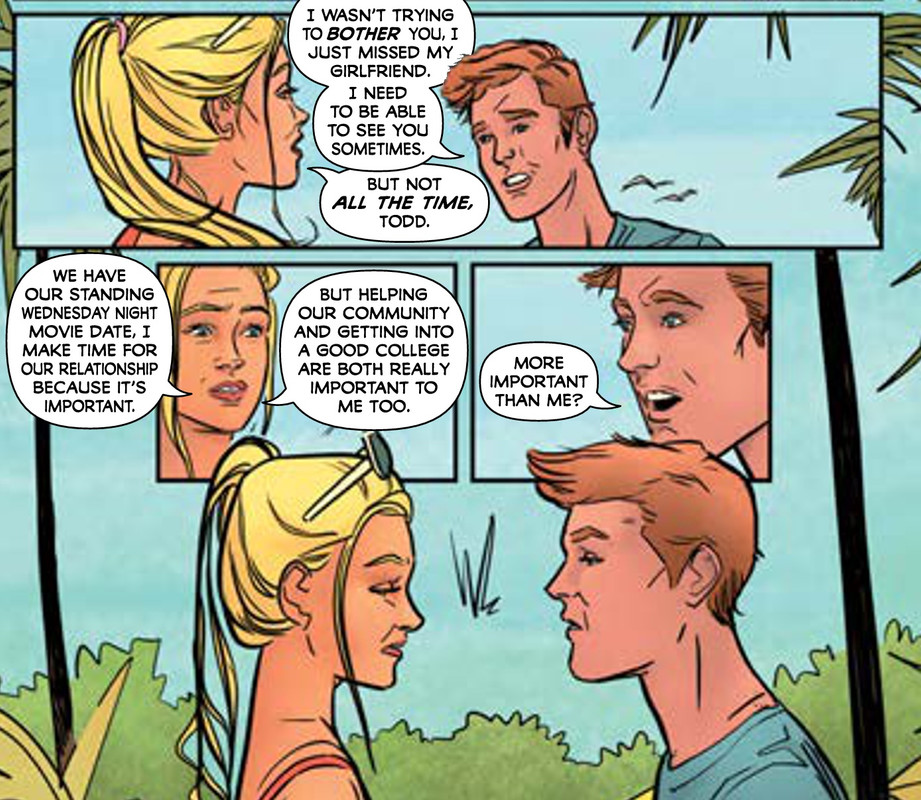 Ugh! Run, Elizabeth, run! Run as fast as you can!
Meanwhile, Jessica is being typical Jessica. She missed too many English classes so she has to take a class at Sweet Valley University, where the boys are older and much more mature than high school boys. Naturally the one she's interested in is a T.A. Never one to shy away from manipulating a situation for her own benefit, Jessica decides she needs to dress more like Elizabeth so she can appear smarter and get her man!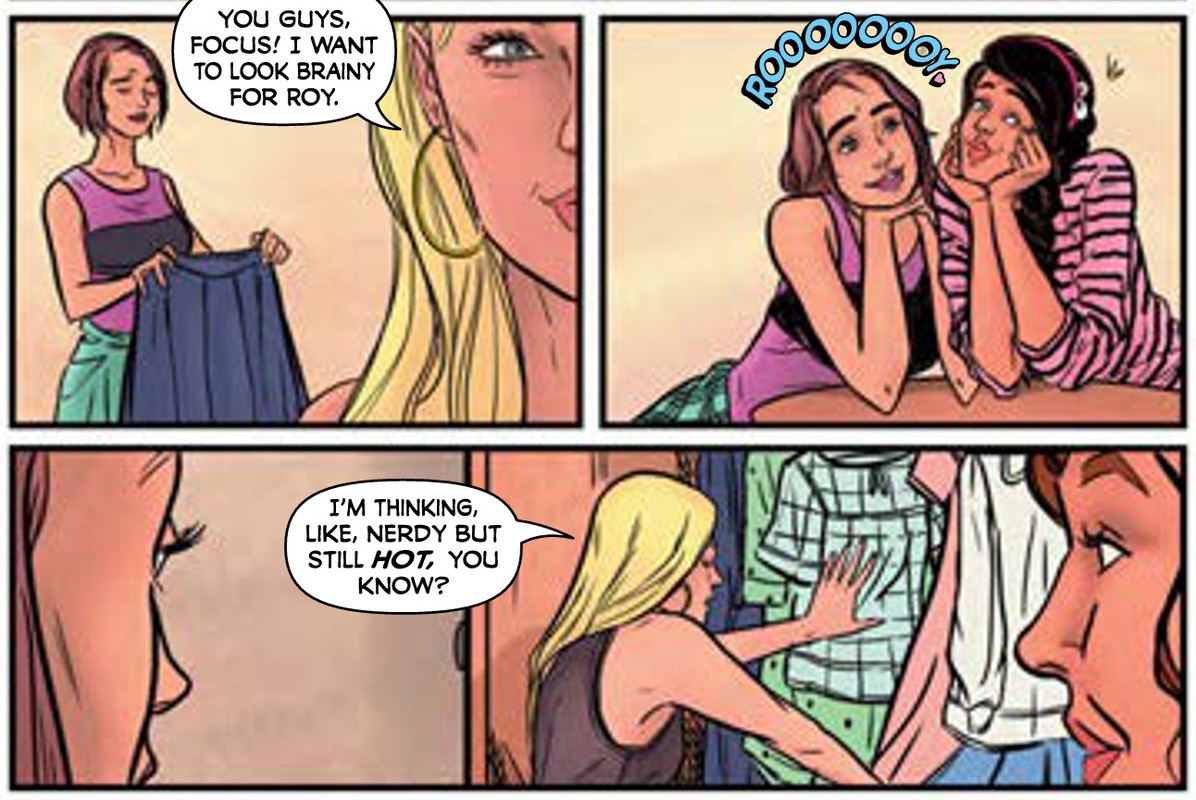 As usual, Jessica is in love with the idea of being in love but there's more to this crush than meets the eye. I seem to recall boy trouble and twin swaps being fairly consistent plot points in the original series and they're front and centre here as well.
Jessica and her friends mention the Boosters several times, which is weird as this is Sweet Valley High. As far as I knew the Boosters were the Sweet Valley Middle School cheerleading squad from Sweet Valley Twins, not the high school one, whose name (if they had one) escapes me.
I wasn't entirely sure about the introduction of modern technology in Sweet Valley but I didn't mind after I got used to it. I even liked Jessica's Instagram name: DEVILINABLUEJESS.
It may be due to the nature of the format or perhaps time has dampened my recollections but all of the characters' personalities seem amplified in this graphic novel and it makes for a fun, dramatic read. When I was about halfway through the story I wasn't sure I'd want to continue but with the introduction of a new boy (of course he's cute! Isn't that one of the prerequisites for living in Sweet Valley?) and some deviously unanswered questions dangling in the air I think I've accidentally gotten hooked. I'll be there for the next installment and I expect to have as much nostalgic fun as I did during this one.
Thank you so much to NetGalley, Dynamite Entertainment and Diamond Book Distributors for the opportunity to read this graphic novel.
Once Upon a Blurb
When Jessica falls in love with her Shakespeare teacher, she begins to act like her studious twin sister Elizabeth to impress him. Now it's up to Elizabeth to make sure that all's well that end well – but with Jessica playing her role, will anyone be able to tell which twin is which?