Illustrations – Bob Solanovicz
It's Nancy Drew's first day at Bayport High School, having moved from River Heights, and who should she bump into in the school library but Frank and Joe, A.K.A, The Hardy Boys.
With these three young sleuths in the one place you know a mystery is on its way.
Your first clue that something isn't quite right with the adults in this town are the classic cartoon hypnotised spiral eyes Coach Strohm is sporting.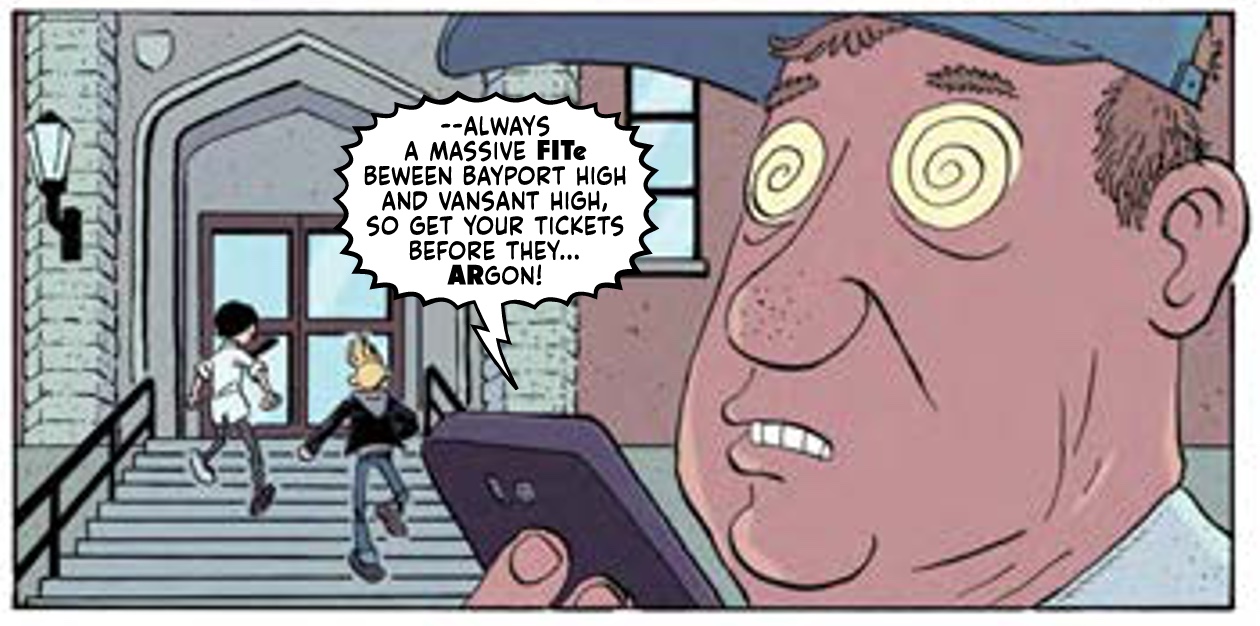 Nancy, Frank and Joe decide there's a mystery to solve when they figure out all of the adults are MIA. What I found even more interesting was the Mystery of the Teenagers Voluntarily Attending School Without Adult Supervision. Surprisingly they all returned to school the following day even though the town's entire adult population are still missing. This is briefly addressed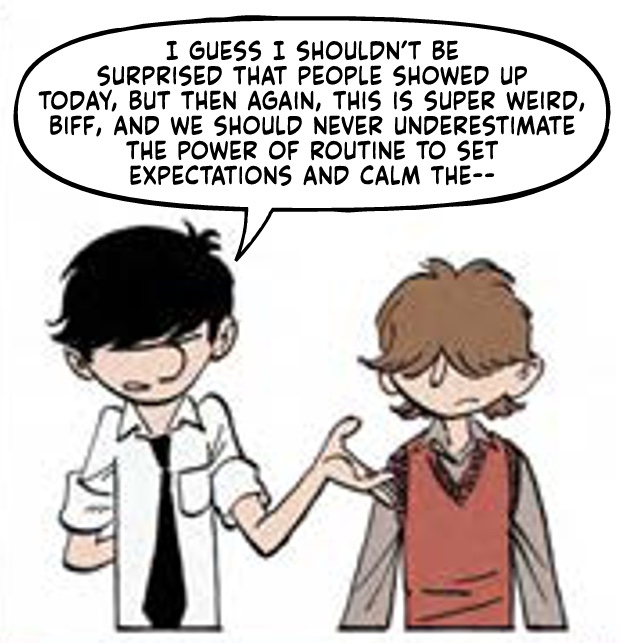 but I still don't buy it. Even the skeleton in the science classroom had enough sense to leave the building before the students arrived for school on Day 2. Oh, wait. I guess a skeleton that wanders off is pretty mysterious too.
By the third day our resident detective kids have finally decided to ditch school to investigate. Joe feels bad about his truancy even though there are still no adults there to notice his absence.
Throughout the story Nancy spouts random facts about random things that no one else seems to care about, such as the type of driver's licence and addendum required to allow someone with a learner's permit to legally drive a bus. Nancy also goes undercover in Vansant; they're Bayport's rival school. This leads to one of those good ol' 'put on your disguise in the phone box' sequences, not that anyone in Vansant knows who she is.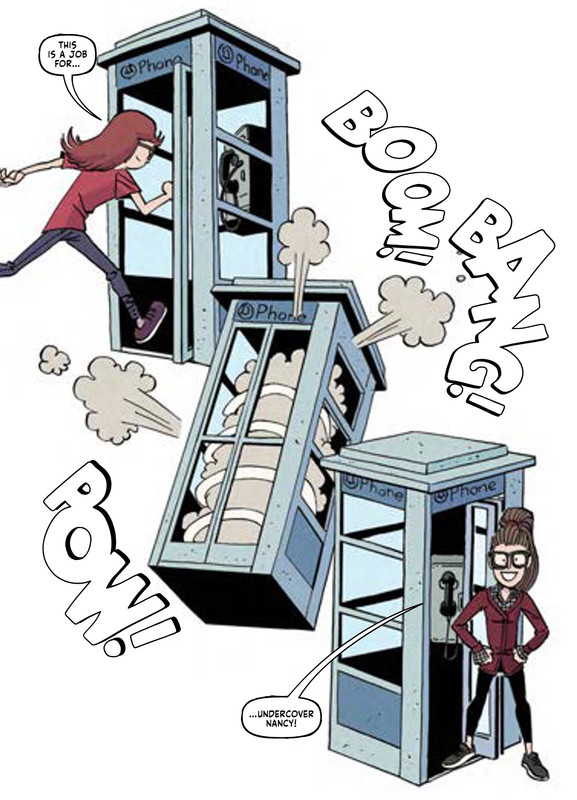 Nancy is a bit of a contradiction in this story; she seems to be smart yet she doesn't know how to use the stove. Meanwhile Frank and Joe spent their spare time fighting one another.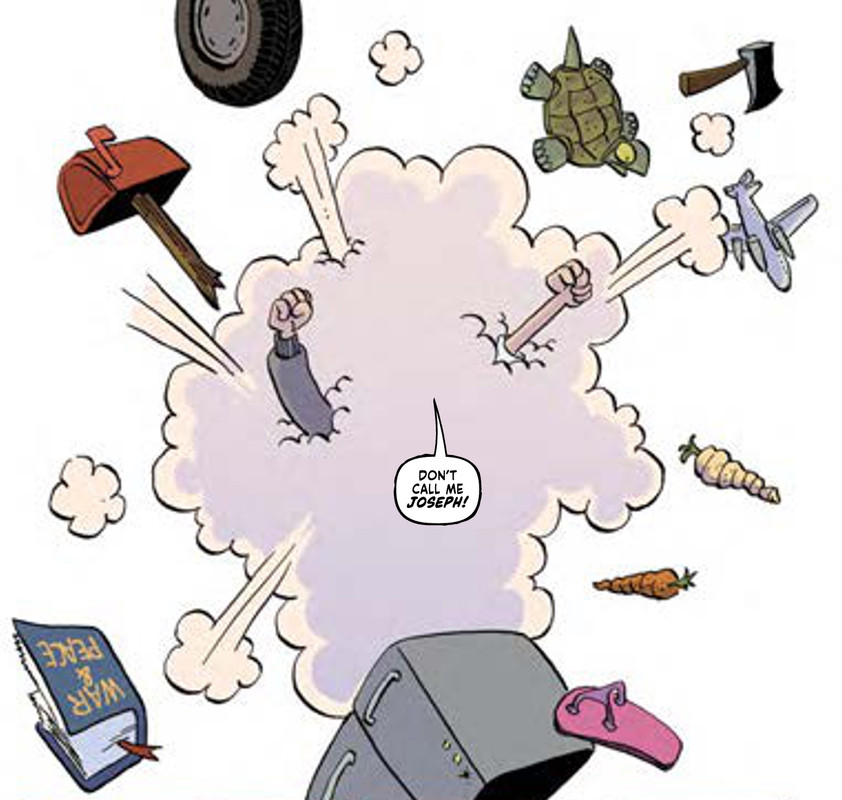 While I already knew Nancy, I wasn't acquainted with anyone from Bayport High so I was initially very appreciative of the early introduction to the usual suspects via a sneak peek at their yearbook photos. It turns out I didn't need to use these as cheat sheets but still thought it was a good way to quickly introduce a number of characters.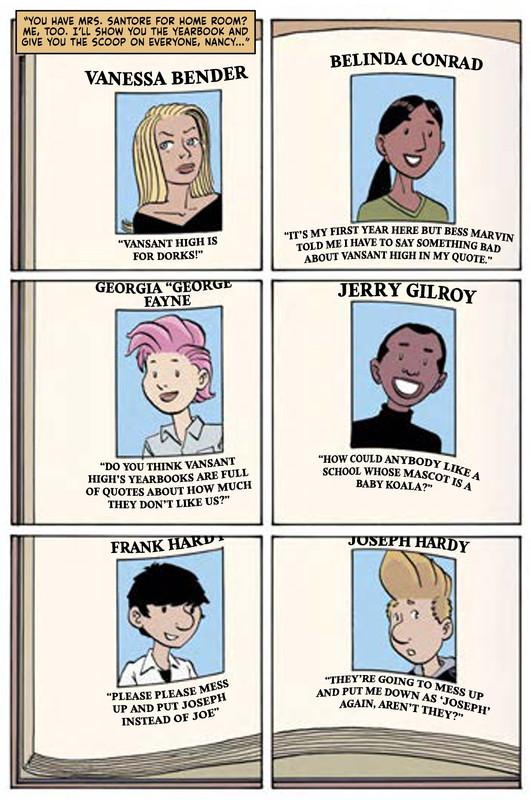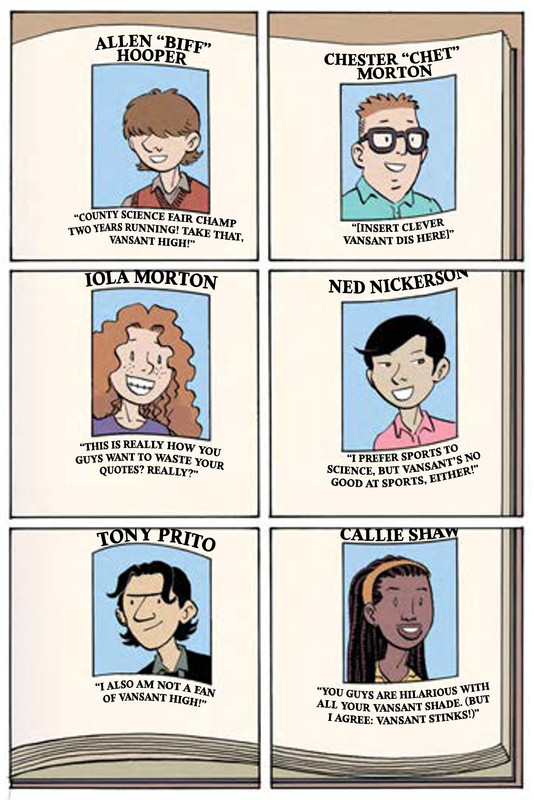 After the mystery is solved there are some bonus activities for kids: a crossword, join the dots, spot the differences, find a word, memory test and colouring page.
I'd be interested in learning what kids who read this graphic novel think of it, specifically whether they want to read more about Nancy Drew or The Hardy Boys. Although I haven't read a lot of Nancy Drew books (okay, I'll admit it. I've read one, but I have watched the latest movie too), her personality in this graphic novel didn't line up with what I expected, particularly when she had a dummy spit.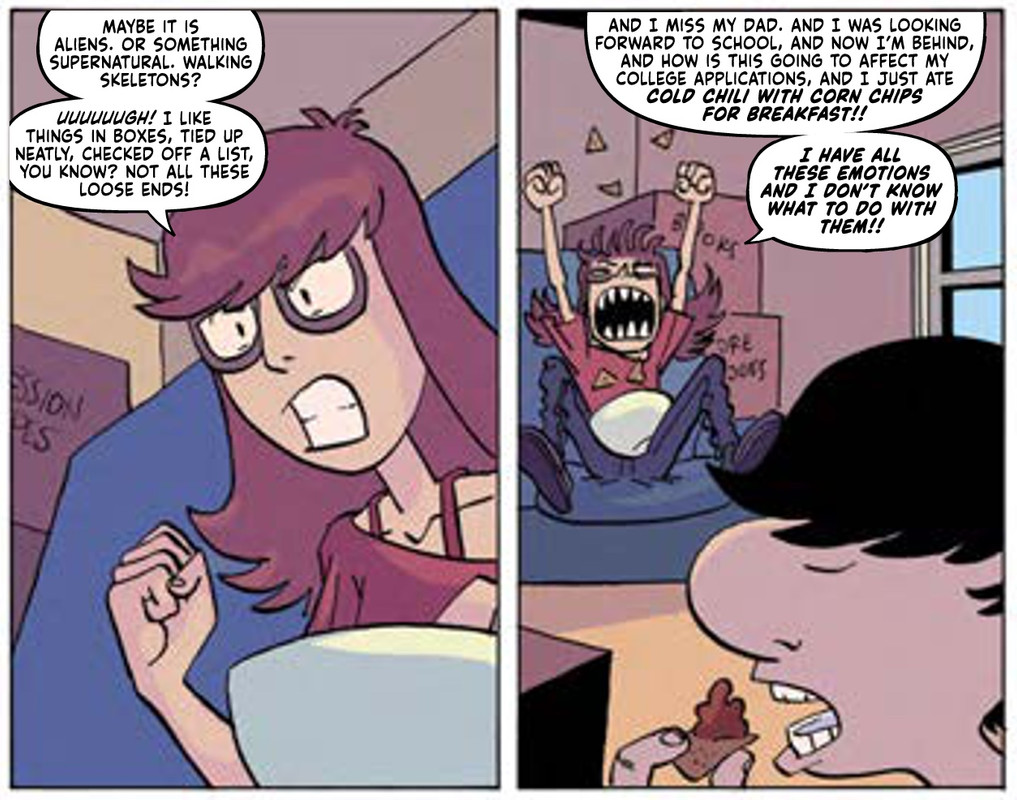 Their portrayal in this graphic novel doesn't make me want to learn anything more about Frank and Joe Hardy but because Nancy's personality didn't ring true to me perhaps I'd find Frank and Joe more likeable if I read some of their books.
Thank you so much to NetGalley, Dynamite Entertainment and Diamond Book Distributors for the opportunity to read this graphic novel. I had high hopes but unfortunately it wasn't for me.
Once Upon a Blurb
Eating candy nonstop and watching TV all day sounds great … until you actually do it, as the kids of Bayport High find out when all the adults vanish, and the world's greatest (high school) detectives – the Hardy Boys and Nancy Drew – have to team up to solve the mystery!
Whether it's going under cover, sneaking out at night, chasing weird buses, or following a strange smell, they know it'll take all their wits and smarts to get their parents and teachers back … that is, if Joe and Frank don't kill each other first.
Oh, and there's also the matter of the skeleton that can walk. And a major feud with a rival high school. And a koala-in-a-diaper costume. And lawlessness in the hallways. And an unrequited crush …