I've loved abandoned places photography since I first learned of its existence. Although I've enjoyed poring over photographs of many abandoned places, including castles, hospitals and amusement parks, this is the first book I've read that focuses exclusively on theatres.
Featuring the history and photographs of twenty abandoned theatres, Matt Lambros took me on a journey through America. The theatres included in this book are located in California, Connecticut, Illinois, Maine, Massachusetts, Michigan, Missouri, New Hampshire, New Jersey, New York, Ohio and Pennsylvania.
My favourite photograph is from the interior of Loew's Majestic Theatre in Bridgeport, Connecticut. There's a haunting quality to this image, with its blend of light and shadow, and it makes me want to ascend those stairs to find out what's beyond them.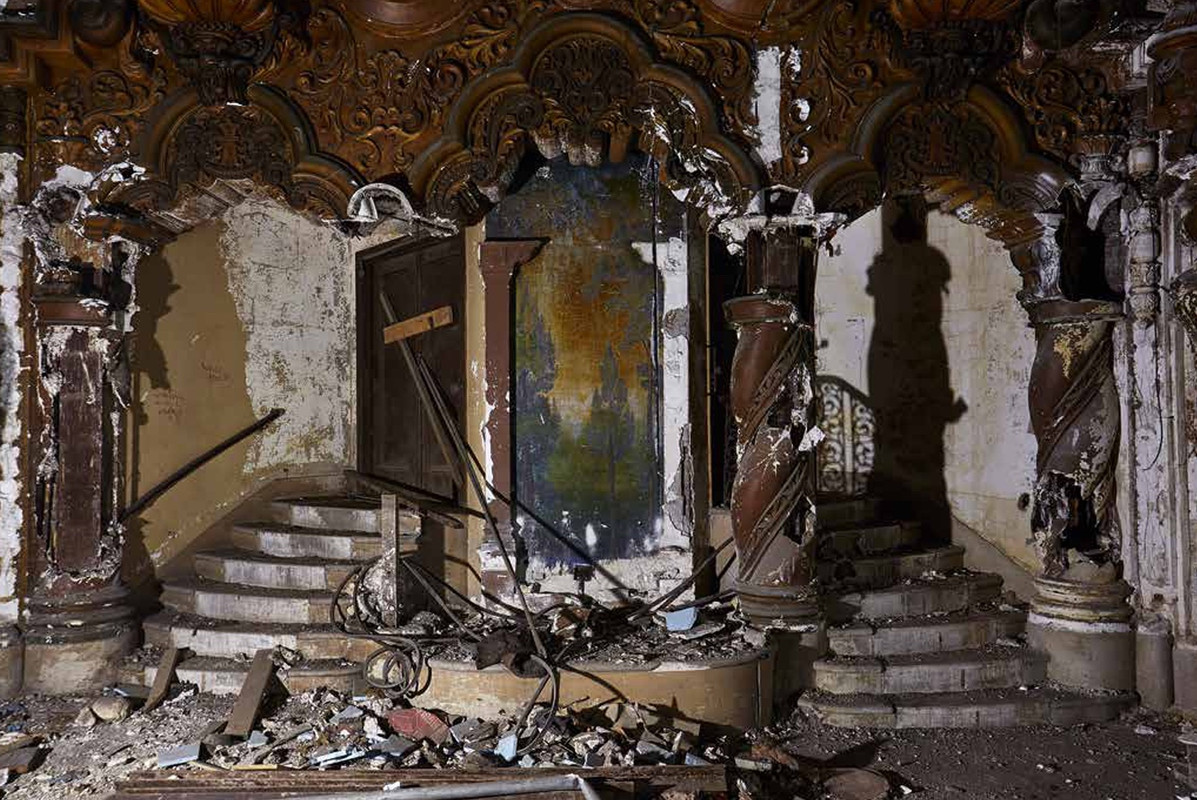 One thing I absolutely adored in this particular book is a feature I haven't come across in other abandoned places photography books I've loved – images that highlight what a building looked like in its prime contrasted with ones that show its decay over time. Somehow being able to view the before and after side by side is both fascinating and even sadder than seeing the after in isolation.
The passage of time has caused RKO Proctor's Theatre in Newark, New Jersey to be almost unrecognisable when compared to its heyday.

Then there's Detroit, Michigan's United Artists Theatre, whose Spanish Gothic interior had a creepiness to it even before time stripped away some of its shine. This is the theatre I most want to see in person.

Thank you so much to NetGalley, Jonglez Publishing and Xpresso Book Tours for the opportunity to read this book.
Once Upon a Blurb
In the early 20th century the streets of small towns and cities across America were filled with the lights and sounds of movie theaters. The most opulent – known as "movie palaces" – were designed to make their patrons feel like royalty; people would dress up to visit. But as time went on it became harder and harder to fill the 2,000+ seat theaters and many were forced to close.
Today, these palaces are illuminated only by the flicker of dying lights. The sound of water dripping from holes in the ceiling echoes through the auditoriums. In After the Final Curtain (Volume 2) internationally-renowned photographer Matt Lambros continues his travels across the United States, documenting these once elegant buildings.
From the supposedly haunted Pacific Warner Theatre in Los Angeles to the Orpheum Theatre in New Bedford, MA, which opened the same day the Titanic sank, Lambros pulls back the curtain to reveal what is left, giving these palaces a chance to shine again.