Illustrations – Marc McBride
'Do you draw what you see?'
'It is very thin here, the veil,' she whispered, leaning forward as if she was telling a great secret. 'Some places in the world are like that, and this is one of them.'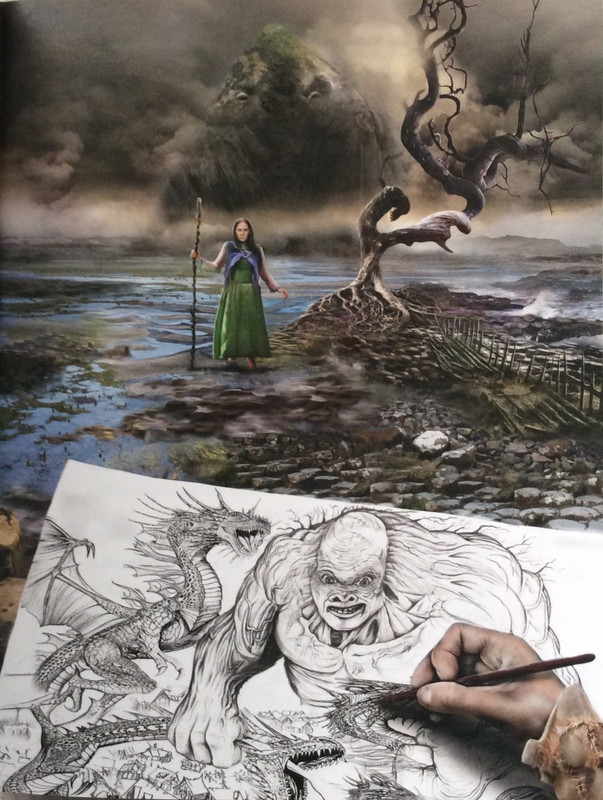 Shortly after we're introduced to Finn, a young boy who has lived in the small village of Wichant his entire life, a strange woman, only known as the Housekeeper, buys him from his grandparents for a bag of gold.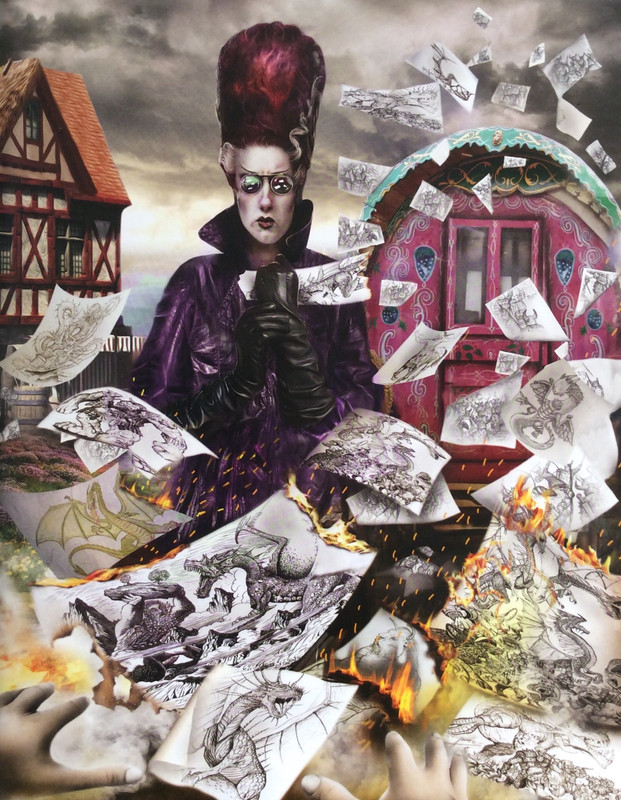 The Housekeeper takes Finn to the mysterious Edge House on the clifftop. There Finn is shown seven exquisite paintings. These are not ordinary paintings, though. The scenes depicted on them are more realistic than Finn realises.
Behold the Glimme, where dragons fly,

And see a wondrous tale unfold.
This is quite possibly one of the most beautiful books I will ever have the privilege of picking my jaw off the floor over. I was interested in the story but once I caught a glimpse of Marc McBride's illustrations I was hooked. They're an incredible blend of realistic and surreal. The attention to detail and the combination of dark and dreary with vibrant colours, often appearing in the same image, was captivating.
I almost didn't care about the words that accompanied the story of the pictures initially and came close to allowing myself to remain hypnotised by the dragons and castles. I planned on drooling over the pictures and then sending the book back to the library unread, because of Book Nerd Problem #486: practically every book I currently want to read arrived at the library at the same time!
Then I glanced at the first couple of pages of text and the words sucked me in too. I'm not usually drawn to adventure stories where I'm spending so much of my time witnessing battles and the travelling time between them but I enjoyed this story. My favourite characters were Finn, artist turned hostage turned unexpected hero, and Lone Annie, a scarred woman who foresees the dragons, giants and other very specific encounters our intrepid adventurers face.
The illustrations lined up with the storyline so well (one of my pet peeves is when the details of an illustration are different to what the story describes) and it made sense to me when I learned that the illustrator approached the author with a set of paintings, asking them to write their story. I'm having so much trouble choosing a favourite so I'm going to show you two of them. This is Finn inside the Edge House. See all of the books? Dream house!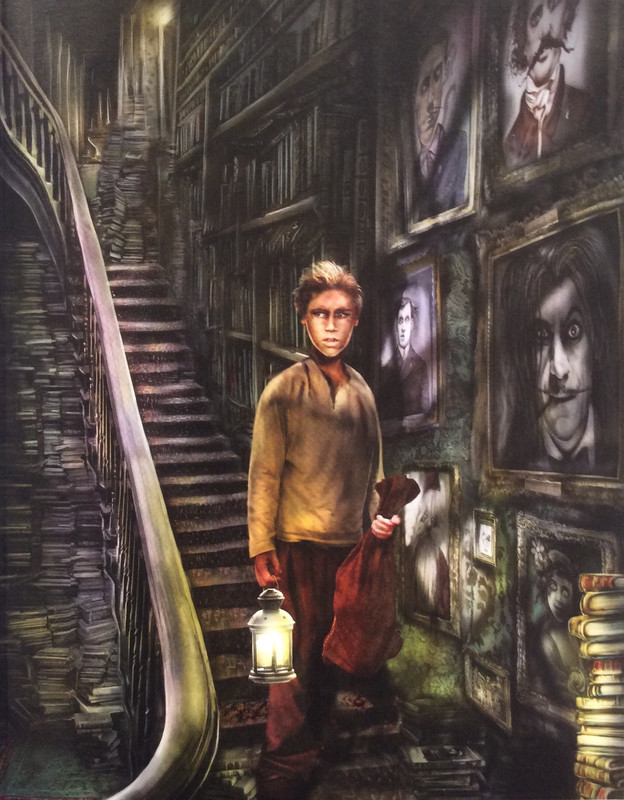 The other is my favourite dragon illustration. This is Greenfire chatting to Chieftain Gor. Check out the details!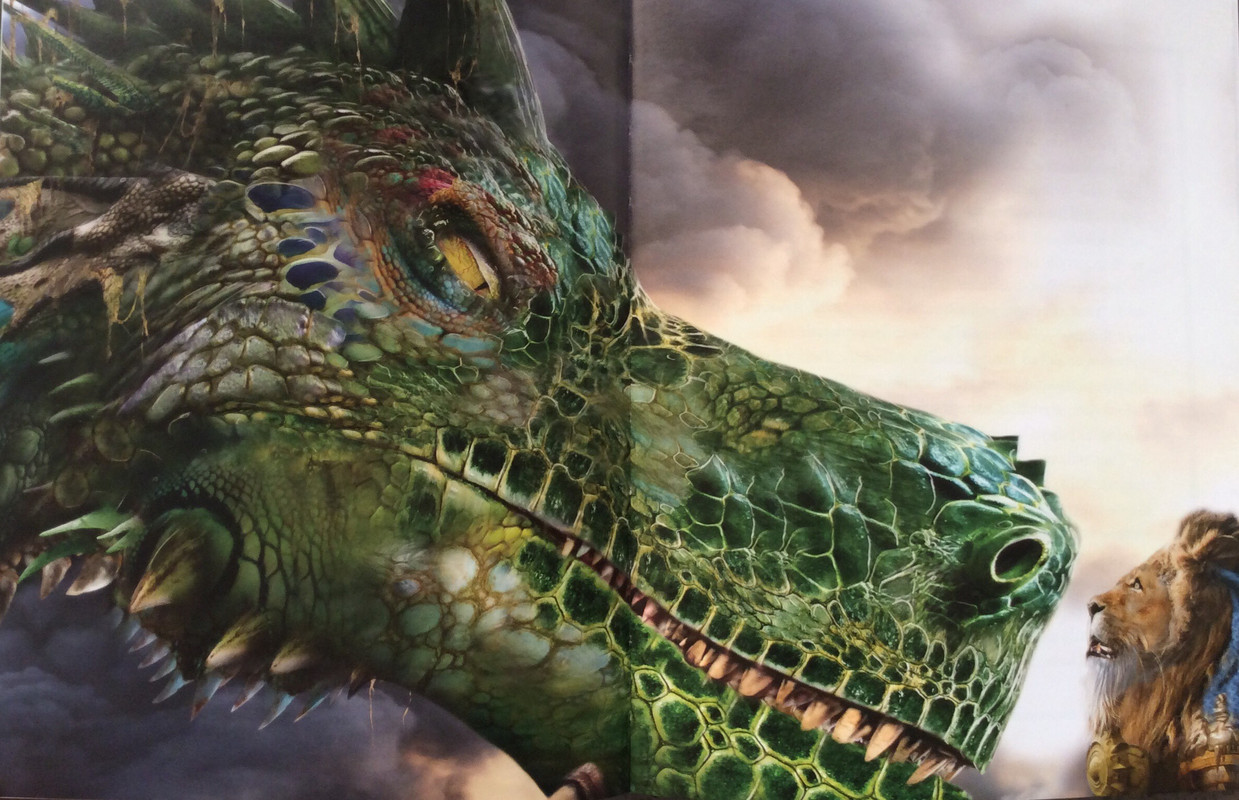 Now, this may be a case of me seeing what I want to see but I could have sworn there was a Predator in the foreground of the painting showing the feast in Castle Nye. In this story his name is Quinlin and it's only when he's seen in profile that he makes me think he was a Predator in another life.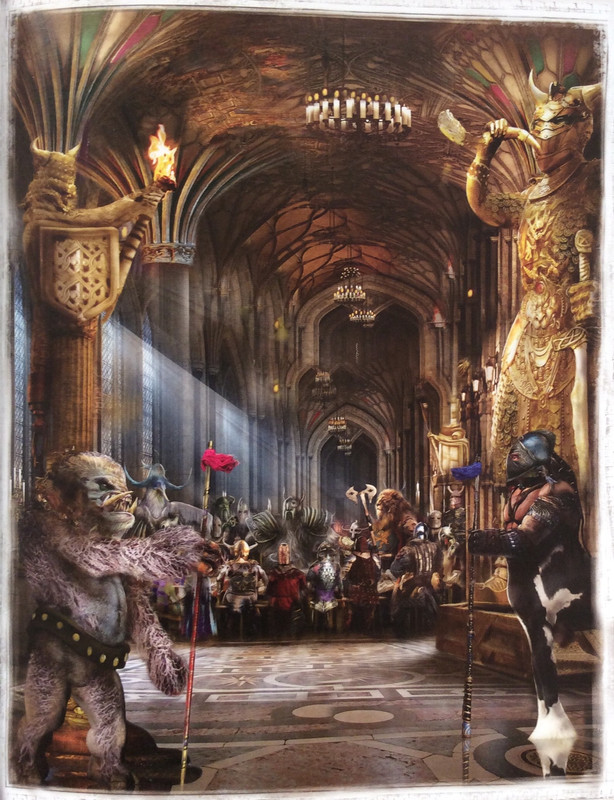 The artist's secret is the key

To doors no eyes but mine can see.
You would be forgiven for thinking I've shown you practically all of the illustrations contained in this book but I haven't even come close. There are so many characters you have yet to be introduced to, locations you have not glimpsed and fantasy elements come of life that await you within its pages.
Although they're gorgeous, the photos I've taken of the book's pages do not do these illustrations justice at all! You've got to experience them for yourself!
My only regret related to this book? I waited and waited for my library copy to arrive and by the time I opened the first page and realised just how extraordinary this book truly is, I'd missed out on the opportunity to buy my own signed copy. Lesson painfully learned!
Once Upon a Blurb
Lone Annie sees dragons in your future. She sees giants. She sees fire and water. She sees death. Finn's life in the village of Wichant is hard. Only his drawings of the wild coastline, with its dragon shaped clouds and headlands that look like giants, make him happy. Then the strange housekeeper from a mysterious clifftop mansion sees his talent and buys him for a handful of gold and then reveals to him seven extraordinary paintings. Finn thinks the paintings must be pure fantasy: such amazing scenes and creatures cannot be real! He is wrong. Soon he is going to slip through the veil between worlds and plunge into the wonders and perils of The Glimme.