Illustrations – Rovina Cai
Spoilers Ahead!
"Once a wayward child, always a wayward child."
I've been waiting as patiently as possible for my next quest –
No quests.
Right. So I've been counting the days until I was finally able to spend more quality time with my fellow Waywards and today we went to the Moors! Who's 'we'? I travelled with the girl with the "perpetual sugar buzz", the "Goblin Prince in Waiting", the girl "with the ocean in her hair", a mad scientist, the boy with the bone flute and the girl "with the lightning-powered heart".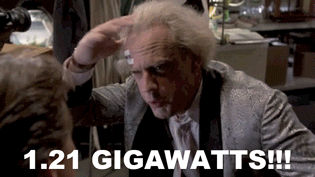 Travelling by lightning hasn't been this much fun since I hitched a ride in a Delorean!
Having completed my most anticipated read of 2020 less than a fortnight into the year I now feel like I've wandered into a bittersweet limbo. I'm absolutely elated that, after a year of anticipation, my expectations (which were skyscraper looking down on clouds high) didn't overshadow my enjoyment.
I'm proud of myself for savouring the experience, appreciating every sentence rather than bingeing the entire book in one sitting. I'm sad that I can never read this book for the first time ever again. I want to gush to anyone who will listen to me about every sentence I highlighted, every character, plot point, what I hope will happen next, what I fear will happen next … but spoilers.
"But I warn you, this isn't a tale for the faint of heart. It is a story of murder, and betrayal, and sisterly love turned sour."
I will tell you though, although this was not her story, Sumi was the standout wayward for me in this book. She somehow kept managing to snag the best lines and I don't know which one of us this says more about but I understood every piece of Nonsense she uttered. I love that she gets to the heart of the issue and asks the truly important questions, like
"Why is the village of scary fish-people where you get your chocolate biscuits?"
One of the first things I tell anyone about me is that Every Heart a Doorway is my all time favourite book. I don't care that I'm an adult; I will be searching for my door for the rest of my life and if you are also seeking admittance to your door, regardless of how different our true worlds look, I will consider you a kindred spirit.
Usually when I read a new addition to a beloved series there's an anxiety that accompanies me. I've often found that the shine of the first book can be smudged when follow up books don't meet my expectations. I'm aware that the pedestals I place books I love on can be difficult to reach and that's part of the problem. So you'd think I'd be especially nervous whenever I begin a new Wayward Children book but I have absolute faith that my hopes, no matter how seemingly unrealistic they are, are safe with Seanan and she's never let me down.
"New things are the best kind of magic there is."
I don't want this series to ever end. I want to visit every world. I want to secure a room at Eleanor West's Home for Wayward Children while I wait for my own door to open. So far, none of the worlds I've visited with my fellow waywards have been my own, although I've caught glimpses of it in several. I fully expect that one day Seanan will write about my world and while I'm reading that story my book will magically transform into my very own door. I'm sure!
If you haven't already read the first four books of this series, please remedy that ASAP before reading this one. Then you can join me as I begin the interminable wait for January 2021.
If you've read the first four books and are seeking a recap, check out the brilliance that is Seanan Twitter. If you haven't read them, beware! Spoilers!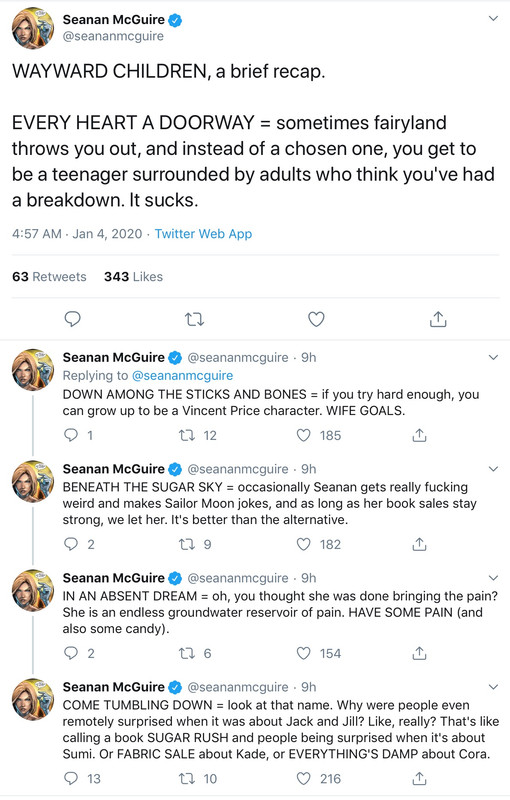 Also, if you want a more extensive catch up, read this. Beware! Much bigger spoilers!
As usual I couldn't wait to get to the next Rovina Cai illustration. I was only going to include my favourite one here but I can't decide so here they all are! I'm hiding them as spoilers in case you don't want to see them before you get to that part of the story yourself.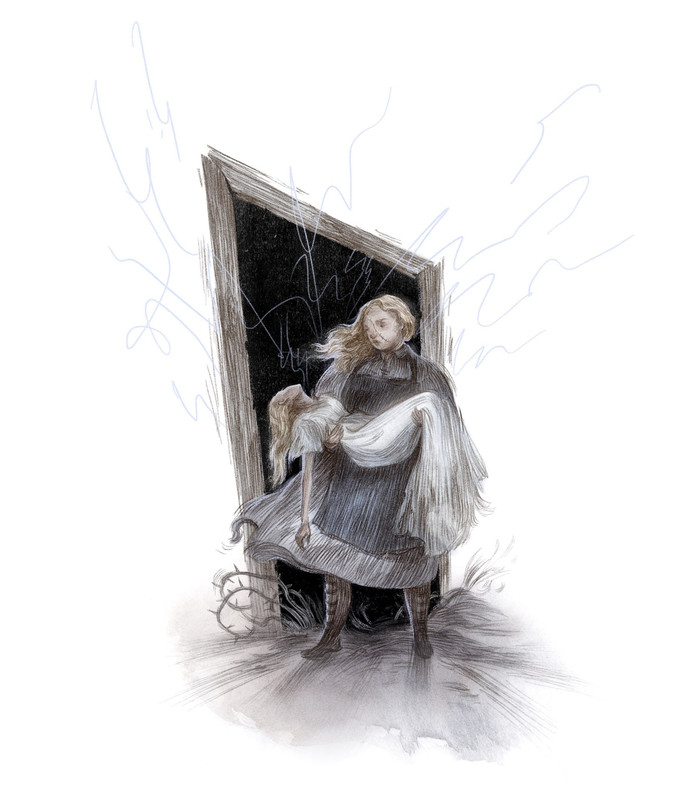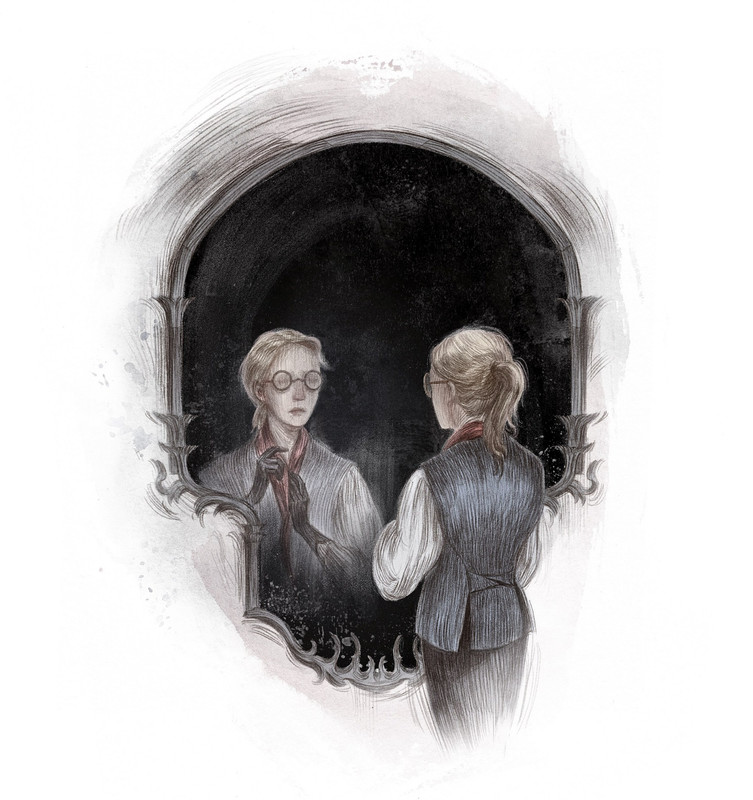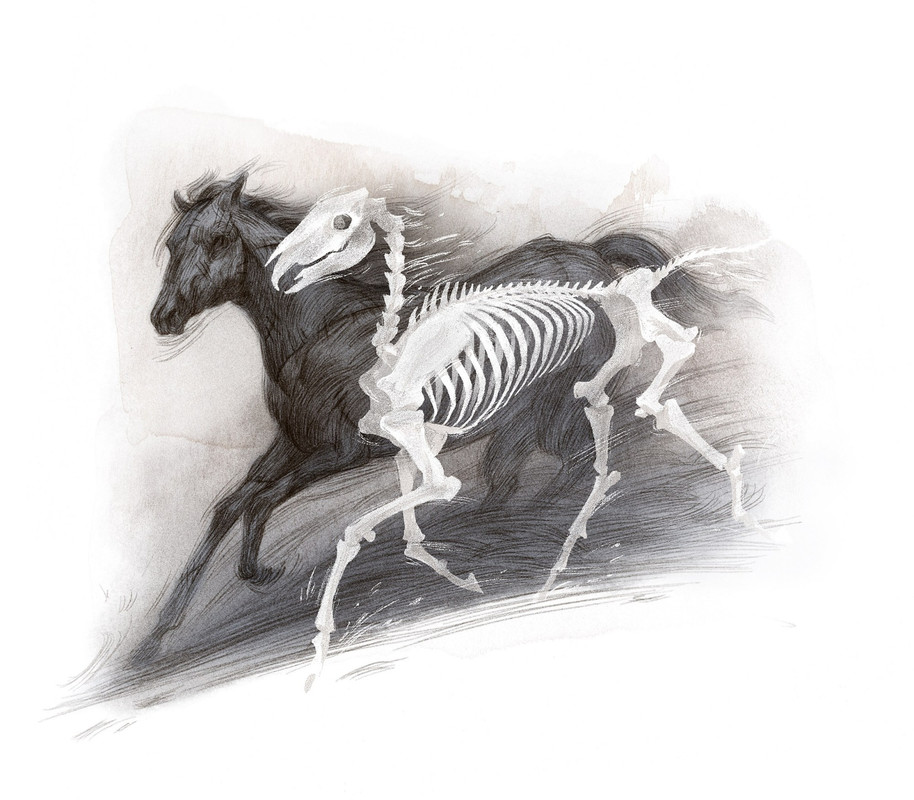 Since I highlighted so much of this book that I probably should have just gone ahead and highlighted it all, it's practically impossible to choose a favourite sentence. This is the one that spoke the loudest to me when I reread all of my highlights:
"No one should have to sit and suffer and pretend to be someone they're not because it's easier, or because no one wants to help them fix it."
If anyone needs me I'll be reading the sixth book in the series.
[But it's not released yet.]
"Hey! Don't you go getting logical rules on my illogical life plans"
[I'm serious. You must wait for another excruciatingly long year before you are allowed to continue this journey.]
"This is the awful sprinkles on the sundae of doom."
Once Upon a Blurb
When Jack left Eleanor West's School for Wayward Children she was carrying the body of her deliciously deranged sister – whom she had recently murdered in a fit of righteous justice – back to their home on the Moors.
But death in their adopted world isn't always as permanent as it is here, and when Jack is herself carried back into the school, it becomes clear that something has happened to her. Something terrible. Something of which only the maddest of scientists could conceive. Something only her friends are equipped to help her overcome.
Eleanor West's "No Quests" rule is about to be broken.
Again.