Every daughter is born of an element, infused with its own particular powers. Some are born of earth: fertile as soil, strong as stone, steady as the ancient oak. Others of fire: explosive as gunpowder, seductive as light, fierce as an unbound flame. Others of water: calm as a lake, relentless as a wave, unfathomable as an ocean. The Sisters Grimm are daughters of air, born of dreams and prayer, faith and imagination, bright-white wishing and black-edged desire.
Each girl in The Sisters Grimm represents an element and a fairytale character. Goldi (Goldilocks) is earth, Bea (Beauty) is air, Liyana (I read somewhere that she represents Snow White but I cannot confirm this) is water and Scarlet (Red Riding Hood) is fire. Some of the comparisons between the characters and their fairytale equivalent were more obvious than others. While the Grimm connections will likely add to the book's appeal for a lot of readers I would have been equally invested in the story had this not been included.
Goldie, whose perspective is the only one told in first person, is the sole caregiver for Teddy, her ten year old brother. She cleans rooms at a fancy hotel, liberating items from its rich guests to help support him. Her boss is sleazy and she's experienced significant trauma in her childhood.
I've been a thief for as long as I can remember, a liar too. I might even be a murderer, though you'll have to make up your own mind about that.
Bea was raised in various foster homes while her mother was being treated at St Dymphna's Psychiatric Hospital. Bea studies philosophy and feels most alive when she's soaring through the air in a glider.
For nearly eighteen years her mother has encouraged her to act audaciously and, although Bea relishes nothing more than reckless behaviour, she's damned if she'll give her mother the satisfaction of knowing it.
Liyana (Ana) was on track to be an Olympian before an injury derailed her plans but she remains at home in the water. Ana and her mother moved to London from Ghana when she was a child. Ana is an artist. Her girlfriend, Kumiko, hasn't met her aunt Nyasha yet.
At the sight of a blackbird Liyana feels that, ultimately, all is right with the world, no matter how hopeless it might seem at the time.
Scarlet lives with her grandmother, Esme, whose health is declining. Scarlet now runs the café owned by her family. She lost both her mother, Ruby, and her home a decade ago as a result of fire.
Strangely, Scarlet finds she wants to immerse her hand in the flame, wants to feel the scorch on her skin. She believes, impossibly, that the fire will be kind to her.
I saw myself in all of the girls to a certain extent and, although I'd never heard of this author prior to this book and they certainly couldn't pick me out of a lineup, I am almost always awake at 3:33am so I'm claiming this part of the dedication as my own. I knew from the blurb that one of the four would not survive but I liked them all and hoped against hope that the blurb was faulty. It was not.
This book reminded me of two important bookish things:
Why I should not pay too much attention to a book's star ratings and reviews before I finish reading it myself, and
Why I should always give a book a little more time after deciding it's not for me.
I had really been looking forward to this book so when I saw some unflattering reviews I admit that I allowed them to dampen my enthusiasm and even shuffled my TBR pile, moving a couple up the queue, as the thought of needing to drag myself through so many pages was unappealing. As soon as I began reading I realised the error of my ways – until I began reading from Leo's perspective. He's a what? From where? Seriously?
My initial failure to connect with Leo's character, along with my impatience with the multiple perspectives that changed so frequently I had trouble keeping up for a while, caused me to very nearly write this book off as a DNF. Each sister's story is told from two perspectives (now and a decade ago). There are also varying amounts of time dedicated to Leo, Nyasha, Esme and their father. Then there are descriptions of Everwhere.
It's a nocturnal place, a place crafted from thoughts and dreams, hope and desire.
If you count the descriptions of Everwhere as a perspective, which I did, you wind up with a baker's dozen.
Thankfully I persevered just a little bit longer than I had planned before abandoning the book altogether and I'm so glad I did because I wound up entirely sucked in to this world and these sisters' lives. I even got used to the rapid changes in perspective, although I still think I'd benefit from a reread to pick up connections I likely missed the first time through. I think this is the first time a potential DNF has suddenly morphed into an I love this book! for me and I can't wait to reread it, soaking up the enjoyment I obviously missed early on.
There's always this childlike delight that wells up inside of me when I discover illustrations in a book I don't expect to find them in. I absolutely fell in love with Alastair Meikle's illustrations and had so much trouble choosing a favourite to share with you here. I've chosen the first one, mostly because it invokes the same sense of wonder every time I look at it.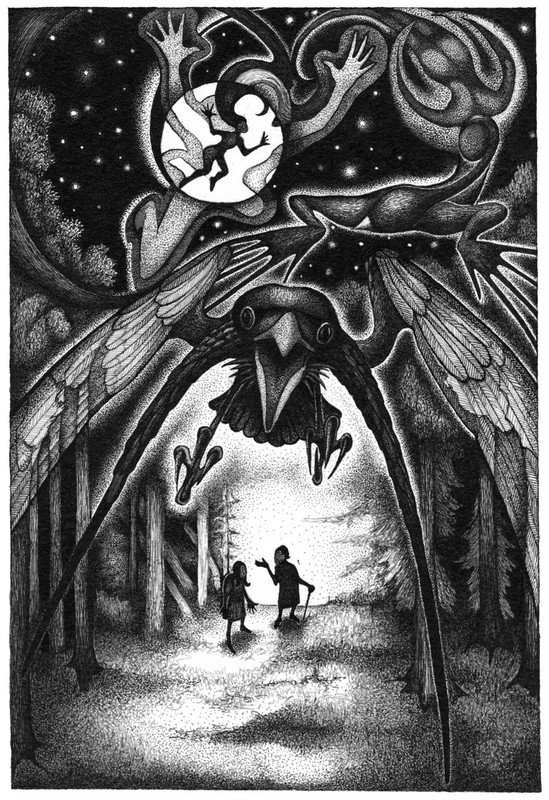 Although I'm not usually interested in Tarot, the descriptions of the cards throughout the book made me want to send a wish to the book's marketing team in the hope that they'll commission a set of Tarot cards, illustrated by Alastair Meikle, that have a similar feel to the style used in the book.
The descriptions of Everwhere enchanted me so much I wanted to visit. I yearned to learn everything I could about each of the four sisters. I wondered what element and powers I would most want, if I had the ability to choose. I didn't want this story to end and it wouldn't surprise me if this book comes to mind when I think about my favourite reads of the year. I need to inhale more of this author's words.
There are hundreds, possibly thousands, of Sisters Grimm on Earth and in Everwhere. You may well be one of them, though you might never know it. You think you're ordinary. You never suspect that you're stronger than you seem, braver than you feel or greater than you imagine.
If anyone needs me I'll be stalking the internet to see if I can buy a signed copy of this book. My bookcase desperately needs one!
Content warnings include child abuse, mental health, self harm, sexual assault and suicidal ideation.
Thank you so much to NetGalley and Bantam Press, an imprint of Transworld Publishers, Penguin Random House UK, for the opportunity to read this book.
UPDATE: My day just got awesome! I found signed copies of this book at Goldsboro Books. I've ordered my copy and can't wait for it to arrive. Happy book day to me!
Once Upon a Blurb
There are hundreds, possibly thousands, of sisters Grimm on Earth.
You may well be one of them, though you might never know it.
You think you're ordinary.
You never suspect that you're stronger than you seem, braver than you feel or greater than you imagine.
But I hope that by the time you finish this tale, you'll start listening to the whispers that speak of unknown things, the signs that point in unseen directions and the nudges that suggest unimagined possibilities.
I hope too that you'll discover your own magnificence, your own magic …
This is the story of four sisters Grimm – daughters born to different mothers on the same day, each born out of bright-white wishing and black-edged desire. They found each other at eight years-old, were separated at thirteen and now, at nearly eighteen, it is imperative that they find each other once again.
In thirty-three days they will meet their father in Everwhere. Only then will they discover who they truly are, and what they can truly do. Then they must fight to save their lives and the lives of the ones they love. Three will live, one will die. You'll have to read on to find out who and why …