Illustrations – Elisa Paganelli
All aboard!
Uncle Nat is a travel writer who loves trains and is thrilled to be a passenger on the Highland Falcon's final journey. It's the summer holiday and Hal is not looking forward to spending four whole days on board a train with his weird uncle.
'I don't like trains. They're boring.'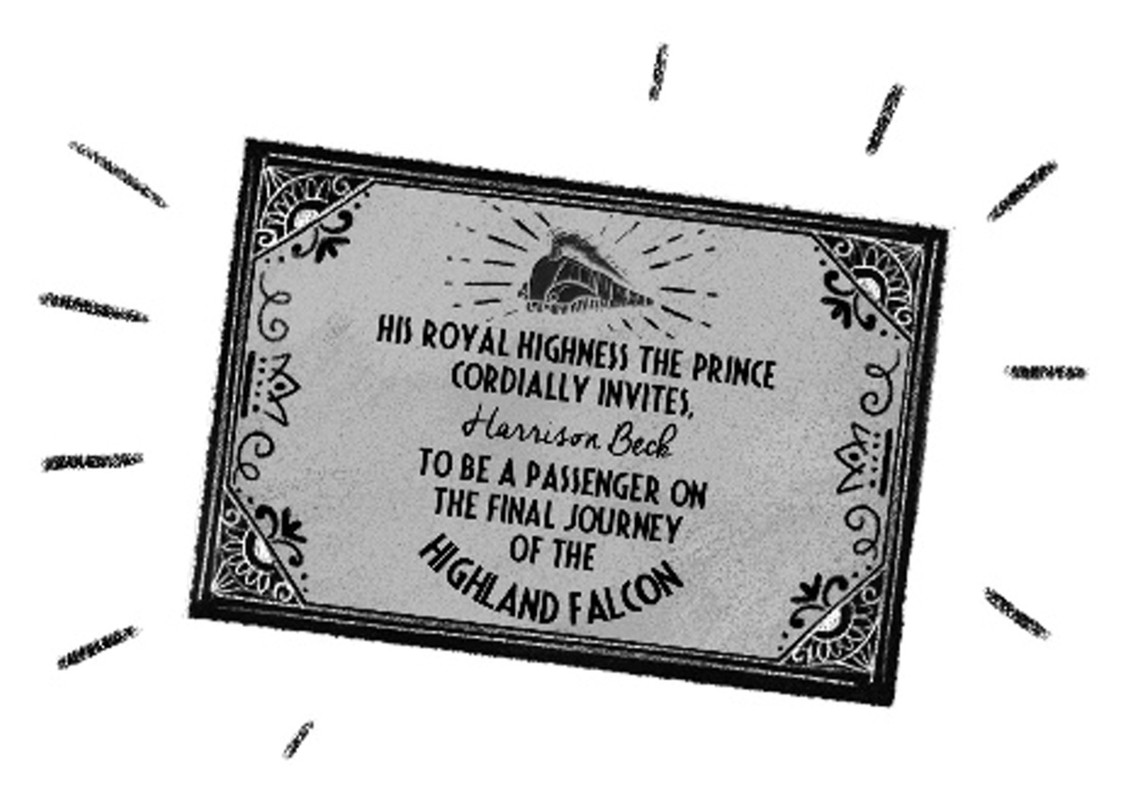 Hal isn't bored for long as it turns out there's a jewel thief on board and he's quickly caught up in the action.
'Often the best place to hide something is in full view.'
On board the Highland Falcon and potential suspects are:
🚂 Harrison (Hal) Beck – 11, enjoys drawing
🚂 Nathaniel (Nat) Bradshaw – Hal's mother's older brother, a travel writer
🚂 Sierra Knight – a film star who is friends with the princess
🚂 Lucy Meadows – Sierra's personal assistant
🚂 Countess of Arundel, Lady Elizabeth Lansbury – onboard with her dogs (Trafalgar, Viking, Shannon, Fitzroy and Bailey), her husband recently died
🚂 Rowan Buck – the Countess' gentleman-in-waiting/dog handler
🚂 Ernest White – was the head steward on the royal train for 47 years, allergic to dogs
🚂 Baron Wolfgang Essenbach – friend of the prince
🚂 Milo Essenbach – the Baron's youngest son
🚂 Steven Pickle – reality TV star, entrepreneur, runs a train company called Grailax
🚂 Lydia Pickle – Steven's wife
🚂 Isaac Adebayo – the royal photographer
🚂 The prince and princess
🚂 Marlene (Lenny) Singh – 11, the train driver's daughter
🚂 Mohanjit Singh – train driver, Lenny's father
🚂 Gordon Goulde – head steward on the royal train
🚂 Graham – train guard
🚂 Amy – waitress
🚂 Joel Bray – fireman
🚂 Daniel and Kerry – the night shift.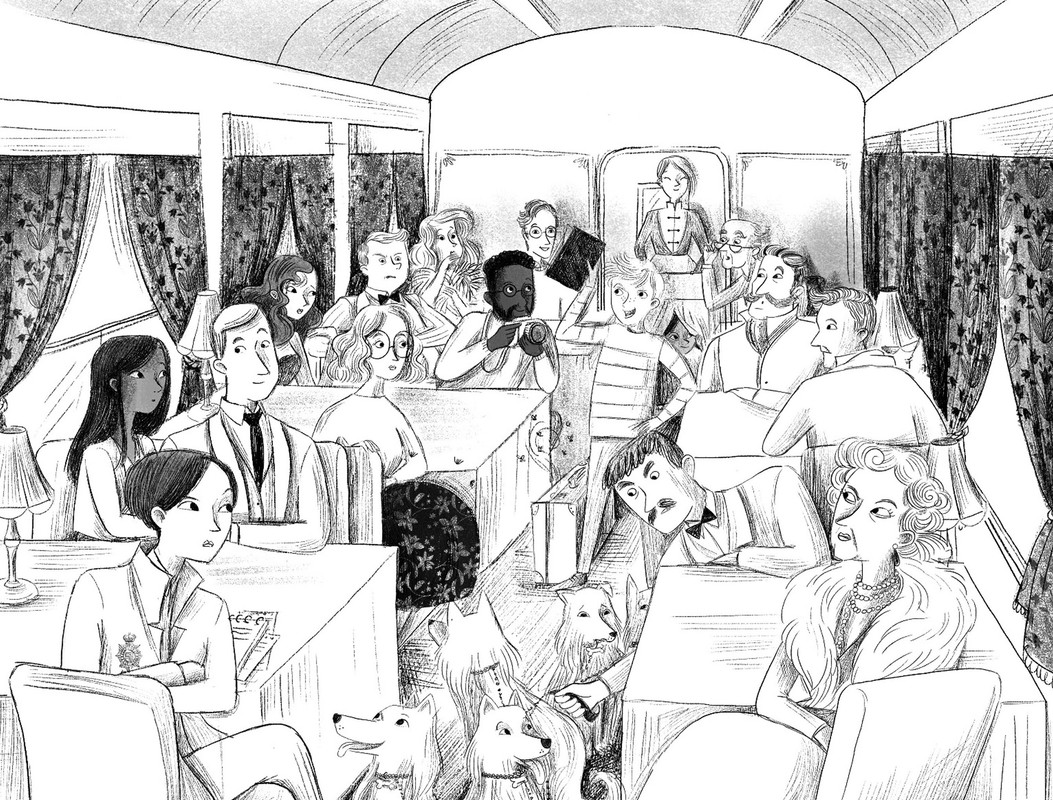 Lenny, with her enthusiasm and tool belt, was always going to be my favourite character, especially when she was described (with a smile) as "the most disobedient girl ever to be born". The surprise stand out for me was Uncle Nat, who turned out to be a lot more fun than I expected him to be. From his six watches, because "It's good to remember that there are other places on the planet, filled with wonderful people", to his love for trains, Nat is the person I'm most looking forward to spending more time with as the series progresses.
'This will be a journey you'll remember for the rest of your life.'
With a mystery unfolding and a group of mostly rich people with various agendas on board, this was a fun adventure. Train enthusiasts will enjoy the information about how steam trains operate and detectives in training will have their work cut out for them separating the red herrings from the clues, which are found in the text and in Elisa Paganelli's illustrations. The details in the illustrations matched the text most of the time.
I was personally upset by how the dogs were treated at various times during the story, especially when a dog was kicked, but was relieved to know the dogs all went on to live happily ever after.
I'll definitely be on board for Hal and Uncle Nat's next adventure.
Thank you so much to NetGalley and Macmillan Children's Books, an imprint of Pan Macmillan UK, for the opportunity to read this book.
Once Upon a Blurb
Harrison Beck is reluctantly joining his travel-writer Uncle Nat for the last journey of the royal train, The Highland Falcon. But as the train makes its way to Scotland, a priceless brooch goes missing, and things suddenly get a lot more interesting. As suspicions and accusations run high among the passengers, Harrison begins to investigate and uncovers a few surprises along the way. Can he solve the mystery of the jewel thief and catch the culprit before they reach the end of the line?