I think creating quests might have been the single best idea I have EVER HAD.
Max Crack and Frankie Doink, our self-proclaimed "Masters of Quests", are back in Max's second quest diary. I enjoyed this diary even more than the first and it already feels like I've made two new friends. These kids are just so relatable!
If I'd been in Mrs F's class with them I would have been jostling to get an invite to help them achieve their quests. If they didn't let me join in on the fun I probably would have either competed against them or come up with my own adventures. Adult me has even started thinking about the types of quests I could be working on now.
There's plenty of questing in this book to keep your imagination active. Max and Frankie try to find a meteorite, which could actually be a UFO (you never know!). They embark upon shooting "Thine Moving Picture Questeth the Second", become Heroes of Science and attempt to get their names in the record books.
When they're not busy questing, they're perfecting their secret handshake, making good use of their ninja skills and freaking themselves out with their imaginations. They even have the opportunity to make "coin of the realm".
We learn about mythological foot soldiers and cosmological archaeology, encounter a honking mad goose and experience Stalac-pop fatigue. We ponder the important things in life: whether aliens travel on meteorites, why the return trip always seems quicker than the trip there and the difficulty in getting grown-ups to commit. Max and Frankie may also be experiencing their first crushes, but don't tell them I said that; I'm sure they'd deny it.
We heard about the Mistress of the Dark Arts in the first book but in this one we actually get to meet her and she's my new favourite character. I absolutely love everything about her, from her interests to the way she speaks. I can't wait to have an excuse to spend more time getting to know her.
In the Doink house, Frankie's brothers have been in the spotlight. I would also like to get to know his sisters. I loved the inclusion of the new characters and hope they find their way into future diaries.
Books within a book I need in my life: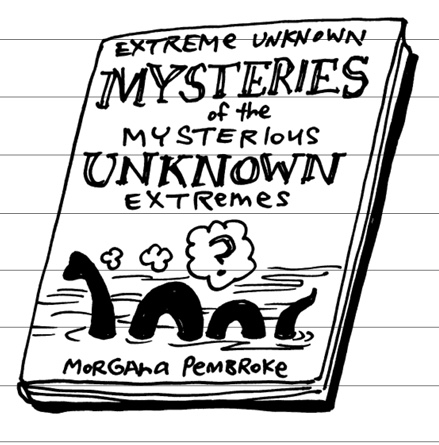 Extreme Unknown Mysteries of the Mysterious Unknown Extremes
Alien Invaders on Your Pizza.
Once again I had fun seeking out the variations of well known names. I chuckled when I read about Playbox games, but my absolute favourite was when the comic book creator, Stanley le'Stan, was mentioned.
I got to enjoy more of Frankie's theories, like the Invisible City Theory and the one that puts forth a compelling argument for Santa's alien origins.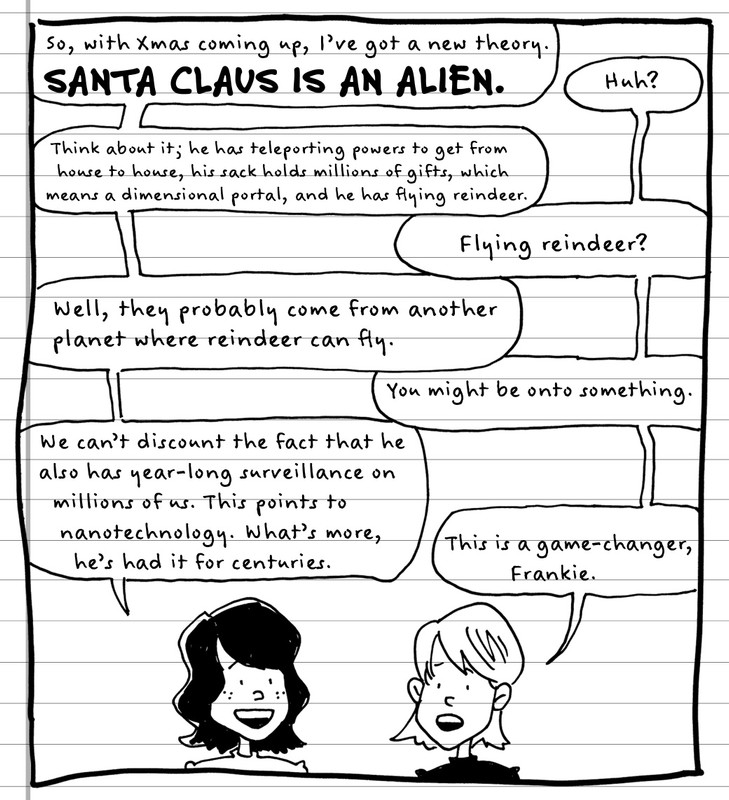 While you could jump right into the series with this diary I'd recommend you read them in order. This one assumes you know about the quests Max and Frankie have already completed, so you'll step in some spoilers for the first book along the way.
If anyone needs me I'll be waiting for the next bridge accident to happen. I was intrigued but a bit hesitant when I began this series as I've previously only loved Jules Faber's work as an illustrator but I'm hooked and can't wait to see what quests Max and Frankie come up with next.
Thank you so much to NetGalley and Pan Macmillan Australia for introducing me to this fun new series.
Once Upon a Blurb
Max Crack and his best friend Frankie are back with even more quest-ordinary adventures!
Armed with a shiny new quest list, they are on a mission to find a meteorite, make a movie, solve a sisterly feud, eat truckloads of chocolate, set a World Record …
Read all about it!