When Rebecca was growing up they weren't interested in talking about relationships and sex like the rest of their classmates. They didn't understand why sex was such a big deal but assumed they'd "grow into" it when they got older.
They tried to have relationships but it just didn't feel right. They thought that something must be wrong with them.
It wasn't until they were at university that they began to accept that being different was okay and that they didn't have to pretend to be like everyone else.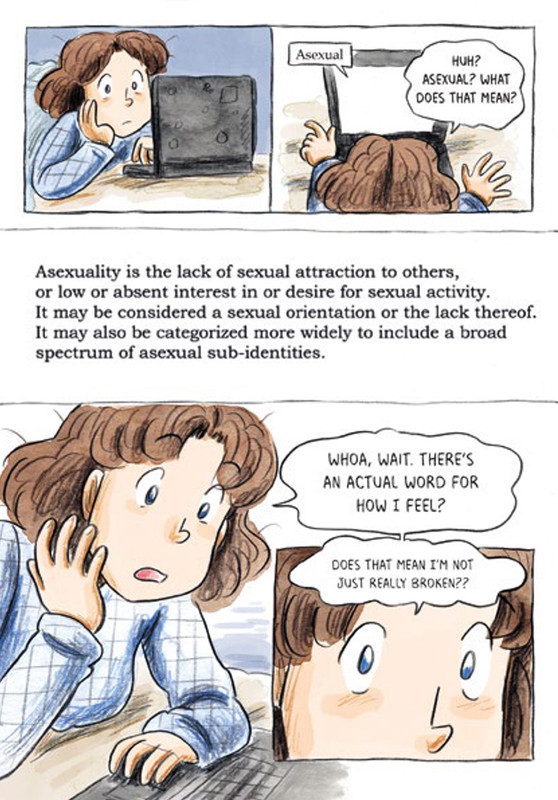 Rebecca's story takes the reader from the bullying they experienced in childhood through to managing their mental health. Information about asexuality is scattered through the graphic novel, with insights into what relationships can look like for people who identify as asexual.
There was a greater focus on mental health than I had expected. I didn't personally learn anything new about asexuality from the panels that provide information but they do give readers a good introduction. I anticipate that being able to follow Rebecca's journey from struggling with their sexuality to their eventual acceptance of who they are will be helpful for readers who can relate to her experiences and provide new understanding for those who don't understand asexuality.
There are resources at the end of Rebecca's story. Because asexuality is so misunderstood I'm including them here so you can check them out for yourself.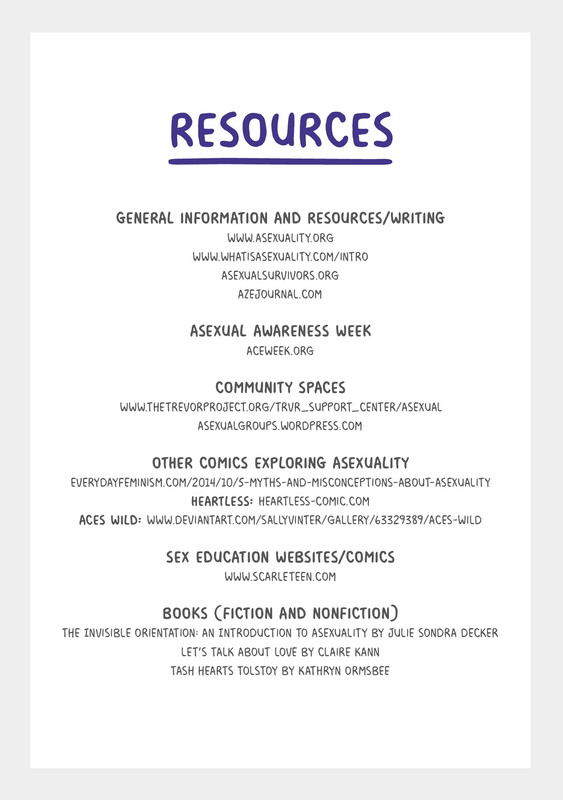 Content warnings include anxiety, bullying, emetophobia, OCD and mention of sexual assault.
Thank you so much to NetGalley and Jessica Kingsley Publishers for the opportunity to read this graphic novel.
Once Upon a Blurb
"When I was in school, everyone got to a certain age where they became interested in talking about only one thing: boys, girls and sex. Me though? I was only interested in comics."
Growing up, Rebecca assumes sex is just a scary new thing they will 'grow into' as they gets older, but when they leaves school, starts working, and does grow up, they starts to wonder why they doesn't want to have sex with other people.
In this brave, hilarious and empowering graphic memoir, we follow Rebecca as they navigate a culture obsessed with sex – from being bullied at school and trying to fit in with friends, to forcing themself into relationships and experiencing anxiety and OCD – before coming to understand and embrace their asexual identity.
Giving unparalleled insight into asexuality and asexual relationships, How To Be Ace shows the importance of learning to be happy and proud of who you are.