Illustrations – George Ermos
Here we are in Brutalia, where there are two towers, both of which look like they could come crashing down into the Salty Sea at any moment.
The Queen and King were horrible.

The people were violent.

And the ravens were ravenous.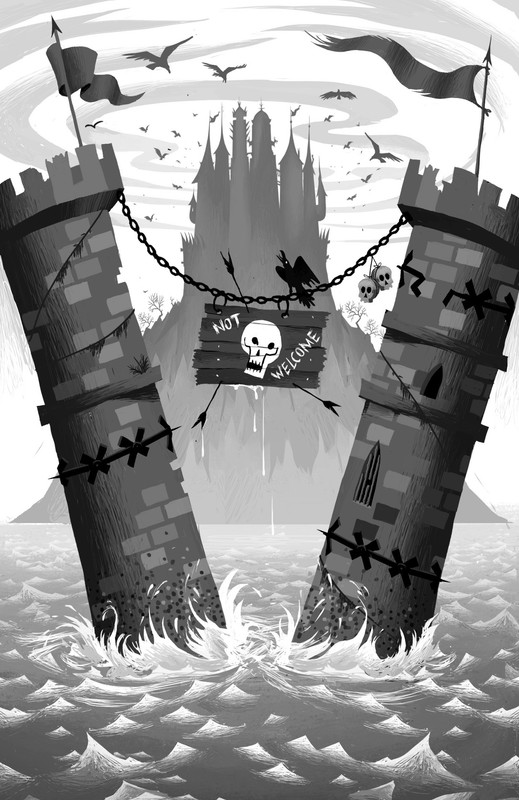 As the sign tells you in no uncertain terms, you are not welcome here. Not that it's a place you'd want to go on vacation; the people are perpetually hungry, rule breakers suffer unimaginable punishments (like wasp baths) and then there's Brutalia's motto:
LIVE OR DIE
Trust me when I say you're more likely to die than live if you're foolish enough to visit. There's so much death here that there's an official Body Carrier. And a Body Lugger. I doubt you would want either job.
So why do we want to hear any more about this horrific place? Well, because it's where Mort lives. This is Mort.
He's got a lot on his mind this week. Mort is a pacifist, which is sort of inconvenient, especially considering he's Brutalia's new Royal Executioner. His first job is to execute his "most delicious-smelling friend", Weed.
And so the plot thickens.
This was a delightful story. Well, as delightful as it could be with everyone hungry and fearing for their lives, and the ravens hoping that someone will give them some eyeballs for dinner.
This is a place where a misunderstood homonym can kill you, where there's battle cutlery and you need to be extremely careful if you encounter a Grot Bear. It's also a place where a pacifist will try to save his best friend (and himself) from a death most brutal. Mort is an underdog I believe in and want to spend more time with.
The ravens stoles the best lines, although I'm sure they would have much preferred to have stolen some food. Their chats at the beginning of each chapter were something I quickly looked forward to.
"I've got an idea."

"Can I have some of your eye, dear?"

"What? No! I said an IDEA."

"What is it?"

"I've forgotten it now."
Sometimes I find it annoying when the narrator randomly addresses the reader throughout the story but it wasn't overdone here and it even managed to elicit some smiles from me.
Doesn't time go fast when you're watching other people struggle with a difficult plot!
I loved George Ermos' illustrations. They were dark when they needed to be (they wouldn't have scared me if I'd read this book as a kid). They also incorporated some humour, particularly when the ravens, who were my favourite characters, were featured. I thought using feathers as page breaks was a really nice touch.
There's going to be a sequel, The Monstrous Quest.
"Well, thank the gallows for that!"
It has tentacles and it looks as though Ono, Mort's new friend who I haven't had anywhere near enough page time with yet, is going to be involved in the quest. I can't wait!
Thank you so much to NetGalley and Stripes Publishing, an imprint of Little Tiger Group, for the opportunity to read this book.
Once Upon a Blurb
The first in a wickedly funny new series about an aspiring pacifist in a brutal kingdom!
On Brutalia, violence is a way of life. Ravenous ravens circle overhead, monstrous grot bears cause chaos and the streets are bulging with brawls. But Mort isn't like the other islanders – he's determined to live peacefully. His struggle is made even tougher when the cruel queen appoints Mort as Royal Executioner. No one has challenged the royals and lived to tell the tale. Can Mort keep his head and outwit the queen?