You never know what's going on inside someone else's head – how they're hurting – even if you put the hurt there yourself.
Marjorie, who felt like a ghost in Sheets, has recently started the eighth grade. In order to fit in, she hides who she really is from her new friends. Marjorie and her family are, each in their own ways, grieving the death of her mother.
Eliza is an outcast who is repeating the eighth grade.
"Sometimes I feel like a ghost, but maybe a ghost in the wrong place, you know?"
Eliza spends her time trying to capture ghosts on Lorraine, her camera (named after Lorraine Warren), for her paranormal portfolio. Being herself has resulted in Marjorie's new friends bullying her, while Marjorie stands by, visibly uncomfortable but not intervening.
Marjorie spending time with her new friends means she doesn't have as much time to spend with Wendell, her favourite ghost.
He's missing his friend and feeling left out. He is trying his best to deal with both his life and life after death.
I loved Eliza. Anyone who dresses up as a Ghostbuster for Halloween and wears different coloured socks is my kind of person. I ached for her as I watched her cross back and forth between being too visible and invisible.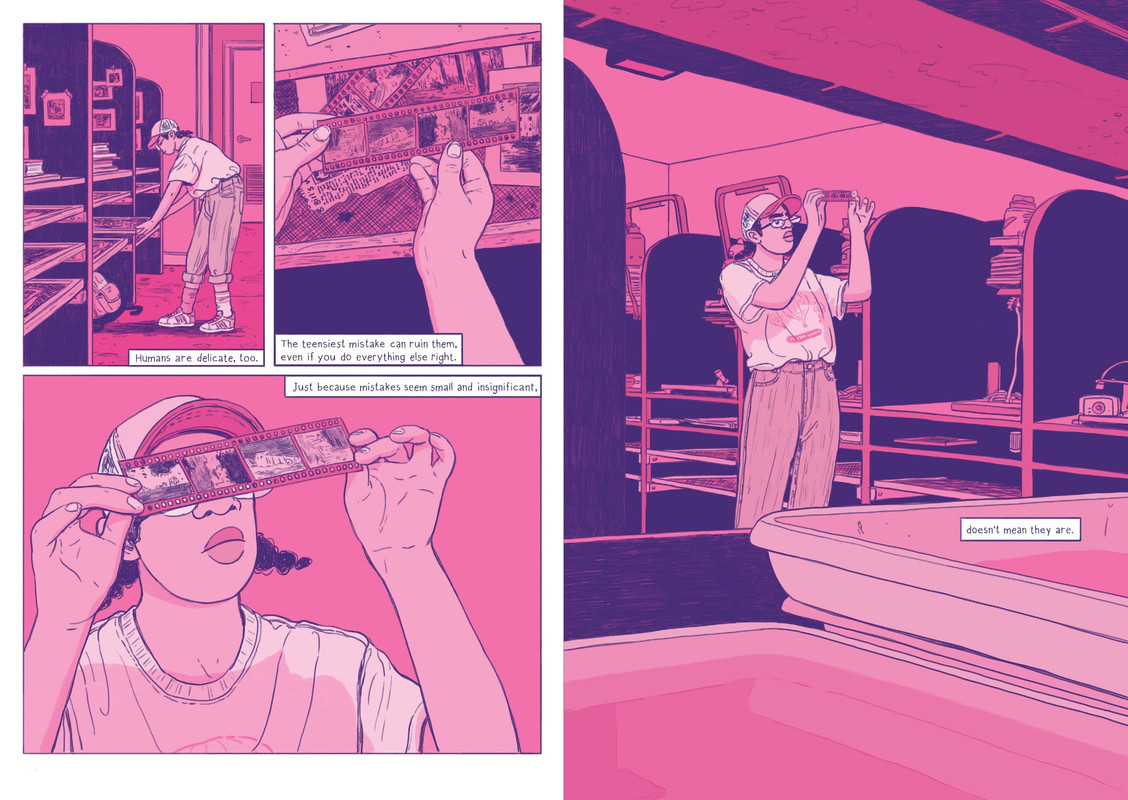 I always look for fun background details in graphic novels. My favourite find in Delicates was the names of the movies playing at The Rubin – The Ghost Wears Prada and What a Girl Haunts.
As I've come to expect from Brenna Thummler, the artwork was absolutely gorgeous. The characters' expressions often speak louder than their words and, although it's been a long time since I last read Sheets, the colour palette immediately drew me back into its world.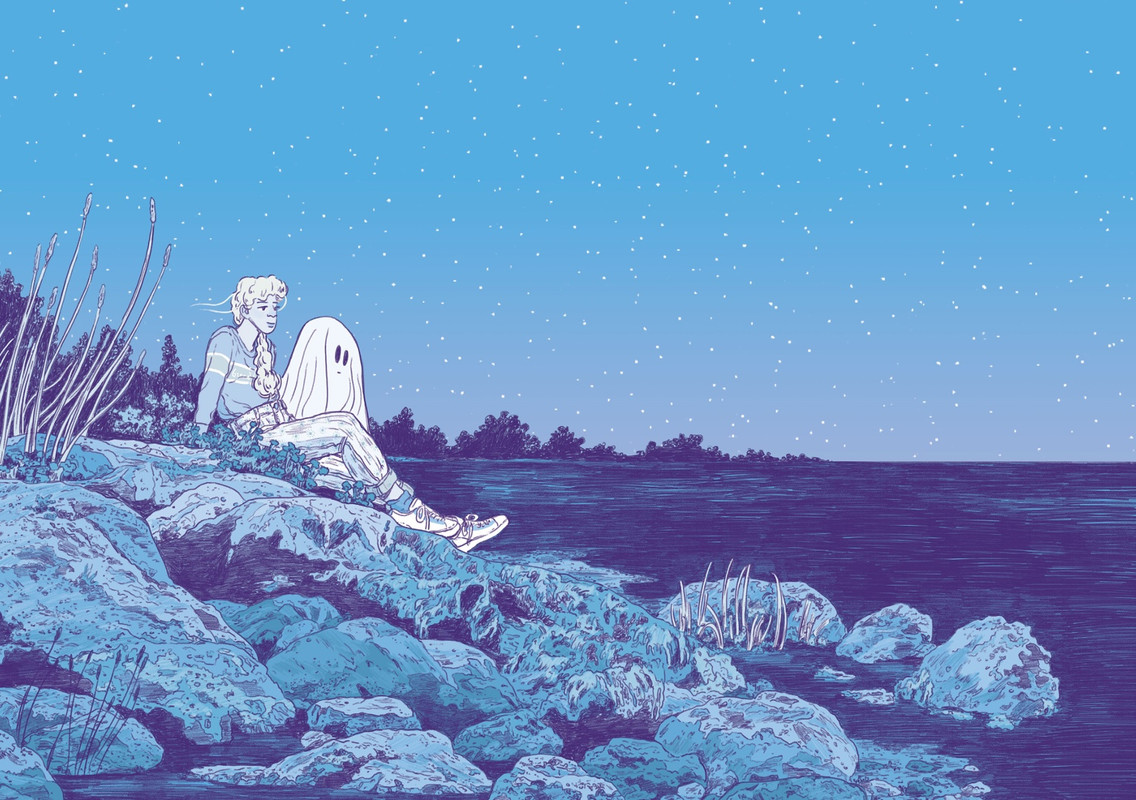 "You should never have to hide who you are."
Content warnings include bullying, depression, grief, racism and suicidal ideation.
Thank you very much to NetGalley and Oni Press for the opportunity to read this graphic novel.
Once Upon a Blurb
Marjorie Glatt's life hasn't been the same ever since she discovered a group of ghosts hiding in her family's laundromat. Wendell, who died young and now must wander Earth as a ghost with nothing more than a sheet for a body, soon became one of Marjorie's only friends. But when Marjorie finally gets accepted by the popular kids at school, she begins to worry that if anyone learns about her secret ghost friends, she'll be labeled as a freak who sees dead people. With Marjorie's insistence on keeping Wendell's ghost identity a secret from her new friends, Wendell begins to feel even more invisible than he already is.
Eliza Duncan feels invisible too. She's an avid photographer, and her zealous interest in finding and photographing ghosts gets her labeled as "different" by all the other kids in school. Constantly feeling on the outside, Eliza begins to feel like a ghost herself. Marjorie must soon come to terms with the price she pays to be accepted by the popular kids. Is it worth losing her friend, Wendell? Is she partially to blame for the bullying Eliza endures?
Delicates tells a powerful story about what it means to fit in, and those left on the outside. It shows what it's like to feel invisible, and the importance of feeling seen. Above all, it is a story of asking for help when all seems dark, and bringing help and light to those who need it most.