Once upon a time there were seven groups of Weatherlings. Then a Rogue created the worst storm Earth has ever seen, Storm Tornadia, and since that time rainbow Weatherlings have been extinct.
'I thought rainbows were just made up?'
All that remain are Weatherlings of "Sun, snow, rain, cloud, wind, thunder 'n' lightning."
Ray is a Weatherling but she doesn't have any weather magic. She does have a cloud-cat called Nim who changes shape and explodes without warning. She also has two best friends, know almost everything Snowden Everfreeze, whose think-flakes are all sorts of quirky, and homework averse orphan Droplett Dewbells, who can teleport between puddles.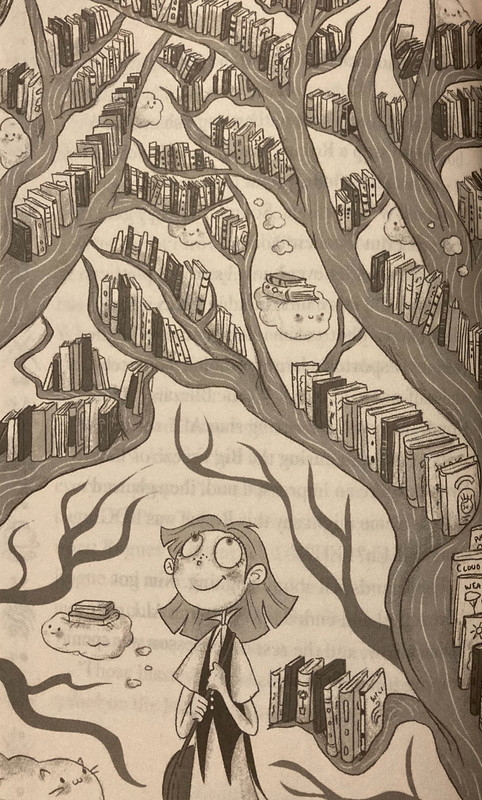 You might think Ray would be envious of her classmates, who all have weather magic. She's not, though, and I think I know the reason. While the rest of her class practice their weather magic, Ray gets to go to the library to read.
Tonight is special because Ray, a ten year old, will be witnessing her first ever eclipse, an event that only takes place once every eleven years.
'These beauuuuutiful twinkly specks called STARS fill the whole sky. Then you'll see the great Moon King with his large plate of big round cheese. He dances around, using the big cheese wheel to cover up the old Sunflower while the Sunkeepers prepare a new one to glow for the next eleven years.'
The world building in this book was so imaginative. From the silver lining that Ray's mother fixes on their home (Cloud Nine) to the different types of magic on display and the yummy treats at the local bakery (make sure you eat the rumblebun in time), there's so much to look at and enjoy.
My favourite character was Ray's cloud-cat. Nim may not get any lines but they're definitely the comic relief. His eyes aren't always where you expect them to be and he's not the most reliable form of transport in Celestia but I absolutely adored this defective cloud-companion.
It was super obvious who this book's villain was going to be and the resolution was a bit too sweet, but … adult reading a kid's book here. I probably would have been blindsided by the reveal had I actually read this when I was the target audience.
While this story wraps up quite nicely, there is a sneaky set up in the epilogue for the next book in the series. Yes, you bet I'll be reading it and yes, I'm passing this one along to my mother because I think she'll love it too. Especially when she learns of the existence of duck-nados!
'Let's follow that rainbow!'
Once Upon a Blurb
Ten-year-old Ray Grey lives in the magical Weatherlands, high in the sky! Ray is surrounded by Weatherlings with astounding weather power at their fingertips … but she doesn't have ANY magic!
Then, after a trip to Earth, Ray's life changes forever. She is transformed from Ray Grey intro RAINBOW GREY! With the help of her best friends (and exploding cloud cat, Nim) now all Ray has to do is master her powers AND save the world from a mysterious, powerful enemy…