Translator – Neil Smith
'All interesting people have done something really stupid at least once!'
This is one of those books that gives you hope for humanity. And may make you ugly cry as you comfort eat your way through your leftover chocolate ice cream. Wait, was that too specific?
This is, without doubt, my favourite read of the month. Apologies in advance to all of the other books yet to come.
It was already on my special book radar before I began reading. It was recommended to someone I know by a local bookstore staff member. They loved it and told me enough about it, including the ugly cry, to pique my interest. I then waited, not so patiently, for my library reservation to magically transform into the book that's barely left my hands since I started it.
The whole thing is a complicated, unlikely story. Perhaps that's because what we think stories are about often isn't what they're about at all. This, for instance, might not actually be the story of a bank robbery, or an apartment viewing or a hostage drama. Perhaps it isn't even a story about idiots.

Perhaps this is a story about a bridge.
This is a book where what seems to be and what is can be vastly different things, where a bunch of strangers who wouldn't normally interact discover they have commonalities and where "sometimes Christmas lights are just Christmas lights."
I loved all of the idiots in this book, even Zara. I may have liked her the most. There's something about being privileged enough to be able to catch a glimpse at what lies beneath the surface of people who present themselves to the world with their armour firmly affixed, their edges carefully sharpened so only the exceptionally brave or exceedingly stupid will attempt to approach them. I also had a huge soft spot for Estelle.
And then there's the rabbit. It took me a long time to find this book and I may not have found it yet if not for the person who told me about it, not realising that I'm a bit of a book stalker. You tell me about a book and I'm almost always going to need to read it. I could say it's because it interests me and most of the time that's part of it. It is a book, after all. But it's also because I want to get to know you better and learning what books you love gives me an insight into who you are at your core.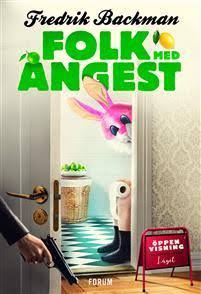 It would have taken me no time at all to find this book if I had seen this cover before now. How anyone could see this design and then think that this book should be packaged in any other way is beyond me. It's perfection!
I don't think I have even been so emotional over a bank robbery and hostage situation. I knew very little about this book going into it and am certain that's the best way to approach it.
I want to quote most of the book to you but am going to restrain myself and instead leave you with my three favourites:
The truth, of course, is that if people really were as happy as they look on the Internet, they wouldn't spend so much damn time on the Internet, because no one who's having a really good day spends half of it taking pictures of themselves.
They say that a person's personality is the sum of their experiences. But that isn't true, at least not entirely, because if our past was all that defined us, we'd never be able to put up with ourselves. We need to be allowed to convince ourselves that we're more than the mistakes we made yesterday. That we are all of our next choices, too, all of our tomorrows.
'Worst hostages ever.'
Content warnings include addiction, death by suicide, domestic abuse, mental health and suicidal ideation.
Once Upon a Blurb
In a small town in Sweden it appears to be an ordinary day. But look more closely, and you'll see a masked figure approaching a bank…
Two hours later, chaos has descended. An attempted robbery has developed into a hostage situation – with the offender refusing to voice their demands.
Fear turns to irritation for the seven strangers trapped inside. If this is to be their last day on earth, shouldn't it be more dramatic?
But as the minutes tick by, they begin to suspect that the criminal holding them hostage might be more in need of rescuing than they are…