Bones, a skeletal tawny frogmouth, and Watts, a stuffed blue Indian ringneck parrot, are exhibits in the state Natural History Museum. Grace is a raccoon whose love of chocolate makes her exceedingly relatable. She's also the only one of the three who needs to breathe.
It's a good thing we've visited them today because there's a new mystery to solve.
Really? A mystery? I love mysteries!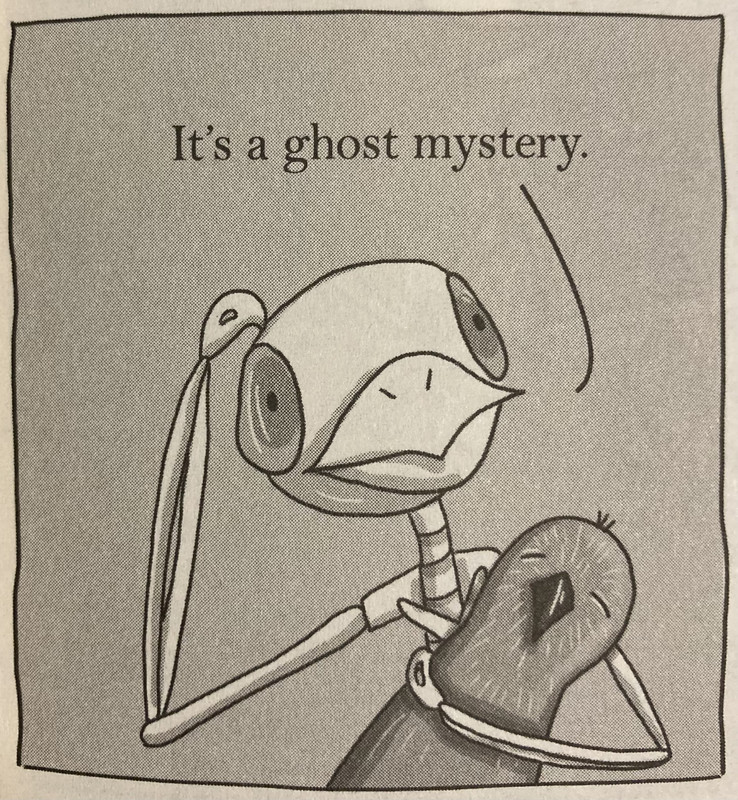 There's a new exhibit opening tomorrow called Art & Science Alliance and rumour has it that one of the paintings is haunted. Luckily, Bones, Watts and Grace are on the case.
They're going to need plenty of courage because apparently this ghost hisses. They may also need someone to help them pronounce 'macabre' and perhaps a dictionary so they can figure out what it means. They're definitely going to need some chocolate (well, Grace and I do).
As usual, I loved the illustrations and accidental learning. I didn't find this mystery as funny as the previous two but I did appreciate the inclusion of a drop bear in the new exhibit.
Nivlac, who we met in Sherlock Bones and the Sea-Creature Feature, used their very specific and entirely awesome skillset to assist our mystery solving trio.
I hadn't thought this before but now I can't think of anything else; Bones does kind of resemble a stick insect wearing a sombrero.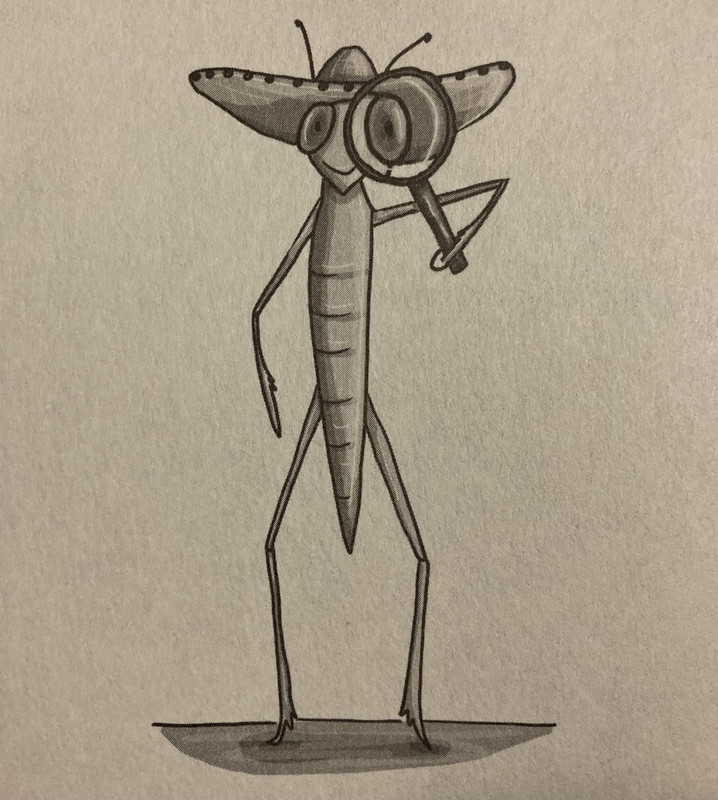 I'm looking forward to my next visit to the Natural History Museum.
Thank you so much to Allen & Unwin for the opportunity to read this graphic novel.
Once Upon a Blurb
The intrepid Sherlock Bones and his quietly funny sidekick, Watts, and their animal friends are back to sneak around the museum and solve any mysteries that come their way. Full of fun, friendship and fascinating facts, this fabulous graphic novel is perfect for young readers who love adventure, mystery and a little bit of mayhem.
Hi there, I'm Sherlock Bones – tawny frogmouth skeleton, chief sleuth and star of all museum-related investigations!
Today is an exciting day because the museum has a new exhibit – and a new mystery!
Together with my partners, the ever-brilliant Watts and talking bundle of fur Grace, I'm here to track down the ghost that's destroying the museum.
You might not be able to hear Watts, because, technically, she's a stuffed parrot, but I always know what she's thinking.
And right now she's thinking: Can we solve the mystery of the haunted painting?