Sometimes something on your do to list starts climbing over all of the other somethings, eager to capture your attention. They think if they're the loudest and can make you start to panic, you'll set aside the dozen or so other things that are due first just to silence them.
Sometimes when this happens, you might forget how important breathing is. But sometimes, just sometimes, life intervenes on your behalf. You pick up a book, look at the title and chuckle to yourself about the irony. This is that book.
Meet Bob, my new favourite feathered friend. Unlike the other birds, Bob can't fly. Yet.
He doesn't let being grounded get him down. He fills his time puzzling solutions to age old questions and getting to know the land dwelling locals. Bob also has good taste in music.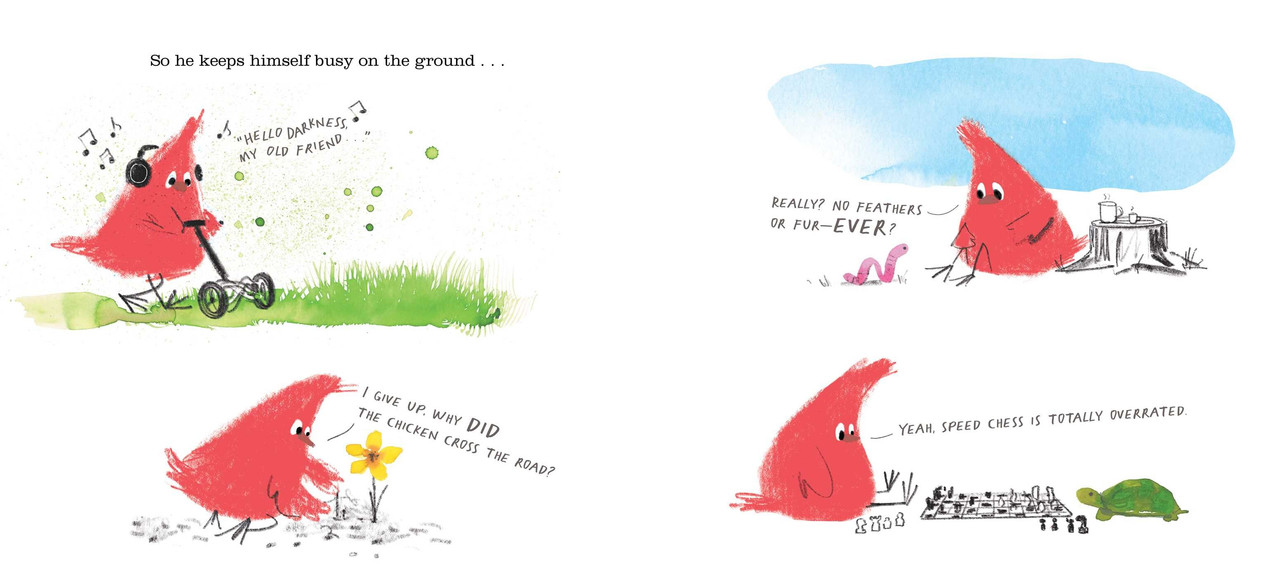 I love Bob's persistence and the creativity he applies to learning how to fly. Some of Bob's more humorous attempts at taking flight involve a balloon, slingshot and springs.
Bob might be many things but, like most of us, he's not immune to self doubt. What are some of the best things about Bob? He recognises when he needs help and is open to trying new things.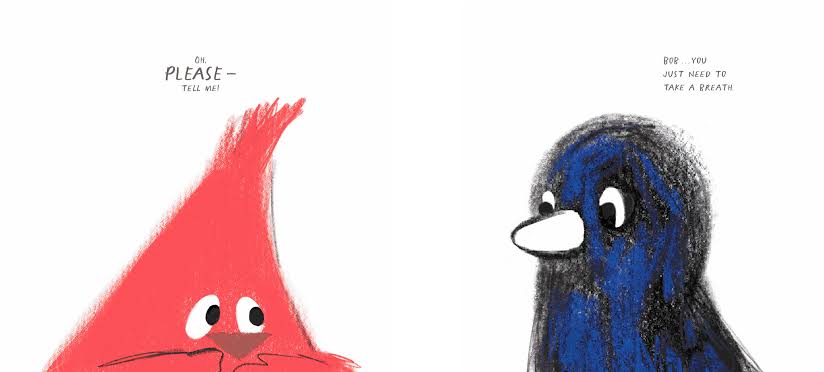 Enter Crow, my other new favourite feathered friend. Crow empathises with Bob and is willing to share what helped them when they were in a similar situation. Crow is patient, kind and encouraging.
Bob and Crow teach (or remind) readers of the importance of mindfulness. By focusing on his breathing (sounds simple until you realise you've been either holding your breath or are on your way to hyperventilating), Bob is able to centre himself.
The lessons in this book are easy to apply and realistic. A couple of really important things happen that make all the difference to Bob. Someone has cared enough to listen to his concerns and validated him, and the breathing technique Crow has taught him has quietened his mind and helped regulate his body.
Do these things magically solve all of Bob's problems? No, but he sure is in a better frame of mind to tackle them.
Sometimes you just have to be grounded before you can fly.
Thank you so much to Allen & Unwin for the opportunity to read this picture book.
Once Upon a Blurb
An anxious baby bird who fears he'll never learn to fly gets a lesson in mindfulness in this funny and sweetly encouraging picture book about believing in yourself.
Every morning, the birds are flapping with excitement for their first flight of the day … except for Bob. Bob doesn't get the whole flying thing; when the other baby birds go up, up, up, he goes down, down, down. Bob can't help worrying … what if he never learns how to fly? 
His friend Crow tells him, "All you need to do is breathe, Bob." Of course, Bob breathes all the time, but there's breathing and then there's B-R-E-A-T-H-I-N-G. And it might just be the thing to calm Bob's ruffled feathers.